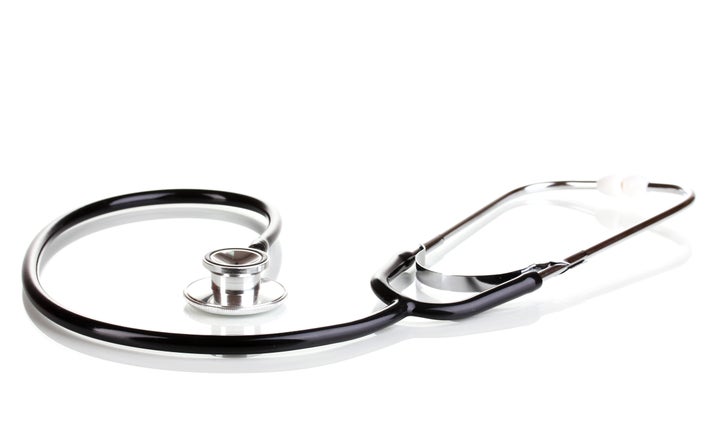 When I was in ninth grade I missed the two biggest outings of the year because of Crohn's disease, my "pre-existing condition."
My biology teacher took my class to go see the Body Worlds exhibit in Colorado while it was there. The whole class was buzzing with excitement for weeks about the trip. I couldn't wait to go. When the day came I was in the hospital, in isolation.
A couple of weeks later my choir instructor took all choir students to a dinner theater in Colorado. I was at home. No one but my family could be near me because my immune system was so weak.
I missed smaller things throughout high school -- dances and cheerleading performances; birthday parties and holiday celebrations; volleyball and football games. When it came to going out with friends, they were never sure if I was sick or healthy. They didn't know how to deal with my illness so they just wouldn't ask me to go with them. I was often lonely and felt disconnected.
Two Worlds

I live my life in two worlds: inside and outside the hospital. Transitioning between the two has become a skill I am still learning to master.
When I was a kid being in the hospital was terrifying. Everything was new. New sounds, smells and sights. Now it's something that's fairly routine. I've been there so many times, too many to count.
The hospital is draining. There is something about it that can suck the life out of you if you're not careful. It can become very depressing when you're there for an extended period of time.
When I come out of the hospital it's hard to turn around that draining, depressing feeling and get back into the swing of everyday life. The world continues when I'm in the hospital and it's hard to play catch-up.
Then I am back in the hospital again and have to slow down, cancel plans, put my life on hold and keep the depression at bay.

On Guard
When I am eating out or at a gathering I have to be careful with the food that is served so that it doesn't upset my stomach. I can't eat dairy, have to limit fiber and stay away from fruit because it gives me horrible mouth sores due to the citric acid.
If I get a normal stomach ache, it could be a sign of a huge flare-up. I have to take medication daily, which is a constant reminder that I am sick.
Looking at me you wouldn't think I'm sick. I don't look sick. But there is never a moment when I can just relax and 'forget' that I have this disease. I am always on guard.

Treatment Options

Right now I don't have insurance, because of my pre-existing condition. That means I'm not on any treatment for my Crohn's disease. Without insurance the treatments are thousands of dollars every week.
I have secondary illnesses that stem from my Crohn's. One is hidradenitis suppurativa, which requires daily doses of antibiotics to heal and help prevent outbreaks. Because I have had Crohn's disease over eight years I am at increased risk of colon cancer so I have to get a yearly colonoscopy and endoscopy.
When I was the most sick with my disease, and could afford it, I was on constant treatment.
I could take Remicade, an infusion that takes four to six hours and is given in the hospital every four weeks through an IV. Most of the time it would take multiple attempts to get an IV line in; it was miserable.
Humira is an injection I would give myself. With Humira, I pre-medicated with Benadryl and Tylenol to prevent anaphylactic reactions, numb the site with ice, and then inject it in my stomach every week.
In addition to the infusions and injections, I had to take daily medication that lowered my immune system and ability to fight off infections so I would get sick often. These meds required me to get monthly blood work done. Staying healthy required a lot of needles.

Creating Community
The majority of my closest friends all have a chronic illness or are very close to someone who has. I have worked to build this community of friends and it helps to keep me from feeling lonely, or depressed or isolated.
I started a group on Facebook called the Chronicles of Crohnies and have a blog where I share the ups and downs of my life with Crohn's. I am a huge part of an online social network for chronically ill teens and their siblings called Starbright World, first as a member and now as a mentor. Starbright world is a part of Starlight Children's Foundation, an organization that provides programs to support children and teens with chronic illnesses and their families.
Every single teen on Starbright World knows exactly what it's like to be sick and to juggle living between two worlds. We are a family there and we have an unbreakable bond that runs deep because of the connection that we share. In the United States there are many children with chronic illnesses, with pre-existing conditions they didn't ask for but that define their lives.
Even though living with a preexisting condition is hard and strips away so much of one's life, having a chronic disease gives me a unique outlook on life. I appreciate things that most take for granted, things like a day without pain. I have gained humility by having to rely on others help when I am sick. I have an inner strength and resolve to live life fully. I have hope and optimism. And if one doesn't have hope that the future, near or far, will be okay, then you really don't have much of anything.

For more on Starlight Children's Foundation go to: www.starlight.org.
For more on Crohn's disease go to The Crohn's and Colitis Foundation of America: www.ccfa.org
Nikki is currently working towards her phlebotomy certification while pursuing her bachelors degree at the University of Utah in the medical sciences.
Popular in the Community