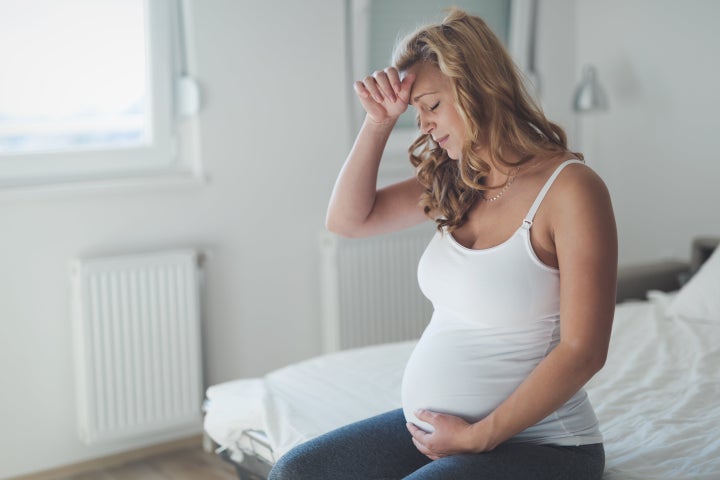 According to a report by the Institute of Medicine (IOM), more than 116 million Americans suffer from chronic pain. Managing chronic pain can be a complicated task, especially for expecting mothers with limited options. In partnership with Walgreens, this feature follows three mothers on their journey through pregnancy and their battle with chronic pain.
Danielle Pumilia (Seattle, Washington)
31-year-old Danielle Pumilia was diagnosed with rheumatoid arthritis right after delivering her first child. Following months of random pains and body numbness, the Washington native was ready for an answer. "I would wake up and my hands would be stuck, I couldn't do anything," she said. After being misdiagnosed at several neighboring hospitals, her condition escalated. She couldn't walk; she couldn't move. Luckily for the young mother, her internist husband noticed the signs and suggested she see a rheumatologist. With compassionate care, Pumilia's rheumatologist placed her on the appropriate medications to turn her life around. For the first time, Pumilia was able to control her pain. After months of guidance from her doctor and her husband by her side, Pumilia gave birth to her second child exactly five months ago.
Ava Meena (Charlotte, North Carolina)
When 27-year-old Ava Meena first experienced pain, she didn't know what was causing it. She traveled to two specialists for clarity before receiving a formal diagnosis. The young North Carolinian had fibromyalgia and she needed help. "My condition only allows me to do one activity a day," she said. However, with the help of her doctors, Meena can manage her life without her pain managing her. During a routine checkup at beginning of last year, she found out she was pregnant. Meena listened to her doctors and immediately replaced her regular medications with Acetaminophen. The young mother is now working with her doctors to balance her chronic pain with over-the-counter pain relief solutions and preparing for delivery of her first child.
Stacey Philpot (Clairmont, Florida)
Growing up, Stacey Philpot never knew what it meant to be healthy. For as long as she can remember, the 39-year-old has battled disease after disease, infection after infection. As she got older, her health continued to decline. Ten years ago, she found she had CVID (Common variable immunodeficiency disorder), rheumatoid arthritis, and vasculitis. With a daily medication regimen and scheduled doctor's visits, Philpot thought she had it all under control, until a trip to the neurologist changed everything. Her pre-screening pregnancy test results for an MRI came back positive. She was pregnant and expecting a baby girl. A seemingly regular checkup turned into a blessing. From the loving guidance and prenatal care, she received from her doctors to the constant support of her family, the 39-year-old who struggled with illness her entire life, was about to give birth to her first child. For the next several months, alongside her doctors, Stacey fought to make the impossible possible. "I wasn't ever sure that I'd ever actually have her. My body was going so crazy. I didn't ever know if my husband would actually meet her. I just wanted to treasure every day that she was living inside of me and I was getting to know her," said Philpot. With the help of specialists, her primary care doctor, and the use of Acetaminophen to manage her chronic pain, Philpot was able to completely wean off of her prescription pain medication and safely deliver a healthy baby girl. She is now managing a disease that she thought would forever control her life, and embracing the miracle of motherhood with her loved ones.
A study by the Institute of Medicine revealed that chronic pain costs account for more than $600 billion a year in medical treatments. A patient should consult their doctor to help manage their condition and review pain relief options throughout their pregnancy. Walgreens makes it easy for expectant mothers to find the right solutions for chronic pain. Walgreens is always here to help you feel good.