One remarkable early lesson appears to be that integrative care should not be dismissed -- as some do -- as a pastime of wealthy health hobbyists.
Successes are being reported with Medicaid patients and others who have no prior experience with acupuncture, naturopathic medicine, yoga or other integrative services who are assigned to these integrative patient centered medical homes.
However, the ongoing investigation I engaged at The Integrator Blog does not yet confirm the viewpoint of one of these leaders, Casey Health Institute co-founder David Fogel, M.D. Fogel asserts in "Casey Health Institute: Marrying Integrative Health and Values-Based Medicine" that since "the power in integrative medicine is team-based collaboration ... we will blow values-based metrics out of the water with our outcomes using a team-based staff model of care." (Pictured is Maryland's powerful but diminutive U.S. Senator Barbara Mikulski in a visit to the center, with Fogel and his co-founder Ilana Bar-Levav, MD on either side.)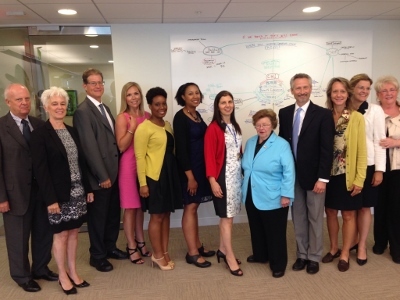 The problem: the "values-based metrics" to which Fogel refers are not yet available in these start-ups. Instead, these leaders share a good deal of subjective excitement about the experience to date -- as well as challenges on which they are working.
"The cool thing is, a PCMH is at its marrow integrative medicine.
It's what we've always done. We've always done bio-psycho-social
medicine. We (in integrative medicine) have never been just in the
business of stamping out disease. The PCMH model is supposed
to help the whole person, in his or her community. We've always
been looking at everything with a bigger tool set, with a focus on
health. We're oriented to this model. We're oriented to teams."
Naturopathic physicians, an acupuncturist, a nurse and nutritionists are among team members at the 6500 square foot Center for Natural Medicine, founded in Portland, Oregon 30 years ago by naturopathic physician Martin Milner, N.D. The Center has been transformed into a Level 3 medical home under the Oregon Health Plan. The nurse manager of the transition, Melissa Porter, reflected on the clinical experience thus far in "How Portland's Founding Naturopathic, Integrative Center Became a PCMH":
"Oh there are so many successes! One that warms my heart
is the people coming in with multiple chronic issues. Then you see
them six months later, totally transformed ... They would have never
known we existed nor come in had we not been a primary care home."
In Burlington, Vermont, where naturopathic doctors are also allowed to run medical homes, Lorilee Schoenbeck, N.D. transformed Mountain View Natural Medicine into a Level 2 medical home under the Vermont Blueprint for Health (practitioners in photo with Schoenbeck on the left).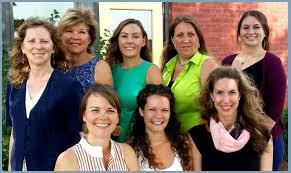 Schoenbeck similarly acknowledges in Prevention/Quality Improvement in a Naturopathic PCMH, that the clinic does not yet have thorough outcomes data on a quality initiative on obesity the center has engaged. Yet she reports that "with our evidence-based protocol, people are taking off pounds and keeping it off." She adds, with satisfaction: "It's very exciting to remove the diagnosis of obesity from a patient's chart -- and I get to do that a lot."
A remarkable characteristic of these operations -- alluded to by Porter -- is that many of the patients are naive about integrative care. Cory Jecmen, MAc, LAc, a licensed acupuncturist at the Casey Health Institute, enjoys the change from the patients "who I would be seeing if I was just hanging up a shingle" and working in a solo practice. Medicaid patients and others who cannot afford to pay cash for services typically cannot access practices of licensed acupuncture and Oriental medicine practitioners.
The experience shared in this investigation -- while short of the data-based outcomes we await --- affirms that it is time for a more substantive look at the value of integrative models. At the same time, this exploration suggests that a parallel question also might also be asked: Is It Time for a New Look at Patient-Centered Medical Homes by MDs and NDs Running Integrative Clinics?
Related