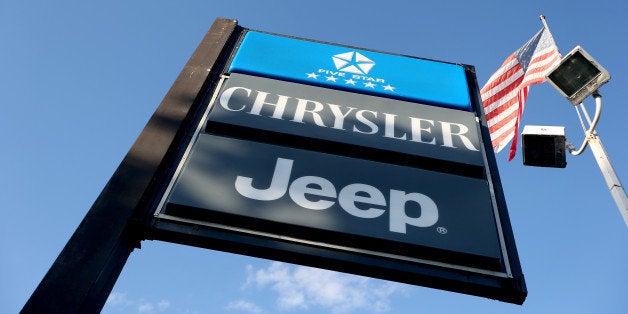 Yet another major company wants to send its workers to school.
Fiat Chrysler Automobiles said Monday that it plans to offer free college tuition to the 118,000 workers at its Chrysler, Jeep, Dodge, Ram and Fiat dealerships across the United States.
The move comes a month after Starbucks expanded its online college degree program with Arizona State University, allowing its baristas to study for four years for free. Chrysler also joins McDonald's, which earlier this year offered to help pay college tuition for workers at its 14,300 U.S. stores.
Chrysler's program is the result of a partnership with Strayer University, a private, for-profit college that offers online classes. The company said it hopes the free tuition will transform it into a more attractive place to work.
"Our goal is to position our dealer network as the 'employers of choice,'" Al Gardner, the Chrysler brand's chief executive, said in a statement. "Our collaboration with Strayer demonstrates our focus on building our dealers' hard-working employees' skill sets to help them perform at an optimal level while also investing in their long-term success."
While dealership employees can take Strayer classes online, they can also attend lessons at the college's Virginia campus or one of its 76 satellite campuses, mostly around the Southern United States. Strayer CEO Karl McDonnell said he expects an even mix of students online and at physical locations.
"I suspect we'll get a healthy blend of both," he told The Huffington Post. "We're somewhat agnostic as to the modality that students choose."
Employees need to have worked at a Chrysler dealer for 30 days to become eligible for the free tuition, he said.
The program, dubbed Degrees@Work, will be rolled out in phases, starting in the southeast. Employees at dealerships in Florida, Georgia, South Carolina, North Carolina, Alabama and Tennessee can now enroll. McDonnell told HuffPost that each participating dealership will pay a flat fee, no matter how many employees at each choose to attend Strayer classes. It's unclear how much the fee will be.
For-profit colleges have come under heightened scrutiny in the wake of a scandal surrounding one of the largest career school chains in the U.S., Corinthian Colleges Inc., which filed for bankruptcy on Monday after allegedly misleading investors about its finances and students about job placement after school.
However, a 2012 Senate report on the for-profit education industry called Strayer "one of the best of any company examined."
Strayer operates a robust corporate alliances program, which partners the college with companies looking to give education benefits to employees. McDonnell said about a quarter of the school's students come from Fortune 500 companies.
"These companies would not be sending us more and more -- hundreds, in some cases thousands of employees -- if they didn't feel that the education was strong," he said, adding that Strayer supports tighter regulation of the for-profit college industry.
Chrysler isn't the only automaker giving its employees a boost. Volkswagen is expanding a three-year vocational program at its Chattanooga, Tennessee-based plant that trains employees to work high-skilled jobs on the assembly line. The German company based the course on apprenticeship programs in its home country.
Related