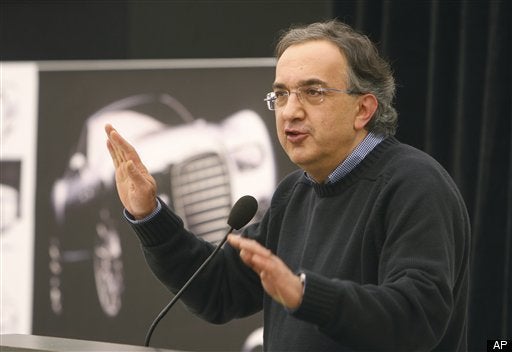 Have you ever wanted to intervene with someone? Perhaps it is a friend who drinks too much, or is using drugs, or just flat out isn't taking care of themselves to the point where you worry about them every time you see them.
I am facing that. In another week or so, I will be sitting across the table from someone who has become a very important person around Detroit -- someone who is carrying a lot of livelihoods, mortgages and hopes on his back. And whenever I see him, I am at once captivated by the respect I have for his work, yet worried sick that I may never see him vertical again.
He isn't a friend; we don't know each other well enough. He is for me, though, an exceptionally worthy subject whom I have been covering for a few years now: Sergio Marchionne.
The Chrysler and Fiat CEO has transformed Chrysler from possible bad movie parody fodder -- 2009's "The American Patient" -- to a viable, up-and-coming automaker with cars and trucks that are good enough to make the skeptical, vinegary reporters who cover the auto industry take notice. And in just two years!
Marchionne works like a dog, spends crazy numbers of hours on planes and smokes a lot of cigarettes.
I thought I was the only one who worried about him making it to another auto show. But recently I was talking with a handful of other journalists who had the same thought and concern.
Marchionne's management prowess has been captured pretty well in two recent books, which the holidays have given me time to read: Bill Vlasic's excellent "Once Upon A Car," and now "Mondo Agnelli: Fiat, Chrysler and the Power of A Dynasty," by Dow Jones reporter Jennifer Clark.
The Canadian-born Italian, who is both a lawyer and an accountant, is, perhaps not surprisingly, a very good poker player. One of my favorite accounts in Clark's book tells of the prolonged negotiations between Marchionne and former General Motors CEO Rick Wagoner over a 'put option' that Fiat was holding that would force GM to buy out Fiat Auto.
The situation traced back to 2000 when GM bought 20 percent of Fiat Auto and set up cost-saving joint ventures that gave GM access to Fiat's diesel engines and joint purchasing between the Italian automaker and GM Europe/Opel. The agreement included a 'put option', which stipulated that Fiat would have the right to sell the remaining 80 percent stake to GM after four years at a fair market value. Wagoner and his predecessor, John Smith, had honed a talent for negotiating truly awful alliance deals.
GM never thought Fiat would exercise the put, believing the Italian public would barbecue the Agnelli clan, which was and is the automaker's controlling shareholder, for selling the Italian icon to the Americans. And the last thing GM wanted, which Marchionne knew only too well, was to take a beating from Wall Street by having the then-still-troubled Fiat heaped on top of money-losing GM Europe and Opel.
To know Rick Wagoner is to know he is no poker player. Earnest, yes. But he never showed craftiness or savvy as a CEO. Wagoner is more the type to ask the host of the poker game, in the middle of a game he knows he's losing, how much it would cost to buy the casino so that he could throw out his opponent.
Marchionne, in need of cash, played chicken with Wagoner, won and liberated $1.99 billion.
Was Wagoner's head ever really in it? Clark reports that in the midst of a series of heavy negotiations in Europe, Wagoner folded and went in search of an Internet hookup to watch a Duke vs. Maryland basketball game.
Marchionne also later beat the White House task force that was handling the bankruptcy reorganization of Chrysler. The White House negotiators were eager to have Fiat put some goodwill cash into the deal that would give the Italian automaker control of Chrysler. Marchionne refused, pledging instead to share billions in Fiat-developed technology and vehicle platforms with Chrysler as the means to saving the automaker and tens of thousands of jobs. When President Obama declared in a speech that Fiat was the only automaker that could save Chrysler, Marchionne knew he had beaten the task force and that the White House had lost is negotiating position. No cash.
Marchionne resented White House Car Czar Steven Rattner's characterization of Fiat's no-cash offer as having "no skin in the game." Clark reports Marchionne told Rattner: "I don't want to talk about skin in the game. I have plenty of it. We are contributing Fiat's technology. And me and my people are going to move over to Detroit and pour our lifeblood into the company."
He wasn't kidding. I know people at Chrysler who said they took just two vacation days between July 2009 and January 2011, and both days were Christmas. That may be the difference between Marchionne and the Wall Street crowd. They talk cash, and Marchionne talks sweat and commitment. Those are two different languages.
Marchionne is one of the most complete CEOs I have ever come across in 25 years of covering business and the auto industry. In about 15 months, he and his team have seen to cleaning up Chrysler's balance sheet, while at the same time remaking and cleaning up most of the product line Fiat inherited. Unheard of!
Marchionne also paid back all the government loans that were part of Chrysler's 2009 bailout before the end of 2011 -- years ahead of time.
More than that, he knows how to carry himself as a 21st century CEO. He is not shackled to talking points when speaking to employees or the media. He is deliciously open and honest, often wry and perhaps unintentionally motivational. The UAW's Chrysler official General Holiefield found Marchionne, even in the earliest days of his control of Chrysler, "really connecting" with workers. That assessment came even while Marchionne's rhetoric to the union was blunt: that members had to "shake off the idea of worker entitlement."
To be fair in this assessment, Marchionne also had the benefit of following one of the worst management regimes in history, installed by Cerberus Capital Management. Marchionne's visible, frank, honest conversation with employees contrasts with the hyper-mysterious and private, self-important, Howard-Hughes-like act of Cerberus head Stephen A Feinberg.
Succession plan needed for real success
As well as Marchionne has done for Chrysler, he has already indicated he will step down from the mad two-CEO job by 2015. So far, there is no clear succession plan, which ought to be in place, or at least evident, before Chrysler attempts an initial pubic offering. Marchionne is so respected at this point that Wall Street investors will be believers.
Investors look for sure-handed management. But one look at Marchionne wheezing through a cloud of cigarette smoke is bound to make them wonder what will become of Chrysler if he is suddenly not there to run it.
In about a week, at the North American International Auto Show, Chrysler will introduce the Dodge Dart, a terrific -looking compact sedan that will compete against the Ford Focus, Toyota Corolla and Chevy Cruze, and which also represents the first from-the-ground-up new vehicle to come from the Chrysler-Fiat alliance. If it drives as well as it looks, it could be the new standard, at least critically, of the category.
It is a very promising start to an alliance that many doubted would succeed. That alliance has already re-filled the offices at Chrysler's Auburn Hills headquarters and Tech Center, and reportedly has the company looking for more space in downtown Detroit.
About the only thing worth criticizing that Marchionne hasn't done is come up with a clone who doesn't smoke.
Grand Blvd. is a weekly column about cars from David Kiley. For more of his writing, and everything about cars, head over to AOL Autos.
Calling all HuffPost superfans!
Sign up for membership to become a founding member and help shape HuffPost's next chapter