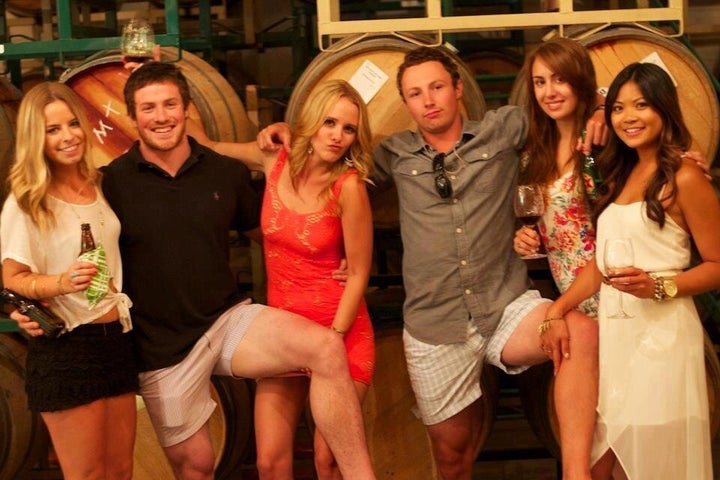 Start drooling, ladies. If one clothing brand has its way, bros across the nation will soon be exposing a few more inches of hairy thigh.
Frat brothers are fast embracing Chubbies, a line of short shorts aimed at young men from a small San Francisco-based company seeking a national presence. "Men have objectified women for ages," said founder Rainer Castillo. "We've flipped the game. Now women will objectify them."
Glorifying male objectification is only one of the ways that the lifestyle brand half-ironically revels in the cliches of fraternity culture. So far, it is working: After one year in business, the online store has a blooming social media presence and an army of student ambassadors in colleges around the country. All 30 styles of its shorts sold out this summer, and sales grew by 600 percent in the second three months of 2012, according to Castillo, who worked at Gap and Levi's in merchandising after graduating in 2007 from Stanford.
Chubbies shorts hit around mid-thigh and have an elastic waist, keeping wearers comfortable even if their midsections expand. The company hopes to "stigmatize" cargo shorts, said Castillo, or those baggy, basketball-inspired varietals that have covered bro stems for the past decade. Chubbies doesn't like to call its products "short shorts," said Castillo. "They're just shorts."
"Cargo shorts are the only form of contraception that is 100% effective," declares one of 32 "facts" on the Chubbies website.
Known for jolly tailgate parties, matching neon hats and spraying companions with bottles of Smirnoff Ice, the bro isn't traditionally spotted in short shorts. But browsing the Chubbies blog's photos of "chubsters" flanked by chicks in bikinis, portraits of '80s era heroes in shorts-- e.g., Tom Selleck in "Magnum, P.I." -- and the odd shot of a guy sucking at the spout of a keg, it's hard not to see short shorts as manly. Chubbies are, in essence, the "no homo" of men's apparel: The brand's testosterone-doused website overpowers any gay association of short shorts with the promise of getting laid -- by women.
Castillo said the emphasis on masculinity is not designed to alienate. "Gay and straight guys wear our shorts," he said.
Bro culture is a burgeoning market for both small businesses like Chubbies and big companies like Monster Energy Drink and Red Bull, which frequently sponsor college groups, including fraternities. But few companies have managed to fully understand the subculture, one marketing expert says, although bros embrace social media and aren't as hung up as hipsters about becoming a niche in the consumer market.
"There's a lot less signaling and pretentiousness in the bro masculine crowd," said Ryan Holiday, a public relations adviser who has worked with American Apparel and Tucker Max, author of "I Hope They Serve Beer in Hell." "They're not worried about offending people or signaling in order to fit in some box."
Bro is one of those slippery subcultural words whose meaning has inspired many Internet (and probably also real-life) brawls. Doug Banker, founder of the website BroBible, describes bros to advertisers as "18- to 34-year-old guys who are socially active, upwardly mobile, career ambitious, and hyperconnected." Entries on Urbandictionary.com also add white, straight, party-loving and involved in a college fraternity ("bro" is short for brother) to the list of qualities.
The Chubbies website -- which offers not only a blog but a manifesto and many newly coined phrases such as "ChubsterNation" -- promotes classic fraternity loves like patriotism, drinking and matching outfits with such an excess of enthusiasm that it's impossible not to laugh. But the brand's irreverence shouldn't be read entirely as satire or ironic distance, claims Castillo.
"We're not mocking anything," Castillo said of the company's signature American flag-printed "'Merica" shorts, noting that the garments are actually made in the United States. "Our customers are proud of America."
As with many other subcultures, the Internet has been instrumental in bringing together bros over the past few years. Websites like Total Frat Move, My Life Is Bro, and the now-defunct Bros Icing Bros -- shut down by Smirnoff Ice parent Diageo in 2010 after the brand became an unwitting emblem of drinking games -- serve as community networks where users exchange videos and photos of their exploits. Some of these sites have gone on to launch e-commerce portals, such as Total Frat Move's "Rowdy Gentlemen" store, which sells koozies (beer can sleeves) and American flag shorts similar to those made by Chubbies.
Large companies targeting the culture have had mixed results.
In recent years, beer brands have developed characters in their ads such as Keystone Light's Keith Stone or the Dos Equis' "most interesting man in the world" to appeal to these young men, although for the most part, beer ads have tended to portray bros as oafish, according to Holiday, the public relations advisor.
"There's sort of an implied condescension [in a lot of these ads] that the audience is stupid," Holiday said. "It's a stereotype constructed by marketing and advertising executives who don't understand their audience."
Other large companies trying to repackage frat culture and sell it back to its originators have gotten into trouble for pushing the envelope too far. In 2010, KFC hired female college students to wear sweat pants emblazoned with the words "Double Down" across the rear and give out gift cards to their peers. The strategy, designed to hook young men on KFC's "Double Down" sandwich, incited the ire of feminist organizations.
Check out more photos of Chubbies: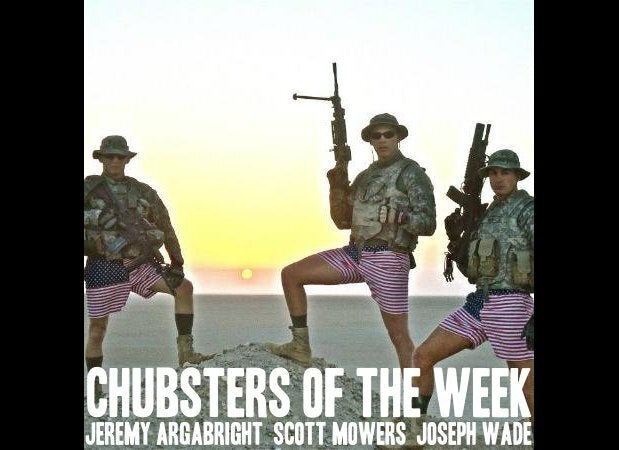 Chubbies Fans Show Off Their Shorts
Popular in the Community