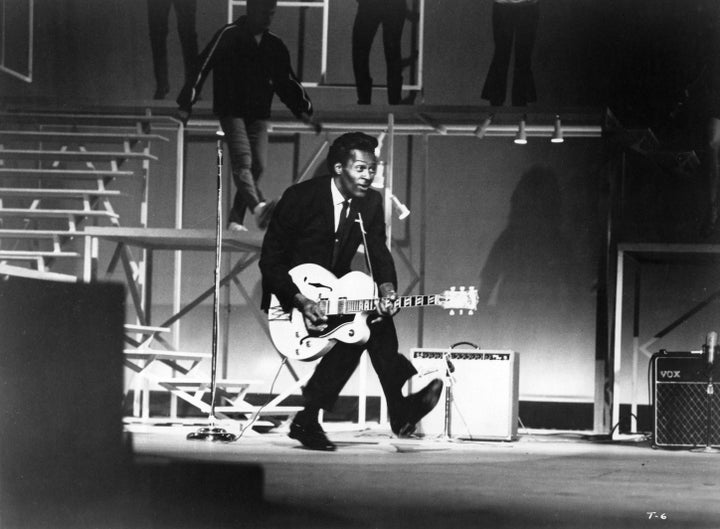 Chuck Berry was a guitarist, singer and songwriter who was considered by some to be "the Father of Rock 'n' Roll." He died Saturday, March 18, 2017 at a residence outside St. Louis. He was 90.
He strung together a bunch of AM radio and 45 RPM hits in the '50s and '60s, including "Johnny B. Goode," "You Never Can Tell (C'est La Vie)," "Rock and Roll Music," "Sweet Little Sixteen," "Nadine," "Roll Over Beethoven," and "Brown-Eyed Handsome Man," and 10 or 20 more. His songs were covered by the Beatles, the Stones and Emmylou Harris, to name only three out of hundreds. He may have been the most influential songwriter ever.
Most younger readers have no idea (unless you were paying attention to "Back to the Future") how important Chuck Berry was in the annals of rock 'n' roll. He popularized speeded-up simple blues riffs and helped give us a whole new musical genre — and the Duck Walk.
Chuck Berry, son of a school teacher, may not have invented the Duck Walk and he certainly didn't invent the Blues or Rock 'n' Roll, but few have ever taken the time to realize what a great lyricist he was. Check out the lyrics to his "You Never Can Tell (C'est La Vie):
"It was a teenage wedding, and the old folks wished them well
You could see that Pierre did truly love the mademoiselle
And now the young monsieur and madame have rung the chapel bell,
" C'est la vie", say the old folks, it goes to show you never can tell
They furnished off an apartment with a two room Roebuck sale
The coolerator was crammed with TV dinners and ginger ale,
But when Pierre found work, the little money comin' worked out well
"C'est la vie", say the old folks, it goes to show you never can tell
They had a hi-fi phono, boy, did they let it blast
Seven hundred little records, all rock, rhythm and jazz
But when the sun went down, the rapid tempo of the music fell
"C'est la vie", say the old folks, it goes to show you never can tell
They bought a souped-up jitney, 'twas a cherry red '53,
They drove it down to Orleans to celebrate the anniversary
It was there that Pierre was married to the lovely mademoiselle
"C'est la vie", say the old folks, it goes to show you never can tell."
You can scrutinize the lyrics to virtually any of his songs, and you will be hard-pressed to find a bad line or rhyme anywhere.
In 1959, Berry was arrested in St. Louis, Missouri, for driving a 14-year-old Native-American girl across state lines for allegedly "immoral purposes," and violation of the rarely-invoked Mann Act. Today that arrest is seen as a racist attack on Berry for sleeping with a white girl, although the "victim" was complicit and Native-American. January 1962, he was sentenced to three years in prison.
The Mann Act has been selectively applied in many notorious cases, most notably in Berry's and in that of the Black heavyweight boxing great Jack Johnson. In reality, the primary purpose of the Mann Act was to punish Black men for sleeping with white women. Rock 'n' Roll pioneer Carl Perkins remarked, "Never saw a man so changed ," after the conviction and prison time, but Berry's writing was even better after that.
Chuck Berry will not be remembered for his arrest. He will instead be remembered as one of the guys who started it all. Berry was among the first musicians to be inducted into the Rock and Roll Hall of Fame on its opening in 1986. He was a lyricist on a par with Ray Davies of the Kinks. He will go down in history as maybe the most influential rock 'n' roller ever.
I remember watching Chuck on the Johnny Carson show in 1987. He was about to play "Johnny B. Goode" with Tommy Newsom's "NBC Orchestra" (Carson's house band) and he had to walk over and tell the musicians, "It's the same thing as "Roll Over, Beethoven," which he had just played with the band. It floored me that there was a musician alive who didn't know that song, but even in 1987 there were working players who just didn't dig rock 'n' roll. They were used to playing from sheet music.
The part where Chuck says this is at about 25:30. You'll notice that Chuck snidely adds, "With musicians, I wouldn't even have to go over there."