The Confederation of North, Central American, and Caribbean Association Football, or CONCACAF — which sends teams from that region to compete in the World Cup — named its former general secretary, Chuck Blazer, and its former president, Jack Warner, in a suit filed last week in the U.S. Eastern District of New York. The suit also names some of Blazer's shell companies.
Blazer pleaded guilty in 2013 to racketeering, money laundering, wire fraud and tax evasion ― all linked to kickbacks he received in exchange for media rights and tournament marketing contracts, as well as bribes involving the 1998 and 2010 World Cups and several Gold Cup tournaments. 
In 2015, Warner was named in a massive Justice Department indictment against members of the global soccer body FIFA, sports marketing executives and leaders of national soccer organizations. He is fighting extradition from Trinidad and Tobago to face U.S. charges of criminal racketeering, wire fraud and money laundering, among other offenses.
The CONCACAF lawsuit says it aims to recoup the bribes and the "millions of dollars in commissions and fees through marketing and broadcast deals that CONCACAF's executive committee did not authorize."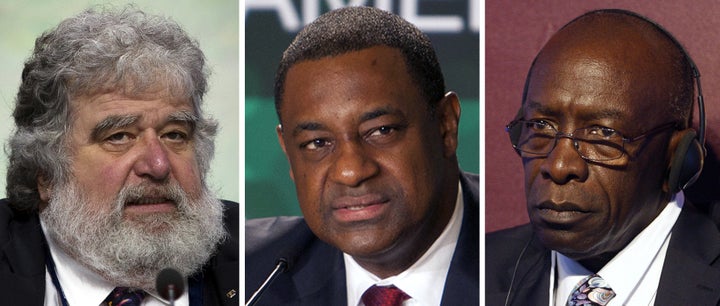 After becoming general secretary in 1990, Blazer moved CONCACAF's headquarters from the Caribbean to the 11th floor of Trump Tower in New York City until he was ejected from his post in 2011 as officials became suspicious of his activities. He also lived in Trump Tower at the time, and allegedly added an adjoining apartment there for his cats. 
Once the FBI and IRS nabbed Blazer in 2011, he agreed to cooperate with the feds as part of his plea negotiations. Intelligence agencies tapped phone calls to Blazer's home to glean information for later criminal indictments related to corruption in international soccer.
The recent CONCACAF lawsuit accuses Blazer of using the organization's funds to cover his Trump Tower rent and to buy two condos in Miami Beach and another in the Bahamas. Such funds were "intended for the development programs for football, not to support Blazer's luxurious personal lifestyle," the suit states.
Warner "aided and abetted" Blazer's schemes, according to the lawsuit. Blazer has admitted in court that he "and others" agreed to accept a $10 million bribe for voting in favor of holding the 2010 World Cup in South Africa. At the time, both men were on FIFA's executive committee, which determined where future World Cups would be held.
It's unclear whether Warner will ever be brought to the U.S. to face charges. In 2015, he recaptured media attention when he took out a Trinidadian television ad to denounce John Oliver's "Last Week Tonight" segment about him, mistaking it for a serious news program (and giving Oliver even more fodder).
Blazer, who is reportedly now in hospice care, agreed to forfeit at least $2 million as part of his guilty plea and still faces additional penalties. His testimony or recordings of his wiretapped conversations could be part of future trials involving former soccer and sports marketing officials.
Neither Blazer nor Warner could be reached for comment. 
Calling all HuffPost superfans!
Sign up for membership to become a founding member and help shape HuffPost's next chapter