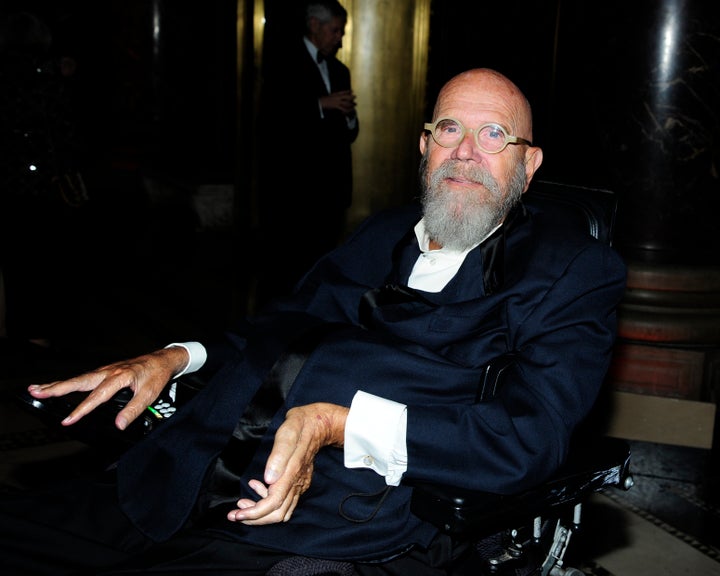 Every day, thousands of commuters pass by a series of 12 mosaics by famed artist Chuck Close, recently installed in the 86th Street station of New York's Second Avenue subway line. The murals, each 9 feet tall, depict a cross section of New York City cultural icons — Close himself among them, bald and owlish — all rendered in his signature style, photo-based images transposed with meticulous care onto psychedelic grids. They are a reminder both of the diversity of the art world here and of Close's stature within it: an artist's artist, at 77 years old.
When Julia Fox passed the murals on her way to her dad's apartment earlier this year, she was reminded of something else. Anger welled up within her. "I thought about how my dad takes that train and walks by those paintings every day, not knowing that man totally played me," she said.
In a series of interviews, Fox described an encounter with Close in which she says the artist sexually harassed her. A Yale University graduate student says she had a similar experience. Both women separately told HuffPost of having been invited to Close's studio to pose for him, of how they were initially honored by the artist's attention but shocked by the frankly sexual appeals that followed, and of his offer of money on their way out the door — payment for modeling for photographs that were never taken.
Neither encounter involved physical contact. But both alleged incidents left the women feeling shaken and deceived, and they said they were compelled to share their stories in solidarity with the countless women who have silently endured abuse, harassment and discrimination at the hands of powerful men.
In an email to HuffPost, Lance Gotko, a lawyer for Close, wrote:
[T]he bottom line of all the allegations is that no sexual act ever occurred – in fact, Mr. Close never even touched any of your witnesses. The most that can be said about the allegations against Mr. Close is that he uttered some words (some of which were sexually frank) which are alleged to have offended the sensibilities of these adult individuals... This does not come close to reaching the level, and would only serve to cheapen the coin, of the terrible misconduct that rightly has been condemned of late.
Citing his client's physical infirmities, Gotko added (emphasis in the original) that "if the article has its intended effect it will literally kill Mr. Close."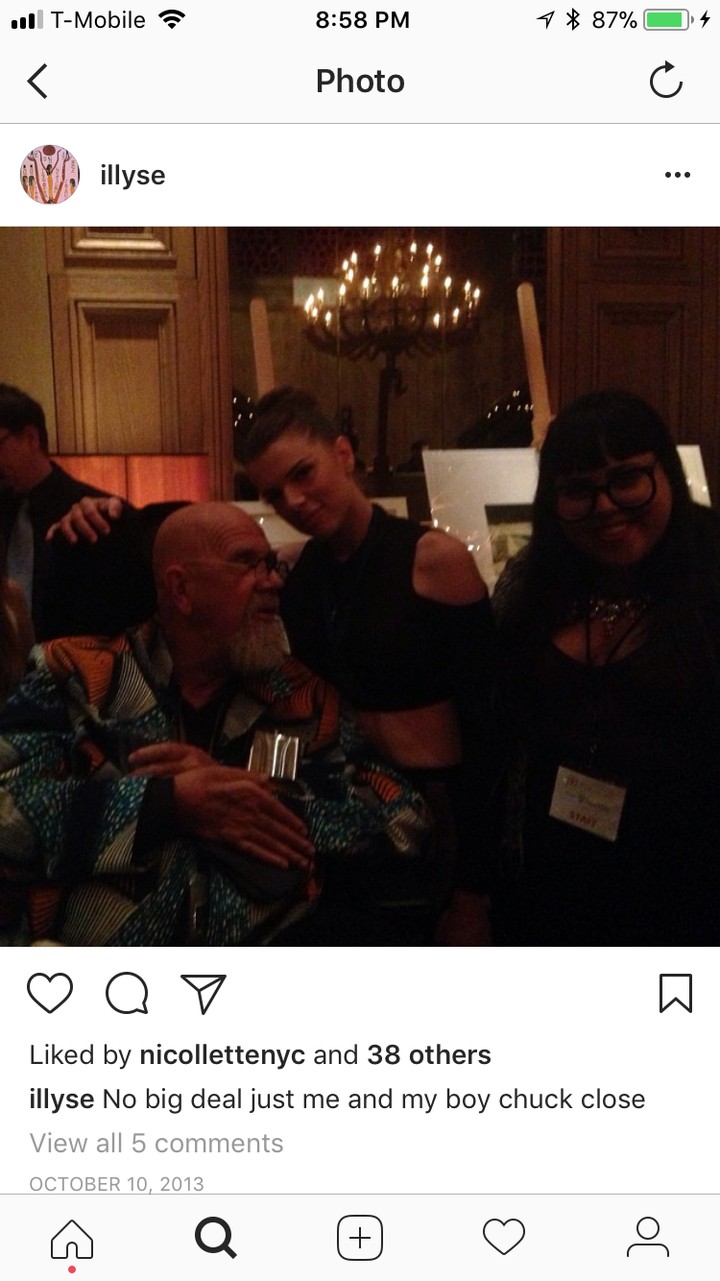 'He Was A Fucking Pervert'
Fox said she met Close in New York in 2013, after a friend invited her to work a fundraising event for the Lunchbox Fund, a nonprofit, on Oct. 9. Her job was to supervise the art in the space. Fox's friend, who asked to remain unnamed in this story, confirmed the invitation in a conversation with HuffPost.
Fox and Close, a co-chair of the Lunchbox foundation, spoke only briefly at the event, but the two did pose for a group photo together. Before the end of the night, Fox says, Close asked her to retrieve a pen and paper so he could write down his email address. He told Fox he wanted to photograph her, and she told him she would be in touch.
Three days after their initial meeting, Fox emailed Close to arrange a time to meet. In response, Close invited her to come to his studio on Bond Street in Manhattan on Friday, Oct. 18, to pose for a shoot. In these emails, which Fox shared with HuffPost, neither Fox nor Close discussed the prospect of nudity during the shoot. Fox said she was familiar with Close's oversize portraits, which are typically close-ups of human faces. She assumed he wanted her to pose for a similar project. Although Fox wasn't particularly fond of Close's work, she recognized that he was a "major artist," and that the chance to be photographed by him represented a rare opportunity.
When Fox arrived at his studio, she said, Close was waiting for her, alone, in his wheelchair. He has used a wheelchair since 1988, following a 20-minute seizure as a result of a collapsed spinal artery. He has limited use of his arms and legs, and when he paints, he has to use a brush harnessed to his wrist.
Fox said that Close began their session by telling her about another woman he'd photographed ― nude ― whose print hung on his wall. "He was saying, 'Oh, if you could have seen her pussy,' talking about how it was so hot and he fucked her," Fox said. The comments made her feel uncomfortable and confused. But Fox, already discombobulated from an argument with her boyfriend earlier in the day, attempted to brush the feelings aside.
Then, Fox said, Close asked her to undress. The request took her by surprise. "I was under the impression that he took portraits, so I just assumed that's what we would do," she said. "So it caught me off guard when he insisted I take my clothes off."
Equity, a U.K. trade union for professional performers and models, says in its modeling code of conduct that employers should state in advance whether a shoot will involve nudity. "Any nudity/semi nudity will be personally approved by the Model before the shoot takes place," the code says. (Fox is not a member of Equity.)
In her encounter with Close, Fox received no such warning. At first she protested, she told HuffPost. "I don't think I can do that," she said to Close, insisting nudity would make her boyfriend uncomfortable. At that point, according to Fox, Close suggested that he didn't have to photograph her at all; he just wanted to "see."
Eventually, Fox complied. "I just said yes to be polite," she recalled. "In retrospect that is really all it was."
Equity also states that models should have a private changing area in which to undress, to maintain professionalism. This expectation of appropriate behavior extends through the duration of the shoot. "The Model will be treated with respect and professionalism," Equity's code of conduct says, "and all necessary steps will be taken to ensure that the safety, health, well being and dignity of the Model is protected and maintained at all times during the contract period."
Fox stripped down in front of Close, with no one else in sight. When she was fully nude, Close, in his wheelchair, moved toward her so that his head was inches away from her vagina, she said. "Hmmm," he said, according to Fox. "Your pussy looks delicious."
Fox, utterly taken aback, told Close that she needed to leave and proceeded to put her clothes on "at lightning speed," she told HuffPost. She tried to flee immediately, but she says Close intercepted her by the door and attempted to give her $200 on her way out.
"I said, 'I don't need your money,'" Fox said. "I remember him looking confused as to why I didn't want the money."
For years, Fox never described her meeting with Close to anyone, including her boyfriend and her close friends at the time. "I felt so much shame about it," she said. "I am from New York City. I can usually spot out situations like this. I had higher standards for myself. Obviously he was a fucking pervert."
HuffPost spoke with several of Fox's friends who remember her saying she had plans to pose for Close in 2013. When Fox's best friend asked her about the meeting afterward, Fox "avoided the question." The friend added: "I did not pry."
Fox didn't consider telling her story until news of Harvey Weinstein's predatory behavior came to light. She said a recent visit to see her dad, who lives near the Second Avenue subway stop where Close's work is displayed, ultimately convinced her to step forward.
Shortly afterward, Fox posted an Instagram story describing her experience. The post, like all stories, was deleted after 24 hours. To this day, Fox has not gone into detail about the experience with people close to her. "It's a lot easier to do so with strangers than with family," she said.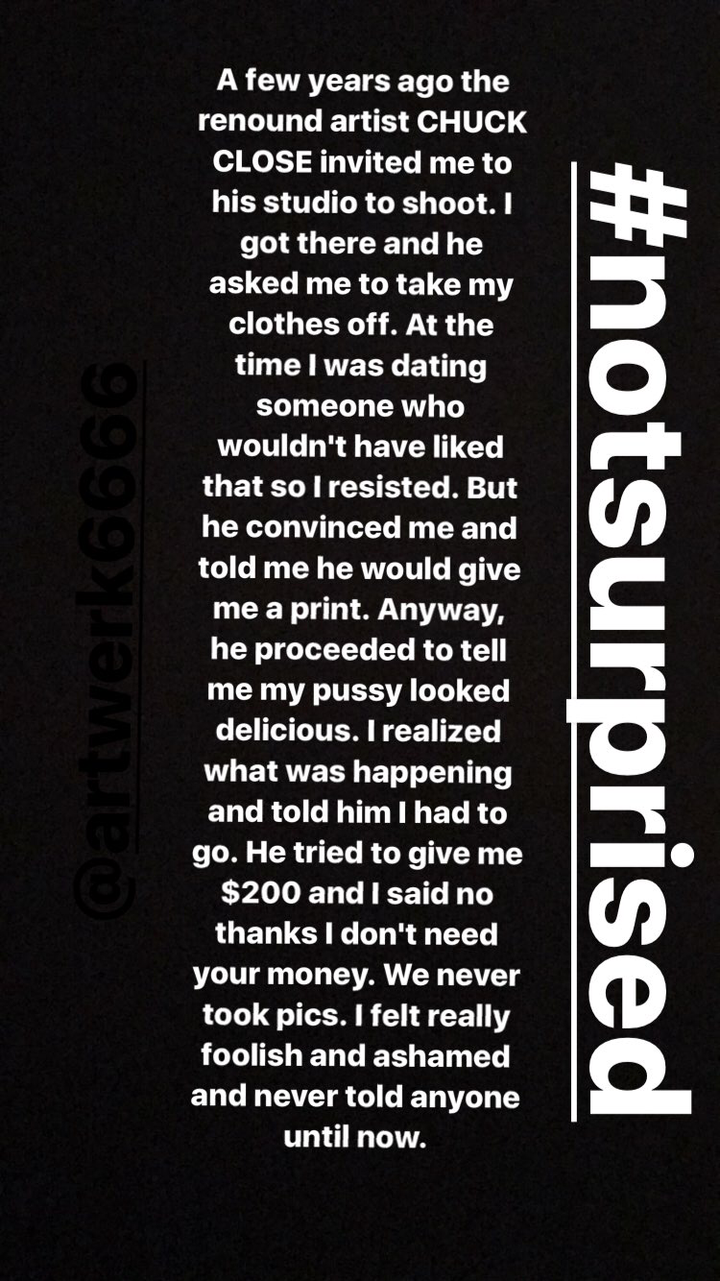 'I Noticed Him Staring At My Crotch'
Anna — not her real name — was a graduate student at the Yale School of Art when Close gave a lecture titled "The Role of Artists in the Lives of Museums" at the Yale Art Gallery in March 2007. After the talk, Anna said, she and a small group of faculty accompanied the artist to a nearby cigar shop, where she briefly chatted with Close about a mutual friend in New York. After 40 minutes, they went their separate ways. They had not exchanged contact information or planned on seeing each other again.
A week later, Anna, who was 25 at the time, received a phone call from Close's assistant. She doesn't know how Close got her number, but in the moment, she didn't think much of it. "I was deeply flattered that a powerful, famous artist saw something in me," she said. Close's assistant told Anna that the artist wanted her to model for an unnamed project he was working on. Like Fox, Anna assumed the project would be similar to Close's well-known portraits, which typically feature clothed individuals.
"I thought, he wants to paint my face," Anna recalled. "How cool."
Close's assistant also promised Anna that the modeling opportunity would pay — a crucial detail for the broke art student.
On a snowy day in March, Anna said, she made the four-hour trek from New Haven, Connecticut, to Close's Bond Street studio in Manhattan. Close's assistant initially told Anna that he would be present during the session, but when Anna arrived there was no assistant in sight ― just Close.
Inside Close's studio, Anna recalled, she was somewhat anxious, letting out bursts of nervous laughter here and there. She attributed her unease to the excitement of being in the presence of a famous artist.
"I have a history of sexual assault," Anna said. "So I look for red flags. I am not this naive, soft-spoken, meek person. But all of his moves were so calculated. In hindsight, I was like, oh shit, that didn't register for me because it wasn't presented in a way that felt predatory."
According to Anna, Close asked her to bring a selection of her artwork to their meeting. They looked through it together briefly when she arrived, but Close made no comments. After about 10 minutes, he showed Anna a book of his daguerreotypes ― a kind of photograph introduced in the 19th century and made using silver-plated copper ― and pointed out a nude photo of Kate Moss.
"He said he wanted to photograph me like Kate Moss," Anna said.
Anna had done nude modeling in grad school before. As a survivor of assault, she found the practice to be helpful in her recovery, allowing her to feel naked and safe at the same time. But she said something about her session with Close felt different.
"For starters, I was always told ahead of time when I was expected to be fully nude," she said. "That is foremost. It's never been sprung on me in the moment. Also, importantly, the model is given privacy to change out of their clothing, so that moment of vulnerability in the transformation from human to model is private. Lastly, there is a real respect for where and how the artist looks at you. I never felt ogled in one of my previous nude modeling sessions."
Anna said she undressed for Close, feeling anxious at this point but pushing herself to set the feeling aside. Close asked her to sit down, and she obliged, taking a spot on the edge of a low table directly in front of him, as he directed. Her hips were elevated and her legs hung loosely in front of her ― not quite open, not quite closed. Anna estimated that Close was about three feet away from her. "I noticed him staring at my crotch," Anna remembered. "I was kind of paralyzed."
That's when, she said, Close pitched her on a new project. He proposed taking up-close daguerreotypes of Anna's vagina, contrasting the "high detail of that photo style with our society's fear of vaginas," she said. "He made it sound empowering."
According to Anna, he then leaned in, reached his hand toward her vagina and asked if he could touch her. "His tone was like a doctor who puts on his magnified spectacles before looking down your throat," Anna said. Immediately she refused, stood up and put her clothes back on.
Once dressed again, Anna tried to talk to Close, asking him questions about grad school. "I wanted to talk to him so this wouldn't be what I thought it was," she explained. After five minutes, Close asked her to leave, claiming he felt nauseous, Anna said. As she prepared to go, he gave her money and said, "Well, that's the easiest $200 you ever made, isn't it?"
"It took me the whole four hours of commuting home to understand what had happened," Anna said. "It was harassment intended to be assault. I'm strong, my work is about sexual abuse. How many people have been in this situation and not had the strength?"
Anna reported the incident to the associate dean of the Yale School of Art, Samuel Messer. In a phone conversation with HuffPost, Messer corroborated Anna's story. "She came to me and told me what had happened," he said. "Whatever she told me, I believe 150 percent."
Messer did not take action at the time, because, as Anna said, she was not yet ready to make her story public.
Robert Storr, the art school's dean at the time, said he was unaware of the episode. Although he was appointed dean in 2006, Storr was away from the school for approximately half of 2007, including when the alleged harassment occurred. Coincidentally, the following year, Storr appointed Close to his Dean's Council.
"I have a long association with Chuck, and I know something about his way with women," Storr said. When asked to specify what he meant, he said that Close "is constantly surrounded by beautiful, young women. While I don't have anything to say about his relations with them, it does stand out that a guy in his condition is surrounded by beautiful, young women."
Storr said he believes Anna's story "in every respect," and that, had he known about the incident at the time, he would have disinvited Close from the council, "no question."
In the years since, Anna has been very vocal about her experience with Close, telling various friends and peers. "If his name comes up, I'll say he's a pervert," she said. "I've slipped pieces of paper [stating as much] into books at Barnes & Noble."
Days after Anna shared her story with HuffPost, she came across an Instagram post by another woman, artist Delia Brown, that described a strikingly similar experience.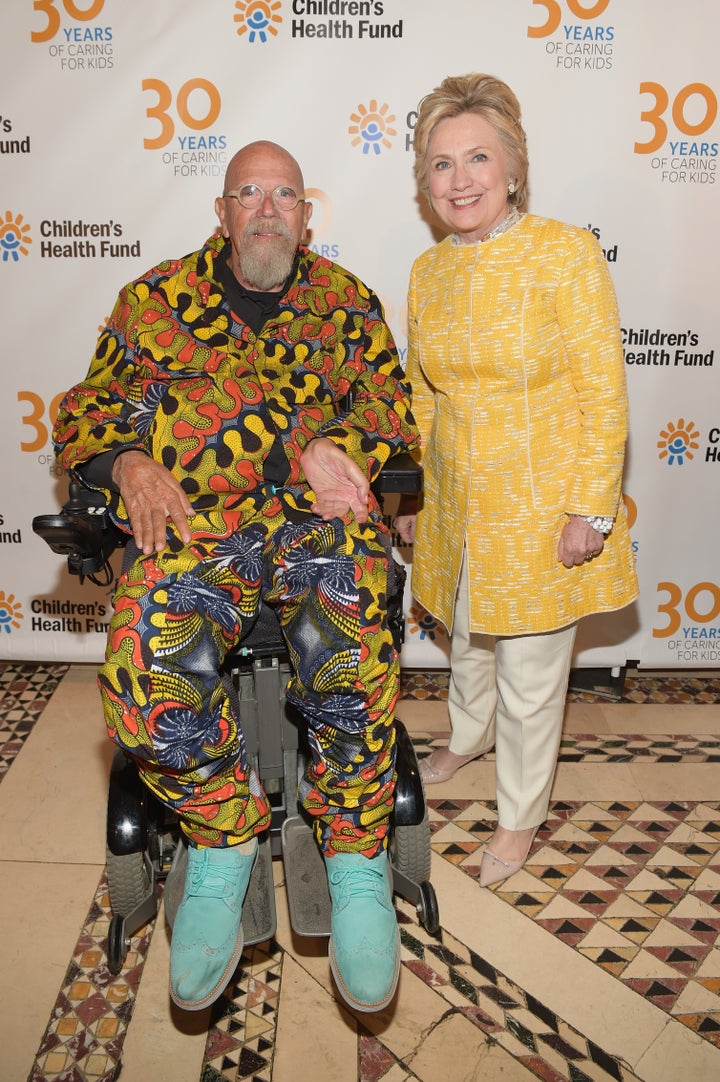 'I Felt Like I'd Been Punched In The Stomach'
On Oct. 30, Brown posted an image on Instagram that reads, "Remember when Chuck Close did his photo series of 'topless' women artists?" In the caption, Brown says Close asked her to pose for him around 2005, with one condition: He'd only photograph her if she went topless. This struck Brown as strange, because she was familiar with Close's portraits of influential artists ― including Lou Reed, Cecily Brown, Kiki Smith, Cindy Sherman, Kara Walker and Roy Lichtenstein ― none of which featured bare breasts. Although Close has exhibited nude photos before, his depictions of artists focus on their faces.
Disappointed, Brown turned down the offer. "My decision not to undress for him saved me some humiliation," she wrote on Instagram. "Yet the fact he felt my awe & his seniority were grounds for this kind of emotional & professional manipulation left me with a sense of distrust and disgust that have stayed with me to this day."
In a phone conversation with HuffPost, Brown, now 48, expanded on her Instagram post. About 12 years ago, Brown said, she attended a dinner party held in her honor at the Hamptons home of a couple who had recently purchased one of her paintings. "At the time I was just coming off being a hot, young artist," Brown said. "It was really exciting to have that kind of focus on me." The dinner table was full of "fancy people," including Close, she said.
"It's not like he was my favorite artist, but I had high regard for him," Brown said. "I've known of his work since I was a kid. I remember seeing his giant black-and-white paintings at the Berkeley Art Museum when I was growing up. He was someone really important in my mind."
Brown was floored when, upon introducing herself to Close, the well-known painter said he was a fan. "I was floating on air," she said. "I was so giddy and flattered." Later in the evening, Close pulled her aside, explained that he had a studio nearby in the Hamptons and invited her to visit any time. He wanted to make a photographic portrait of her, if she was interested, according to Brown.
Close has a history of rendering artists he admires, so Brown was thrilled to be included in one of his projects. "It felt like professional recognition," she said. "A portrait by him is like being canonized."
She called Close the next day, and during their conversation, he asked if Brown would be OK posing topless. "I felt like I'd been punched in the stomach," Brown said. "It seemed to me that having a portrait done by Chuck Close was his way of communicating to the world that he thought you were a worthy artist. That my tits were going to be part of it didn't make any sense to me."
She didn't give Close an immediate answer. The next day, she said, she called back and explained that she didn't feel comfortable posing without clothes. Close said he was no longer interested. "That," Brown said, "made it really clear to me what my value was to him."
Katherine Brooks contributed reporting.
If you have a story about powerful men in the art world engaging in predatory behavior, or a specific experience regarding Chuck Close, please contact Priscilla Frank at priscilla.frank@huffpost.com.
Support HuffPost
The Stakes Have Never Been Higher
Related
Popular in the Community