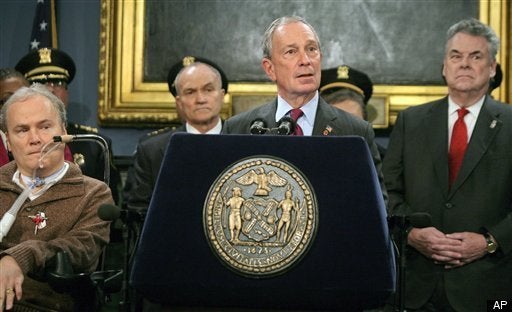 On Monday Mayor Michael Bloomberg and Martin Luther King III held a press conference in City Hall, joined by those affected by gun violence, to organize support for stricter background checks for gun purchases.
NRA political director Chuck Cunningham responded by repeatedly referring to Bloomberg as "Mayor Blame" and said the city's top dog was trying to deflect blame for the city's gun violence. He also mocked the mayor's much criticized response to December's blizzard.
"He likes to blame everyone else for violent crime in New York City," Cunningham said to a crowd of supporters. "He's not after illegal guns. He's after your guns. And that's a real snow job."
Bloomberg's spokesperson, Jason Post, said the mayor has done all he can to protect the city from gun violence.
"New York City has done its part," Post said. "The NYPD has driven crime down to record lows and New York passed the toughest law in the country for possession of an illegal gun. The problem is not in New York. Ninety percent of the guns recovered from crime scenes in New York come from out of state."
The Mayor was quite blunt in his criticism of the sale of automatic assault rifles. "No rational person thinks you should be able to sell a rifle that's advertising as able to bring down a commercial airliner," he said at Monday's press conference. "Nobody thinks we should be selling armor-piercing bullets -- you don't need that if you're hunting deer or elk."
When asked if he had spoken to the NRA, Bloomberg said his administration has repeatedly reached out to the NRA to discuss what can be done to close the loopholes in purchasing guns, but up until now the Mayor's office has not heard from them.
Popular in the Community