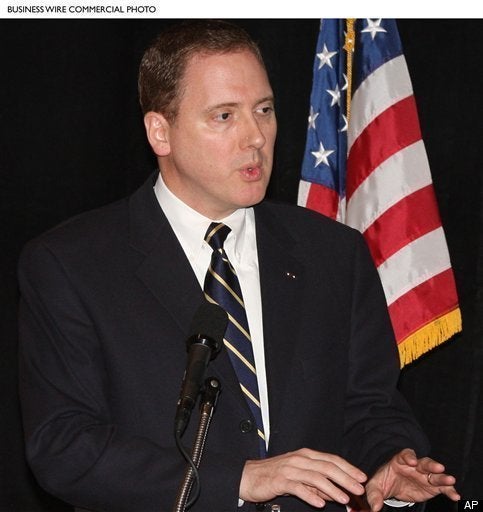 One of the next great conservative hopes seems likely to be a California Republican who has already taken on Senate Republicans, has ties to birthers and tea-partiers and is virtually unknown by the mainstream media establishment.
Chuck DeVore, a Republican member of the California State Assembly, is positioning himself as the ideologically pure alternative to Republican Carly Fiorina in the party's effort to take Sen. Barbara Boxer's Senate seat in 2010. This past week, he got the seal of approval from the party base: an endorsement by the Senate Conservative Fund and the explicit backing of conservative darling Sen. Jim DeMint (R-S.C.). Among the right-wing netroots, his race against Fiorina has been elevated to top-tier importance: alongside Marco Rubio's primary bid against Florida Governor Charlie Crist.
But who, exactly, is he? Not many people beyond Republican devotees and California political watchers know the guy. The Washington Post's Chris Cillizza -- who is more plugged into local politics than most D.C.-based reporters -- copped to not really having a clue about DeVore just last week.
The assemblyman does check off the majority of boxes on the conservative purity test. He has a full pro-life record, opposed the stimulus package and the bank bailout, and has never met a tax cut he didn't like. His most famous moment in office may, in fact, have occurred when he resigned from his position as Chief Republican Whip out of anger over a tax increase agreed to by California's Republican leadership.
"We need to shake up the Republican Party," DeMint said, when announcing his endorsement. "He's gonna join the country, and not the club."
In addition to fiscal discipline, however, DeVore's closet includes some weird and potentially damaging associations. As pointed out by a Republican source, the assemblyman is connected to noted birther Floyd Brown. Brown, who is famous for creating the 1988 Willie Horton ad and, more recently, pushing an effort to impeach Barack Obama, was supported by DeVore in his efforts to attack Democratic candidates in the 2008 presidential primary.
"Poll after poll shows it works," DeVore said of Brown's deeply controversial product.
All of which is not to say that associations like these -- and his relative obscurity -- will trip DeVore up in a primary race. Indeed, he likely relishes his current frame as a man of the conservative fringe.
Eight Senate Republicans announced on Thursday that they would be backing Fiorina's bid for the nomination. The next day, the assemblyman put out a web advertisement that contained a direct dig at one of Fiorina's endorsers -- Sen. Lindsey Graham (R-S.C.) -- for his ghastly efforts at working with a Democrat on climate change legislation.