WASHINGTON -- Sen. Chuck Grassley (R-Iowa), speaking at the first Judiciary Committee hearing on immigration reform Friday, tied the issue to bombings this week in Boston that were allegedly perpetrated by immigrants who had reportedly lived in the United States for years.
"Given the events of this week, it's important for us to understand the gaps and loopholes in our immigration system," he said. "While we don't yet know the immigration status of the people who have terrorized the communities in Massachusetts, when we find out, it will help shed light on the weaknesses of our system."
"How can individuals evade authorities and plan such attacks on our soil?" he continued. "How can we beef up security checks on people who wish to enter the U.S.? How do we ensure that people who wish to do us harm are not eligible for benefits under the immigration laws, including this new bill before us?"
The hearing -- like much of the country -- was rocked by events in Boston the night before, when police were caught in a firefight with Dzhokhar Tsarnaev, 19, and Tamerlan Tsarnaev, 26, brothers who were identified Thursday as the suspects in a bombing at the Boston Marathon that killed three people and injured more than 170. Tamerlan Tsarnaev was killed in the firefight; his brother, as of this writing, was still on the run.
Homeland Security Secretary Janet Napolitano was scheduled to testify at the hearing in support of immigration reform, but canceled due to the events in Boston.
Still, some Republicans have argued that any plans to legalize undocumented immigrants and change the visa system should be delayed by the events. Rep. Steve King (R-Iowa), an outspoken opponent of immigration reform, made a similar point earlier this week. His remarks came before there was a suspect in the case and referred to a reported "person of interest" who was a Saudi national. That person has since been cleared.
"Some of the speculation that has come out is that, yes, it was a foreign national and, speculating here, that it was potentially a person on a student visa," King said to the National Review's Robert Costa. "If that's the case, then we need to take a look at the big picture."
Sen. Chuck Schumer (D-N.Y.), a member of the "gang of eight" that drafted immigration reform legislation released this week, rebuked his colleagues Friday for tying the Boston bombings to the bill. He said he will work with the Department of Homeland Security to ensure efforts to strengthen the visa screening system, but reminded fellow senators that it's still unclear it would have helped in this case.
"I'd like to ask that all of us not jump to conclusions regarding events in Boston or conflate those events with this legislation," Schumer said. "In general, we're a safer country when law enforcement knows who is here, has their fingerprints, photos, etcetera, conducted background checks ... Two days ago, as you may recall, there was widespread erroneous reports of arrests being made. This just emphasizes how important it is to allow the actual facts to come out before jumping to any conclusions."
Senate Judiciary Committee Chairman Patrick Leahy (D-Vt.) said after the hearing, meanwhile, that he does not believe the Boston bombing will impact the push for comprehensive immigration reform, nor should it.
"If we change the policies in this country every time something happens -- whether it's Oklahoma City, 9/11, this -- then we're never going to do anything," he told reporters. "We should think about where the best policies are for the United States and use those."
Another Judiciary Committee member, Sen. Mike Lee (R-Utah), gave a measured response when asked by reporters whether the events in Boston would have an effect on immigration reform.
"I'm not sure. I'm not sure that it will," he said. "There is always that possibility. But one way or another this is an issue that has far predated the tragedies of this week and will still be here long after this week. So bottom line is I'm not sure. But one way or another the problems we face because our immigration system isn't working are still going to be there."
Rep. Mario Diaz-Balart (R-Fla.), who is working on an immigration reform deal in the House, told the Miami Herald he hadn't heard Grassley's comments, but disagrees with those trying to link reform to the situation in Boston.
"It is a horrible situation. It is heart-wrenching. And I'm not going to speculate on anything," Diaz-Balart said. "Linking something like that to other legislation I think is probably no appropriate at this time. In the first place, we don't have the facts. And what is indisputable, is that we have an immigration system that is broken; that we have an immigration system that is not working. We don't know who gets here. We have millions of people who we don't know who they are, who are here -- whether we like it or not. Those who come legally, we don't know if they leave. It's very unfortunate. I'm going to be focusing on solutions to a very broken system."
UPDATE: 3:50 p.m. -- Gang of eight members Sens. John McCain (R-Ariz.) and Lindsey Graham (R-S.C.) issued a joint statement Friday afternoon saying their reform bill would boost national security:
In the wake of this week's terrorist attack in Boston, some have already suggested that the circumstances of this terrible tragedy are justification for delaying or stopping entirely the effort for comprehensive immigration reform. In fact the opposite is true: Immigration reform will strengthen our nation's security by helping us identify exactly who has entered our country and who has left -- a basic function of government that our broken immigration system is incapable of accomplishing today. The status quo is unacceptable. We have 11 million people living in the shadows, which leaves this nation vulnerable to a myriad of threats. That is all the more reason why comprehensive immigration reform is so essential. By modernizing our system of legal immigration, identifying and conducting background checks on people here illegally, and finally securing our border, we will make America more secure.
Before You Go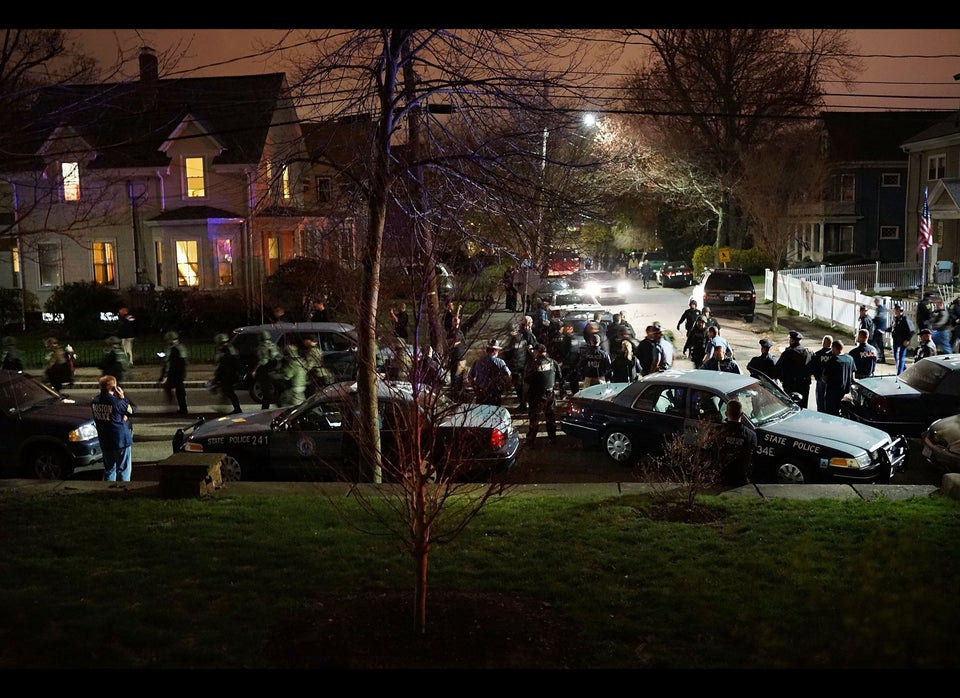 Manhunt For Suspect #2
Popular in the Community