WASHINGTON -- A Saudi national briefly reported last week to be a person of interest in the Boston bombings was quickly cleared as an innocent bystander, but that didn't stop Sen. Chuck Grassley (R-Iowa) on Tuesday from questioning whether the man was on a terrorist watch list.
"Before the brothers became the focus of the investigation, authorities questioned a Saudi student who reportedly was on a terrorist watch list," Grassley said to Homeland Security Secretary Janet Napolitano at a Senate Judiciary hearing on immigration. "I sent a letter to you this morning asking for answers to the questions about the bombers and how they interacted with your agency. I request that you would promptly respond given the impact this could have on the immigration debate."
"With regard to the Saudi student, was he on a watch list and if so, how did he obtain a student visa?" he continued.
The New York Post reported last Monday on the day of the bombings that a 20-year-old Saudi national was a "person of interest" in the attack -- a claim that was widely criticized. Law enforcement questioned the man and guarded him in the hospital for a short time, but said he was never detained and was not a suspect -- he was simply a witness.
Napolitano said the man wasn't on a watch list before coming to the United States and isn't now, although he was very briefly added last week while he was being questioned.
"He was not on a watch list," she said of his entrance to the country. "What happened is this student was ... in the wrong place at the wrong time. He was never a subject, he was never even really a person of interest."
Conservative commentators and websites have insisted that the man may have had something to do with the bombings -- regardless of law enforcement saying he was simply an innocent bystander -- and have also reported that he is being be deported. Commentator Glenn Beck said on Monday that the Saudi man was set to be deported for "terrorist activities." The website Townhall.com ran a story on Monday with the headline "Saudi National Questioned in Boston Attack was on Terror Watch List," but it appears to have been removed from the site. Napolitano refuted those claims, and there are no indications that the Saudi student will be removed from the country.
Dzhokhar and Tamerlan Tsarnaev, two brothers of Chechen heritage, are the suspects in the Boston bombings. The elder brother, Tamerlan Tsarnaev, died in a firefight with police early Friday, while Dzhokhar Tsarnaev was taken into police custody and was charged, from his hospital bed, with using a weapon of mass destruction. NBC reported that Dzhokhar Tsarnaev said he and his brother acted alone, with no connection to foreign terrorist groups.
Grassley has said the Tsarnaevs' immigrant status -- Dzhokhar Tsarnaev is a citizen, while his brother was a permanent resident -- should lead lawmakers to re-evaluate how visas are doled out during immigration reform discussions.
Before You Go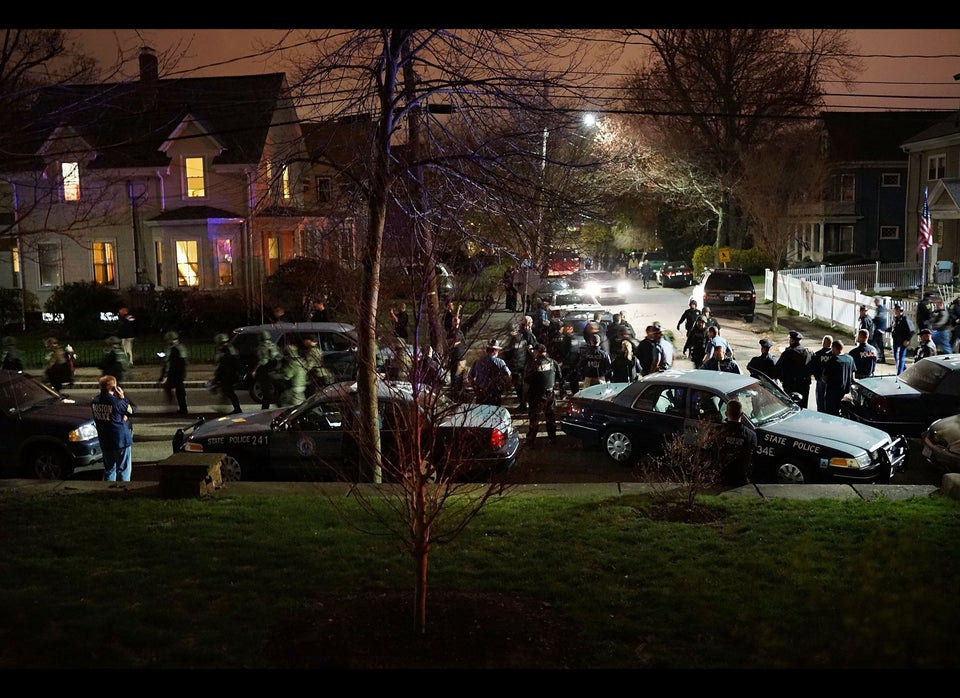 Manhunt For Suspect #2
Popular in the Community