 WASHINGTON -- Sen. Chuck Grassley (R-Iowa) tried to get D.C. Circuit court nominee Robert Wilkins to criticize statements made by another of President Barack Obama's D.C. Circuit nominees, Nina Pillard, during a Senate Judiciary Committee hearing on Wednesday. It didn't work, though.
There was an awkward exchange as Grassley, the ranking Republican on the committee, read aloud passages from a 2007 article that Pillard wrote about abortion and access to contraception. Grassley never said what he was reading from or who made those statements. He simply asked Wilkins to say whether he agreed or disagreed with a series of "assertions regarding constitutional law," in order to get a sense of his "judicial philosophy."
"Reproductive rights should be doubly constitutionally protected by the overlapping liberty and equality guarantees," Grassley read aloud.
"Um, I'm not sure of the context for the quote, senator," Wilkins said, stumbling through his words for a moment. "My understanding of the law in that area is that reproductive rights are founded upon the rights to privacy in the Constitution. And, of course, I would follow whatever the Supreme Court precedent is in that regard."
Grassley moved on to number two.
"Reproductive rights, including the rights to contraception and abortion, play a central role in freeing women from historically routine conscription into maternity," he read.
"Again, I don't know the context of that quote, sir," said Wilkins, who is currently a judge on the U.S. District Court for the District of Columbia. "But I would follow the Supreme Court precedent in this area, as I have all other precedent when I handle cases."
"OK," Grassley said. "Third one. ... Reproductive rights really are fundamentally about sex equality."
At this point, Wilkins seemed unsure of where things were going.
"Um, again, I'm not familiar with that statement so it's hard for me to react to it, sir," he said. "So I really don't know what else to say about it."
Grassley noted he had two more quotes to read, but with the clock ticking, he said he would just submit those two for responses in writing.
A Democratic Senate aide in the hearing described the exchange as "super weird," but said Wilkins "handled it perfectly."
A request for comment from a Grassley spokeswoman was not returned.
Wilkins and Pillard are two of Obama's three pending nominees to the U.S. Court of Appeals for the D.C. Circuit. Pillard, a Georgetown University law professor, has proved to be the most controversial, taking conservative criticism for her views on gender equality and reproductive choice. The third nominee, Patricia Millett, is an appellate lawyer in Washington and the only one who has cleared the Senate committee so far.
Grassley has for months been trying to prevent Obama from filling the three vacancies on the D.C. Circuit, a panel that ranks second only to the Supreme Court in terms of its stature. He has contended that the court isn't busy enough to warrant filling the empty seats -- an argument that has been disputed by others, including Supreme Court Chief Justice John Roberts -- and has falsely accused the president of "court-packing" for trying to fill the vacant slots.
Indeed, the senator made it clear to Wilkins that trouble is ahead for his confirmation, though he said it wasn't personal.
"Just so that you know, this is a debate that is beyond you as an individual, although it could impact you," Grassley said. "We'll leave that for another day."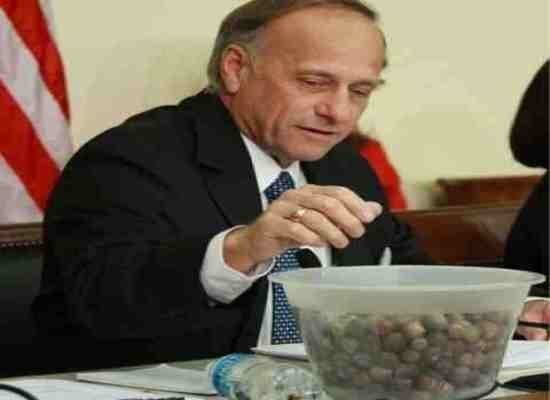 More Crazy Examples of Congressional Theatrics