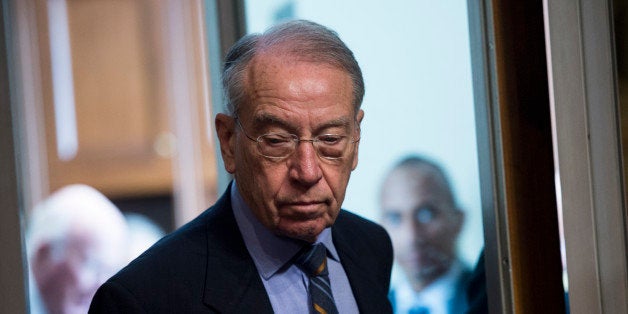 WASHINGTON -- A dozen state attorneys general are urging the Senate to reject an effort by Sen. Chuck Grassley (R-Iowa) to strip the D.C. Circuit Court of Appeals of three of its seats and therefore prevent President Barack Obama from filling vacant judgeships on the court.
In a Monday letter, 12 top state law enforcement officers call on senators to support the court's current 11 judgeships instead of backing Grassley's bill to shrink the court to eight seats. The attorney general of Iowa, Grassley's home state, is among those on the letter.
"There is no basis to reduce, much less slash, the number of judgeships" on the D.C. Circuit, which is a "vital, understaffed court of national importance," reads the letter. "The D.C. Circuit's caseload is unique, heavily tilted toward complex administrative law cases."
The letter calls on the Senate to vote "promptly" on Obama's three nominees to the court, just as the Senate confirmed three D.C. Circuit nominees from former Presidents Ronald Reagan, George H.W. Bush, Bill Clinton and George W. Bush. The letter is signed by attorneys general from Connecticut, Delaware, the District of Columbia, Hawaii, Illinois, Iowa, Maryland, Nevada, New Mexico, New York, Vermont and Washington.
A Grassley spokeswoman did not respond to a request for comment.
The Iowa Republican's bill wasn't likely to get a vote anyway, given its lack of Democratic support. But the letter from the attorneys general underscores that the push to allow a Senate vote on Obama's nominees goes beyond the partisan fights of Congress.
Republicans backing Grassley's bill say the D.C Circuit isn't busy enough to warrant filling its three empty seats, a charge that Democrats contest. Obama has said he has a constitutional duty to fill court vacancies. GOP senators have also falsely accused the president of "court-packing" for trying to fill empty seats.
In the meantime, Senate Republicans have blocked all three of the president's nominees to the court, and Democrats are signaling they're ready for filibuster reform to resolve the matter.
Calling all HuffPost superfans!
Sign up for membership to become a founding member and help shape HuffPost's next chapter
BEFORE YOU GO
PHOTO GALLERY
The Second-Term Curse