Sen. Chuck Grassley (R-Iowa), chairman of the Senate Judiciary Committee, rejected calls that the FBI help investigate an explosive allegation of sexual assault against Supreme Court nominee Brett Kavanaugh, saying federal investigators "would have no bearing" on what Christine Blasey Ford tells lawmakers in the coming days.
"We've offered Dr. Ford the opportunity to share her story with the committee, as her attorney said yesterday she was willing to do," Grassley said in a statement Tuesday. "We offered her a public or a private hearing as well as staff-led interviews, whichever makes her most comfortable. The invitation for Monday still stands."
But, he continued, "Dr. Ford's testimony would reflect her personal knowledge and memory of events. Nothing the FBI or any other investigator does would have any bearing on what Dr. Ford tells the committee, so there is no reason for any further delay."
Sen. Jeff Flake (R-Ariz.) echoed Grassley's comments on Tuesday evening.
"When Dr. Ford came forward, I said that her voice should be heard and asked the Judiciary Committee to delay its vote on Judge Kavanaugh," he tweeted. "It did so. I now implore Dr. Ford to accept the invitation for Monday, in a public or private setting. The committee should hear her voice."
Blasey has accused Kavanaugh of sexually assaulting her at a party when they were both in high school in the 1980s.
Republicans have invited both Blasey and Kavanaugh to testify before the judiciary committee on Monday but have resisted efforts to bring in other witnesses that could add more detail to the accounts.
"A full investigation by law enforcement officials will ensure that the crucial facts and witnesses in this matter are assessed in a non-partisan manner, and that the committee is fully informed before conducting any hearing or making any decisions," Blasey's lawyers wrote in a letter to the committee, the contents of which were reported by several media outlets.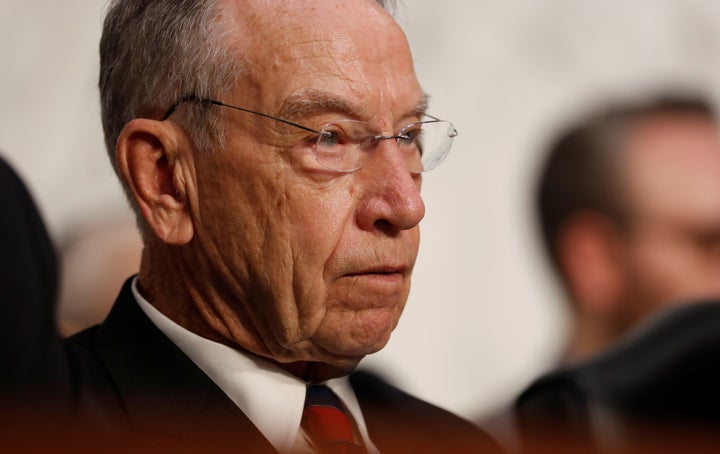 The Justice Department alluded on Tuesday that it had no intention of reopening its background investigation of Kavanaugh, telling NPR in a statement that the FBI "does not make any judgment about the credibility or significance of any allegation."
"The purpose of a background investigation is to determine whether the nominee could pose a risk to the national security of the United States," the agency said. "The allegation does not involve any potential federal crime. The FBI's role in such matters is to provide information for the use of the decision makers."
Democrats have supported Blasey's request, however, accusing the GOP of rushing the process while attempting to put Blasey on the national stage before the allegations can be checked out.
"I support Dr. Blasey Ford's request for an FBI background investigation before a hearing," Sen. Kamala Harris (D-Calif.) said Tuesday on Twitter. "She should not be bullied into participating in a biased process and we should not rush forward before facts are gathered."
This story has been updated to include Sen. Jeff Flake's tweet.
Popular in the Community