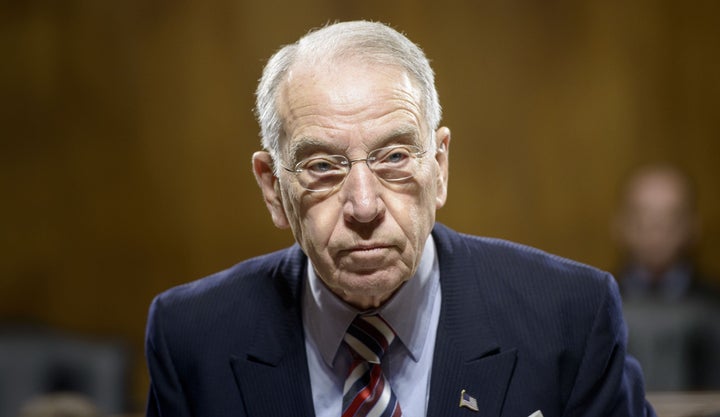 WASHINGTON -- The Senate has done an abysmal job of confirming federal judges this year.
Only five of President Barack Obama's judicial nominees have been confirmed since Republicans took control of the chamber in January. By contrast, when Democrats ran the Senate during President George W. Bush's seventh year in office, they had confirmed 25 of his judicial picks by this point in the year.
But Sen. Chuck Grassley (R-Iowa) said Thursday that he thinks his party is doing a great job with judicial confirmations -- moments after he blocked a Democratic effort to take up a batch of nominees for votes.
Grassley, who chairs the Judiciary Committee, rejected a request on the Senate floor by Sen. Charles Schumer (D-N.Y.) to vote on three district court nominees from his state. None are controversial; all three sailed through the Judiciary Committee last month on voice votes. Yet the Iowa Republican defended his move, suggesting it was legitimate for the Republicans to deliberately slow-walk the process because they are confirming nominees at "roughly the same pace" as Democrats did in previous years.
Grassley argued that his party has actually confirmed 16 judicial nominees this year, not five, because Republicans should be able to count the 11 judges that Democrats confirmed during the lame-duck session in December. He suggested that Democrats had broken with Senate tradition by confirming any nominees in a lame-duck.
"At the end of last year, the Senate rammed through 11 judges, which, under regular order in U.S. Senate, should have been considered at the beginning of this Congress," Grassley said.
"So put that in your pipe and smoke it," he said to Schumer, who protested the delays on his nominees. "We're moving at a reasonable pace."
Grassley gets points for sass, but his argument doesn't add up. For starters, plenty of judicial nominees have been confirmed in previous lame-duck sessions. Democrats held votes on 20 of Bush's judicial picks in the lame-duck after the 2002 elections. The Senate also confirmed judicial nominees in lame-duck sessions after the 2004 and 2006 elections. In the 2010 lame-duck, the Senate confirmed 19 judicial nominees.
Schumer called it "a disgrace" that Republicans are doing so little to address the nation's judicial vacancy crisis, never mind that he can't get votes on judges badly needed in his home state. There are currently 63 federal court vacancies, of which 28 are judicial emergencies, where caseloads are surging at short-handed courts. Two of the three Schumer nominees that Grassley blocked on Thursday would fill judicial emergencies.
"The job of the Senate is to responsibly keep up with the need to confirm judges, yet we have 10 percent vacancy in judicial courts," the New York Democrat said. "Democrats will not stand by and watch our judicial system brought to its knees by death by a thousand cuts."
The Senate is leaving next week for a monthlong recess. Grassley said GOP leaders wouldn't schedule votes on any judicial nominees until at least September.