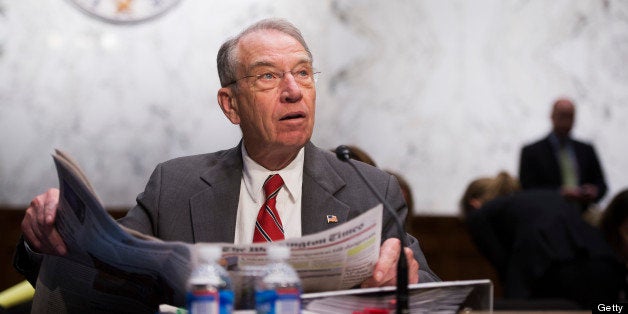 According to The Hill, Sen. Chuck Grassley (R-Iowa) -- whom the publication calls "a pivotal deal-maker in Congress" -- is really feeling down in the dumps because President Barack Obama doesn't call him on the phone anymore to ... make deals, I guess?
In 2009, Obama basically had Grassley on speed dial, calling him frequently during negotiations over an overhaul of the nation's healthcare system. Grassley at the time was one of three Republicans on the Group of Six, which also included Sen. Mike Enzi (Wyo.) and former Sen. Olympia Snowe (Maine).

"During that period of time, the president would call me on my cellphone and talk to me. I don't know if it was a half a dozen times or a dozen times, but enough so you remember he called you," Grassley said.
What caused the relationship between Grassley and Obama to get frosty is, I guess, supposed to be open for debate. In the Hill piece, Grassley contends an Aug. 5, 2009 meeting -- in which Obama asked Grassley if he'd be willing to vote for the Affordable Care Act, to which Grassley responded in the negative -- was the moment that catalyzed this dissolution. Elsewhere, it's contended that Grassley's criticism of the Obama administration's various failures to live up to the promise to be "the most transparent administration in history," is what caused the falling out -- though if Obama just refused to call up everyone who'd leveled similar critiques over the years, he'd have no one left to call.
The more likely reason Obama and Grassley stopped being phone pals is hinted at in this sentence from The Hill's piece: "Democrats charge that Grassley wasn't interested in striking a healthcare deal in 2009, claiming he was just trying to run out the clock."
One of the things that has perhaps gone unappreciated in this story is the extent to which Obama kept wooing Grassley -- who was one of those supposedly influential and presumably get-able "Gang Of Sixers" in the overall debate over health care reform -- long after the rest of Washington pretty safely concluded that Grassley was acting in bad faith the whole time, thus making Obama's overtures a pretty good candidate for inclusion in the Exercises in Futility Hall Of Fame. Steve Benen remembers this well:
Those who followed the debate over health-care reform closely may recall that by the fall of 2009, "no Republican received more TLC from Barack Obama" than Chuck Grassley. The president and his team reached out to him constantly, hoping that he was the kind of senator who would work in good faith towards bipartisan solutions.

The president and his team were mistaken. While Grassley claimed to be serious about bipartisan solutions on health care reform, he was also, at the same time, making fundraising appeals urging donors to send him cash to help him "defeat Obama-care." Grassley then proceeded to talk up "death panel" garbage and tout Glenn Beck's book.

By August 2009, Grassley told MSNBC that he was negotiating with the White House on a health care compromise, which Grassley was prepared to vote against, even if it included everything he asked for.
Calling all HuffPost superfans!
Sign up for membership to become a founding member and help shape HuffPost's next chapter
BEFORE YOU GO
PHOTO GALLERY
Obama's Fist Bumps