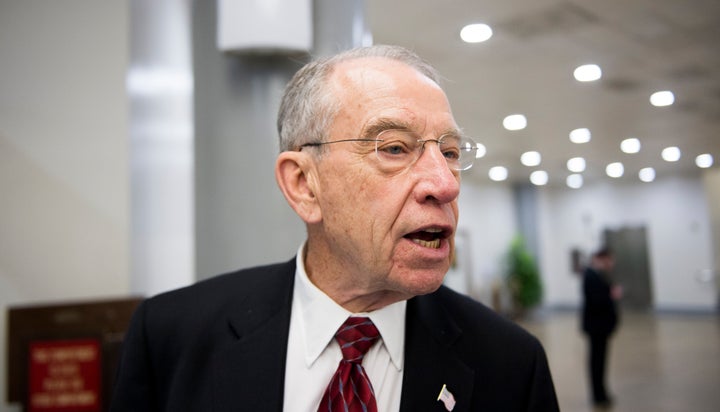 WASHINGTON -- A Des Moines, Iowa, cafe revamped its menu on Tuesday to send a message to Sen. Chuck Grassley (R-Iowa) that he should hold confirmation hearings for President Barack Obama's Supreme Court nominee.
Diners at Ritual Cafe can now order a "Justice Delayed Bowl" of steamed eggs, roasted red peppers, Kalamata olives and feta cheese. Or how about "Garland Granola," yogurt topped with hemp nut granola? "Confirmation Coffee" is a must, obviously. The full menu is here.
"I get all kinds of people in here. I get liberals, I get conservatives," Denise Diaz, the cafe owner, told The Huffington Post. "I want to be part of the conversation. If I can provide my place as a venue to do this, why not?"
Diaz agreed to the idea after being pitched by Progress Iowa, a statewide liberal group that's been lobbying Grassley to hold a hearing for Merrick Garland. Grassley chairs the Judiciary Committee, which puts him in the powerful position of deciding whether to move forward with Obama's nominee. The Iowa senator, who is up for re-election, is meeting with Garland on Tuesday in Washington but still has no plans to give him a hearing.
As of early Tuesday, there'd been a little more foot traffic than usual at Ritual Cafe. Three people came in off the street, and "they were like, 'Right on,'" Diaz said. "I've had people, of course, specifically come in for the event too, so that's nice. That's their way of morning activism."
Diaz doesn't think Grassley has ever been to Ritual Cafe, but she's had some other high-profile politicians come by: Agriculture Secretary Tom Vilsack, a former Iowa governor; Democratic presidential candidate Sen. Bernie Sanders (I-Vt.); and Obama himself.
"This is probably a liberal business," she said. "But you know, I'm cool if Republicans come in."
A Grassley spokeswoman did not respond to a request for comment.
REAL LIFE. REAL NEWS. REAL VOICES.
Help us tell more of the stories that matter from voices that too often remain unheard.
BEFORE YOU GO
PHOTO GALLERY
Supreme Court Justices Get Out Of The Office