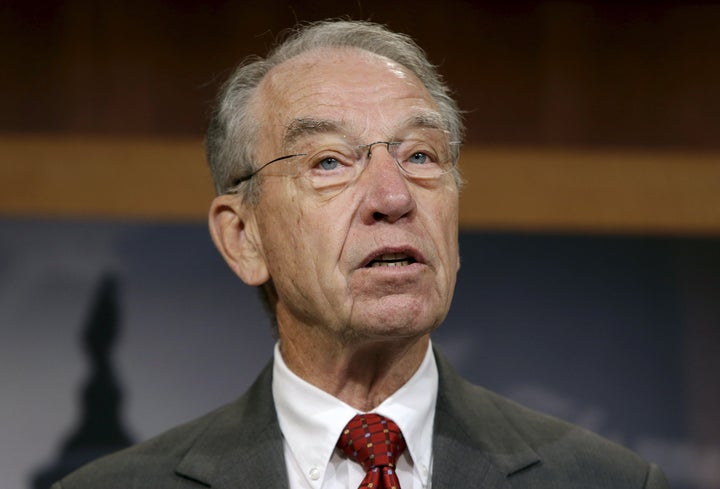 WASHINGTON -- Sen. Chuck Grassley (R-Iowa) is best known in Washington these days as the Judiciary Committee chairman refusing to give a hearing to President Barack Obama's Supreme Court nominee.
But back in his home state, two former top government officials are wondering what happened to the Grassley they used to know: a legislator who proudly helped take politics out of the state's judicial confirmation process.
Republican Joy Corning and Democrat Sally Pederson, both former Iowa lieutenant governors, are teaming up to try to convince Grassley to hold hearings for Obama's court pick, Merrick Garland. They held a Thursday press event in Des Moines to remind him of his roots.
"You voted in favor of Iowa's constitutional amendment that took campaign politics out of Iowa's judicial system," said Corning, citing a 2014 interview in which Grassley boasted about voting as a state lawmaker to prevent political parties from nominating judges. "You express great pride in that vote, and I quote, 'It was a very forward-looking thing to do what we did 50 years ago.'"
That's a sharp contrast to what's happening today, she said.
"Throughout your career, Chuck, you have been a fair-minded, common-sense consensus builder," the former GOP official continued. "Refusing to fill the Supreme Court vacancy is none of those things."
Pederson said Grassley has a unique opportunity to break the standoff on Capitol Hill and use his leadership position to move the process forward.
"The senator's opposition [to hearings] is troubling," she said. "Moreover, this is not the Chuck Grassley we thought we knew."
Both Corning and Pederson know Grassley from their overlapping political careers. Corning was Iowa's lieutenant governor from 1991-1999; Pederson held the post from 1999-2007. Grassley has been a senator since 1981.
The two women are leading a group, Justice Not Politics, to further their cause. Their nonpartisan coalition represents tens of thousands of Iowans who think courts should be free of political and financial influence.
HuffPost asked the pair, via phone, what they thought could ultimately sway Grassley on the issue.
"He needs to hear from the public," Pederson said. "He's going to be back in Iowa holding town hall meetings. I think this is a topic that's going to come up."
The Senate is about to go on recess for two weeks, which means Grassley and other senators will be back home meeting with constituents. Corning agreed that if the Iowa senator hears their thoughts on the Supreme Court fight, it could make him reconsider his hardline position.
"We know that a majority of Iowans think this is what should happen," she said.
A Grassley spokeswoman did not respond to a request for comment.
CORRECTION: A previous version of this article stated that Joy Corning was Iowa's lieutenant governor from 1981-1999. She became lieutenant governor in 1991.
Support HuffPost
The Stakes Have Never Been Higher
Before You Go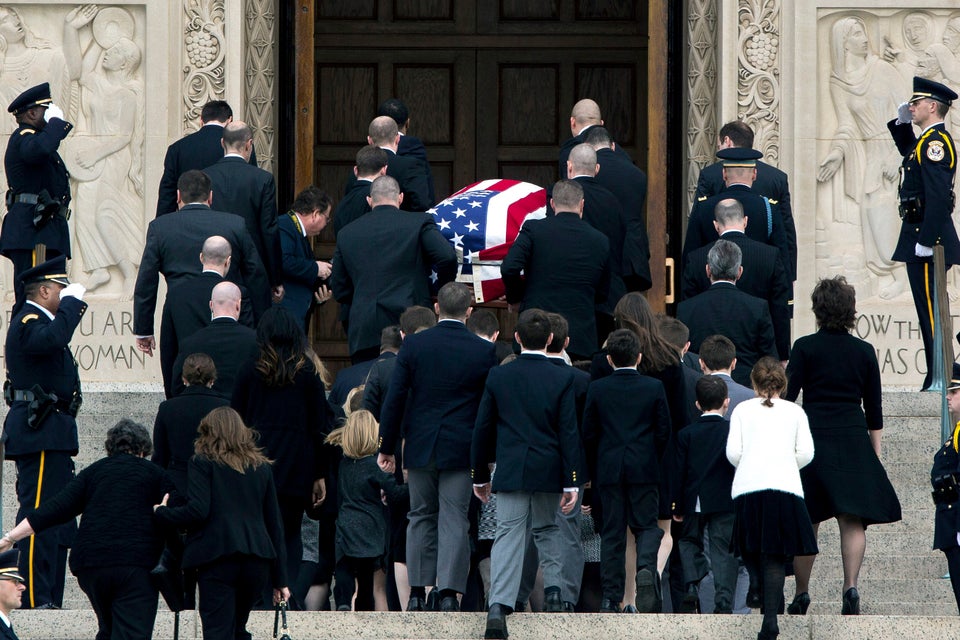 Funeral Of Supreme Court Justice Antonin Scalia
Popular in the Community