WASHINGTON -- Sen. Chuck Grassley (R-Iowa) didn't vote for the Violence Against Women Act reauthorization bill when it passed the Senate last week. And on Wednesday, he gave a blunt reason why: he doesn't think tribal courts are capable of giving a fair trial to non-Native Americans.
Grassley was holding a town hall meeting in Indianola, Iowa, when a constituent asked him about his VAWA vote. Think Progress reported on the meeting and posted a video of Grassley's response, during which he argued that, since reservations are made up of Native Americans, those jurists wouldn't be fair to a non-Native American.
"If you have a jury, the jury is supposed to be a reflection of society," Grassley said. "Under the laws of our land, you've got to have a jury that is a reflection of society as a whole, and on an Indian reservation, it's going to be made up of Indians, right? So the non-Indian doesn't get a fair trial."
Grassley was referring to a provision in the Senate VAWA bill that would give tribal courts new authority to prosecute non-Native American men who abuse Native American women on tribal lands. As it stands, tribal courts have no criminal authority over non-tribal members on reservations, only civil authority. Federal and state law enforcement are supposed to step in in cases of domestic violence involving non-Native Americans on reservations, but often they are hours away and lack the resources to respond. The result is that non-Native American men who abuse Native American women on tribal lands -- something that happens at appallingly high rates -- are effectively immune from the law.
Grassley spokeswoman Beth Levine sought to clarify the senator's remarks, saying his concern is that allowing tribal court juries to try non-Native Americans may violate their rights to a jury trial and to the equal protection of the law that the Constitution guarantees.
"The Constitution requires that a trial by jury fairly represent a cross-section of the community and that no juror be denied the right to serve based on race. Membership in Indian tribes is racially defined by law and tribes are not required to allow non-members to serve on juries," Levine said in a statement.
But John Dossett, general counsel for the National Congress of American Indians, said Grassley's charge is "simply wrong," for several reasons. For starters, he said, the tribal provision in the Senate VAWA bill only applies to people who live on a reservation and have formed a relationship with a Native American woman, which means any jury would be chosen from their own community. In addition, he continued, juries that represent a "fair" cross-section of a reservation will include non-Indian people who have chosen to live there.
"All over this country, there are communities and juries that are predominantly of one race or another. If you commit a crime in San Antonio, Texas or Miami, Florida, you will face a predominantly Hispanic jury. The longstanding and fundamental rule in the United States is that juries will be chosen from a fair cross section of the community where the crime was committed and where the court convenes. That is the definition of a fair trial," Dossett said.
House Republican opposition to the tribal provision is a major reason why VAWA died in the last Congress. But some Republicans are now stepping forward to try to clear up confusion about the provision and ease their colleagues' fears that tribal courts wouldn't honor people's constitutional rights. As it is, tribal courts are already bound by the Constitution.
"People seem to have this fantasy that Indians and courts are going to try to make up for what happened to them for hundreds of years of history," Rep. Tom Cole (R-Okla.), who is one of only two registered Native American in Congress, told HuffPost late last year. "That's just not true. Most tribes want non-tribal members to come in -- if you're gaming, for tourism, commerce. That's their lifeblood."
Cole is one of seven Republicans who signed onto a bill unveiled Wednesday by Rep. Darrell Issa (R-Calif.) that proposes a compromise on the provision. Under Issa's bill, tribes would get the new authority over non-Native American domestic abusers, but those abusers would have the option to transfer their case to a federal court if they felt their rights weren't being upheld. Key tribal groups have said they support Issa's proposal, a sign that House Republican leaders maybe, maybe, have found a way forward with their caucus on VAWA.
"Rep. Issa's bill actually helps address concerns about the treatment of non-Native Americans brought to Tribal Courts," said Issa spokesman Frederick Hill. "Differing from the Senate language, Rep. Issa's proposal includes a provision that allows an accused individual who is not a member of a tribe to move his case from Tribal Court to Federal Court if he is concerned that his constitutional rights are at risk."
CORRECTION: A previous version of this article mistakenly stated that Rep. Tom Cole (R-Okla.) is the only registered Native American in Congress. He is one of two registered Native Americans in Congress.
Before You Go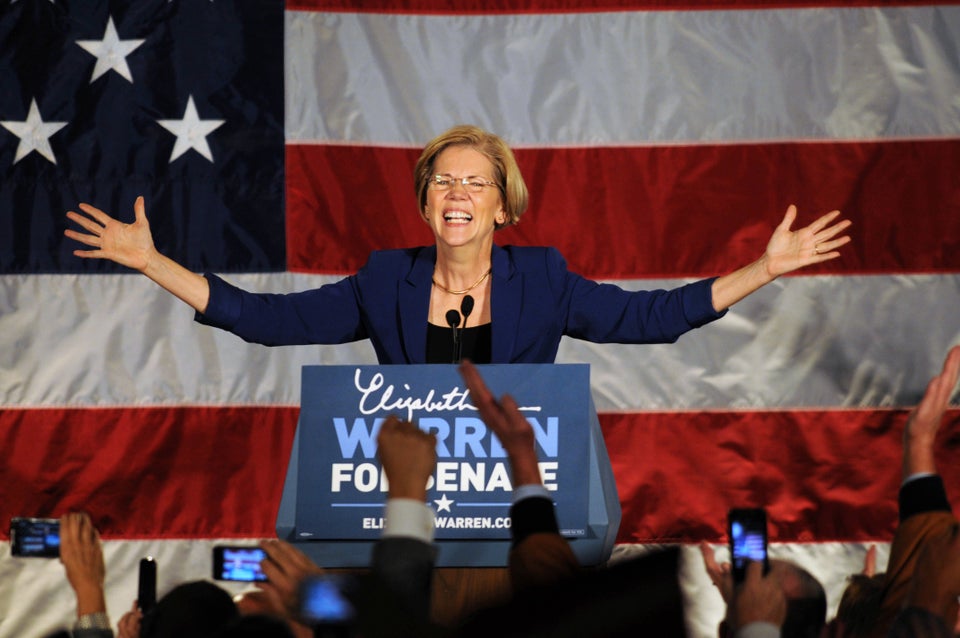 Women In The U.S. Senate
Popular in the Community