WASHINGTON -- Secretary of Defense nominee Chuck Hagel passed the Senate Armed Services Committee Tuesday afternoon, marking a significant step forward in the former Republican senator's embattled confirmation process.
The final vote was 14-11, along party lines, proving that despite loud protests from Republicans, Democrats simply have more votes.
Before the vote, Republicans railed against their fellow GOP member. Sen Ted Cruz (R-Texas) went the farthest, alleging that Hagel may have received foreign money without any evidence.
"We do not know, for example, if he received compensation for giving paid speeches at extreme or radical groups. In my view, given the two letters he received, it is a fair inference to assume that he and those handling his nomination assembled that information, assembled his compensation, and the only reasonable inference, I think, is when they assembled it, there was something in there that they did not want to make public," he said.
Sen. Bill Nelson (D-Fla.) struck back with a mini-"have you no decency" moment. "Mr. Chairman, Sen. Cruz has stated his opinion, which he is entitled to, but I want to put on the record that this senator feels like that Sen. Cruz has gone over the line," he said. "He basically has impugned the patriotism of the nominee, in your conclusions, which you are entitled to come to, about him, in essence, being cozy with Iran."
"I would encourage this committee to take the role model of its former chairman, Sen. McCain, who can get into it hot and heavy, but at the end of the day, he's gonna respect the other person's motives," Nelson said.
Sen. John McCain (R-Ariz.), who has sharply criticized Hagel over Iraq, interrupted the order of speaking from senators to say, "Sen Hagel is an honorable man. He served his country and no one on this committee should impugn his integrity."
Some of Hagel's Republican colleagues have sought to derail his confirmation over past comments on Israel and Iran and his outspoken opposition to the war in Iraq. Conservative opinion journalists, most notably Bill Kristol, have also loudly opposed Hagel's confirmation. Anonymous Senate aides have claimed his nomination has been sunk, though their predictions haven't yet panned out.
Despite the all-out opposition campaign, Armed Services Committee Chairman Sen. Carl Levin (D-Mich.) announced Monday that he would hold the vote Tuesday, nearly a week later than originally scheduled after Republicans complained that Hagel had not disclosed sufficient personal financial information. Sen. John McCain (R-Ariz.) said Monday that Hagel had met the requests for information, and agreed with Levin's plans to hold the vote Tuesday.
Hagel, though, performed poorly in his confirmation hearing on Jan. 31. He faced fiery -- and some have suggested unfair -- questioning from Republicans, and appeared unprepared for such a contentious battle. The fiercest exchange came during a discussion of the war in Iraq, as Hagel and McCain sharply disagreed over the success of the so-called surge in the Iraq War.
Senate Majority Leader Harry Reid (D-Nev.) said that the full Senate would hold a vote on Hagel's nomination Wednesday or Thursday. Sen. Lindsey Graham (R-S.C.) has said that he will block Hagel's nomination until he gets answers on the attacks in Benghazi, Libya, that killed Ambassador Chris Stevens and three other Americans. Sen. James Inhofe (R-Okla.), ranking member on the Armed Services Committee, said he will "postpone" the nomination.
Reid said Tuesday that he will not honor any holds on Hagel's nomination.
However, Hagel appears to have the votes to avoid a filibuster, a move even Graham opposes. All 55 Democrats are expected to vote in favor of his nomination, two Republicans have said they will vote for him and at least five Republicans are opposed to a filibuster, according to the Associated Press.
This story has been updated.
Before You Go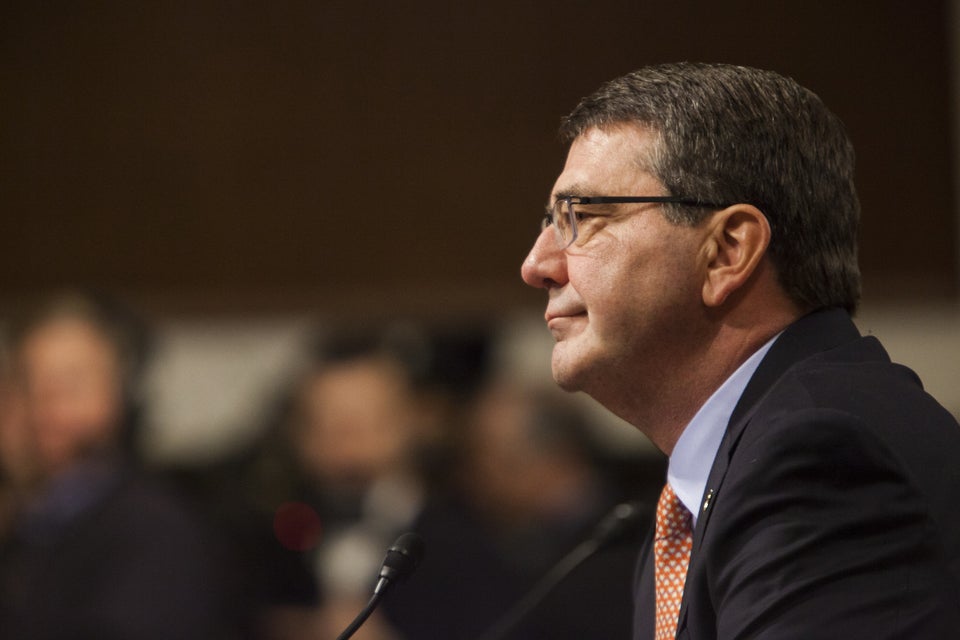 Secretaries Of Defense
Popular in the Community