WASHINGTON -- Senate Republicans successfully foiled attempts to confirm Chuck Hagel for the post of defense secretary on Thursday, by denying him the 60 votes needed for the nomination to proceed.
Democrats ultimately came up short of the 60 votes needed to invoke cloture and end the Republicans' filibuster, with a final vote count of 58 to 40. Republican Sens. Mike Johanns (Neb.), Susan Collins (Maine), Thad Cochran (Miss.) and Lisa Murkowski (Alaska) voted with Democrats in their failed effort to end debate. Sen. Orrin Hatch (R-Utah) voted present.
The nomination is hardly dead. In fact, it looks increasingly likely that Democrats will be able to muster the needed votes to confirm Hagel's nomination after a 10-day recess.
But the failure to end the GOP filibuster is still is a setback for the administration, which wanted a fast confirmation process, and Senate Democratic leadership, whose decision to punt on filibuster reform at the beginning of this congressional session was met with criticism.
Earlier in the day, Senate Majority Leader Harry Reid (D-Nev.) said it was "tragic" that Senate Republicans decided to filibuster a "qualified nominee."
"It's really unfortunate," Reid said on the Senate floor.
Leaving the Senate floor after the vote, Murkowski explained her decision to break with her party. "I said I was not going to support a filibuster and I stuck by my word," she said.
Thursday's vote marked the latest chapter in the controversy over Hagel, named as nominee for defense secretary by President Barack Obama just over one month ago. Republicans, and some Democrats, immediately expressed their reservations over Obama's pick, mostly due to comments Hagel made criticizing the U.S. mission in Iraq and the influence of the Israel lobby in Washington, as well as his public support for a diplomatic resolution to confronting Iran's nuclear program.
A White House administration official expressed confidence that Hagel's nomination would be confirmed shortly.
"Senator Hagel is going to be confirmed, if not tomorrow then when the Senate returns from recess," the official told The Huffington Post.
A growing number of Republicans had said shortly before that they would vote to end debate after recess -- but Reid proceeded with the vote before the break anyway, arguing against the precedent it would set to honor a hold on a cabinet nominee.
Reid himself had to change his original vote and ultimately vote against the cloture that would end the filibuster, because doing so allows him to bring the nomination up for another vote at any time.
Republicans insisted they were waiting on requests for more answers on Hagel's finances, as well as specific intelligence on the attacks in Benghazi, Libya. The White House said it sent a letter that answered all of their questions, but GOP senators maintained they needed more time and would be ready to proceed with an up-or-down vote when the Senate reconvenes after recess.
"We haven't had much of a debate -- people outside the committee," Sen. Lindsey Graham (R-S.C.) told reporters. "So we feel like when we come back next week after the break, unless there's some bombshell, I'd be ready to move on to vote."
Sen. John Barrasso (R-Wyo.) noted that Democrats themselves weren't entirely comfortable with Hagel's hearing and that they had privately shared their concerns with him.
Some Republicans said they didn't have outstanding questions of their own, but were voting in support of their colleagues who felt differently.
"I actually have [no questions] of my own," said Sen. Bob Corker (R-Tenn.). "I'm not on the committee. But again … this is not the normal situation. Cloture is about ending the debate, and all Republicans are saying is we're not ready to vote yet. It's all about just people wanting the time for the information to come back."
But Sen. Carl Levin (D-Mich.) wasn't buying the Republicans' rationale.
"The floor has been available for people to speak yesterday and today. I've heard no speeches," he said. "Everything they've asked for they got."
"At some point you just sort of say well, there's something else going on as opposed to just wanting information," he added.
Reid decried the outcome immediately after the vote Thursday evening, emphasizing the need to relieve outgoing Defense Secretary Leon Panetta of his obligations and confirm Hagel at a time when the country continues to face military challenges.
"There is nothing going to change in the next 10 days about the qualifications of Chuck Hagel," Reid said.
"I'm going to go call Chuck Hagel when I finish here and say, I'm sorry -- sorry this has happened. I'm sorry for the president, I'm sorry for the country, and I'm sorry for you, but we're not going to give up on you," he added.
Reid said he will bring up another vote to invoke cloture on Tuesday, Feb. 26, when the Senate returns from recess.
Senate Minority Whip John Cornyn (R-Texas) responded by saying that Reid knew exactly why Republicans were unwilling to end the debate over Hagel's nomination.
"The majority leader knows full well that the reason why cloture was denied or the debate -- closing off debate was denied is because there are reasonable requests being made on this side for additional information," Cornyn said, adding that the Republicans' resistance was not an attempt to kill the nomination or even to filibuster.
Sen. Dick Durbin (D-Ill.) called it a filibuster "by every definition."
The Senate majority whip said it was "peculiar" that Hagel continues to face such strong opposition from his own GOP colleagues, even though he made an effort to sit down with many of them privately to address their concerns.
Said Durbin, "This is not a name that just was dropped out of the blue."
The White House condemned the actions of Senate Republicans in a statement after the vote Thursday evening.
"Today, Senate Republicans put political posturing ahead of our nation's security. For the first time in American history, Senate Republicans filibustered a nominee for Secretary of Defense -- a member of their own party, a decorated combat veteran, and the right leader for our troops," the statement reads. "This waste of time is not without consequence. We have 66,000 men and women deployed in Afghanistan, and we need our new Secretary of Defense to be a part of significant decisions about how we bring that war to a responsible end.
"For the sake of national security, it's time to stop playing politics with our Department of Defense, and to move beyond the distractions and delay," the statement concludes. "Allow this war hero an up or down vote, and let our troops have the Secretary of Defense they deserve."
This is a developing story and has been updated.
Before You Go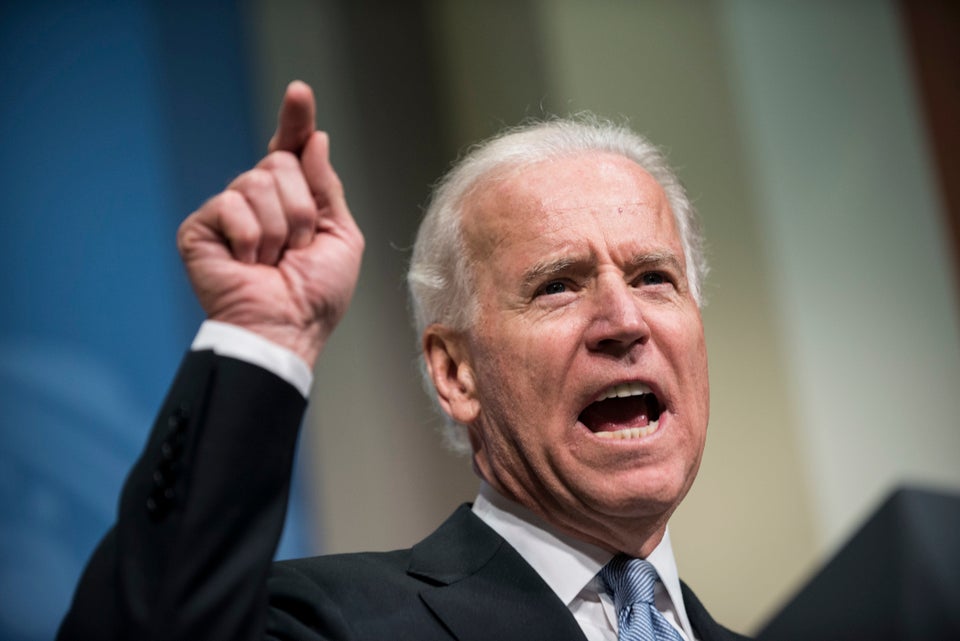 Obama Cabinet: Who's Staying, Who's Leaving
Popular in the Community