 President Barack Obama's nomination of Chuck Hagel to be secretary of defense elevates a man who made his reputation as an unabashed critic of the war in Iraq.
To some, Monday's nomination of Hagel, a combat-wounded Vietnam veteran and former Republican senator from Nebraska, is a provocative move that threatens to further alienate Republicans in Congress. But for members of one group, the pick is a welcome signal of the Obama administration's embrace of a worldview they once put their careers on the line to advocate.
They were the generals who revolted: a half-dozen retired senior military officers who risked relationships with their colleagues, and their own sense of propriety, to speak out against the war in Iraq, and to call for the resignation of then-Defense Secretary Donald Rumsfeld.
"I am driven to action now by the missteps and misjudgments of the White House and the Pentagon, and by my many painful visits to our military hospitals," wrote one of the officers, retired Maj. Gen. Gregory Newbold, in an April 2006 op-ed in Time magazine that called the war "a mistake."
"The cost of flawed leadership continues to be paid in blood," Newbold wrote. "The willingness of our forces to shoulder such a load should make it a sacred obligation for civilian and military leaders to get our defense policy right. They must be absolutely sure that the commitment is for a cause as honorable as the sacrifice."
In 2002, Newbold was a top official on the Joint Chiefs of Staff. Today, he is a partner at Torch Hill Investments in Washington. The nomination of Hagel, Newbold told The Huffington Post in an interview Monday, is a sign of the triumph of a more thoughtful approach to American military force than the one argued by the Iraq war's early proponents.
"Those that have great clarity on very complex issues of national security are worth wondering about," Newbold said. "I would put Senator Hagel in the category of those who have richly experienced the broad spectrum of consequences of conflict, and that causes him to think very carefully before we commit forces."
Not everyone associated with the generals' revolt was as eager to embrace Hagel. Two, Gen. Anthony Zinni and Maj. Gen. Charles H. Swannack Jr., declined to comment on the nomination when contacted by HuffPost. A third, Maj. Gen. John Riggs, said that while he hadn't studied Hagel's career closely, and "certainly would not question his patriotism," he worried about any tendency to "cut and run" before a mission is finished. (Riggs had criticized Rumsfeld for failing to put enough troops into Iraq.)
But others were wholly supportive of the nomination. Paul Eaton, a retired general who served in Iraq and is now a senior advisor at the liberal National Security Network, described Hagel as "a warrior who is reluctant to embark on war."
Another of the dissenting officers, Maj. Gen. John Batiste, said he supports Hagel's nomination because he's "a decorated veteran who 'gets it.'"
"When I challenged the Bush Administration in 2006 and 2007 on the flawed strategy in Iraq and Afghanistan, I was supported by a number of senior leaders," Batiste, now president and CEO of Klein Steel, said in an email. "One such leader was Senator Hagel. I appreciated his support then and am confident that he understands what prerequisites must be met before our troops are committed into battle."
Batiste suggested that Hagel's experience will help prevent a war without first fully debating and considering the exhaustive costs.
Hagel "will work to ensure that all elements of our national power are exhausted before we go to war," Batiste said. "If war is required, he well understands the importance of a real strategy with the ends, ways and means in balance."
On this, Eaton and Newbold agreed.
"A good example is Iran," Newbold said. "I think almost all of us think that given the right circumstances, that the military option should be considered. But Senator Hagel's view is that we ought to be very, very circumspect and first explore a combination of international power and international alliances to accomplish our objectives, before we take the 20-year-olds and make them pay the costs of intervention."
Before You Go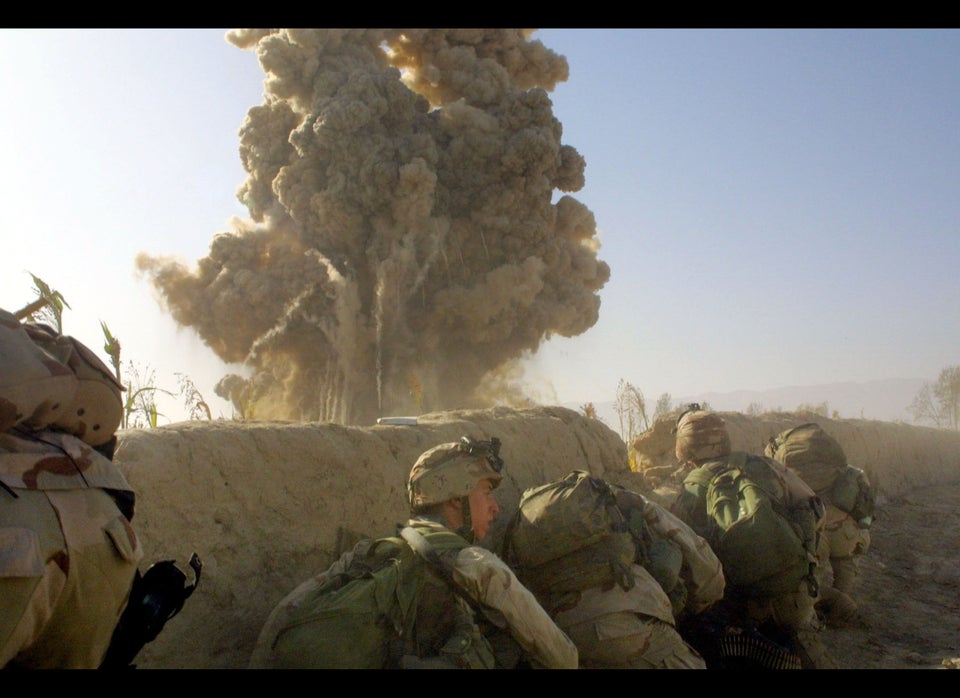 Afghanistan War, By The Numbers
Popular in the Community