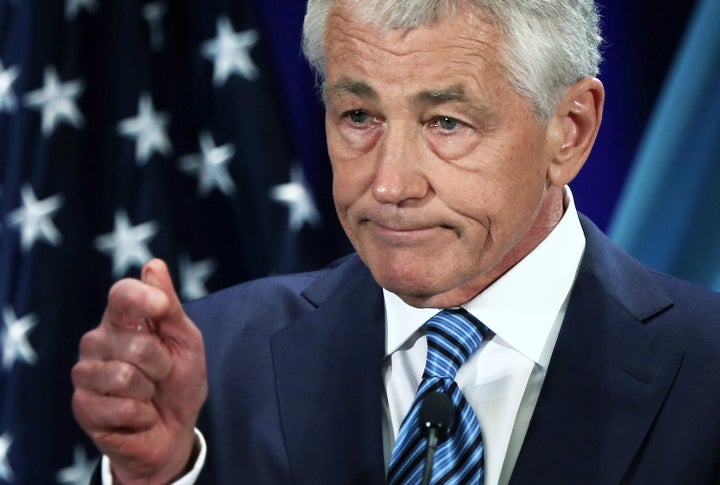 Defense Secretary Chuck Hagel called Monday for reform of the military justice system, stating in an internal memo that changes are necessary to ensure the system "remains fair and credible."
In particular, Hagel recommended that the centuries-old power of a commander to overturn a court-martial conviction be eliminated. The military has recently completed a comprehensive review of its justice system sparked by a controversial case in which a three-star general overturned a court-martial conviction for sexual assault.
"We must ensure that our military justice system is fair, provides justice, and enhances good order and discipline," Hagel wrote in the Monday memo to the secretaries of the military services, the Joint Chiefs of Staff and the leadership of the Office of the Secretary of Defense. "The actions directed by this memorandum seek to improve military justice and our ability to accomplish our mission."
The memo was passed along to The Huffington Post by a Senate aide.
Under Article 60 of the Uniform Code of Military Justice (UCMJ), a convening authority -- that is, a commanding officer considering a case -- has "absolute power to disapprove the findings [of a military judicial proceeding] and sentence, or any part thereof, for any or no reason, legal or otherwise." Hagel is recommending two reforms: First, he would eliminate this convening-authority power to overturn court-martial findings outright, except in the case of certain minor offenses that typically don't proceed to a court-martial trial. Second, a convening authority would be required to explain in writing any adjustments to sentences or findings for both court-martial and minor offenses.
"While convening authorities would no longer have the ability to dismiss charges for serious offenses like sexual assault, defendants would continue to have access to a robust system of appeal rights," Hagel said in a Defense Department statement released Monday afternoon. "The intent is to ensure that convening authorities are required to justify -- in an open, transparent, and recorded manner -- any decision to modify a court martial sentence."
Article 60 came under fire in recent months after Air Force Lt. Gen. Craig Franklin overturned the conviction of Lt. Col. James Wilkerson, an F-16 pilot, in February. In November, Wilkerson, also a former inspector general, had been convicted of aggravated sexual assault of a civilian contractor at Aviano Air Force Base in Italy.
Outcry over Franklin's decision prompted Hagel to call for a review of Article 60 and the UCMJ in March. An Air Force report was due March 20, while the report of the Defense Department's acting general counsel was due March 27. The reports have been completed, according to Defense and the Air Force, but have not yet been shared with members of Congress or the public.
As Hagel explained in his response to Sens. Jeanne Shaheen (D-N.H.) and Barbara Boxer (D-Calif.), who called for him to act specifically on Franklin's decision, neither he nor anyone else has the power currently to alter such a decision under the UCMJ.
Moreover, only Congress has the power to amend the UCMJ. Hagel has directed the Defense Department and the service secretaries to write up draft legislation, which Congress could consider along with other legislative initiatives underway on Capitol Hill.
Sen. Kirsten Gillibrand (D-N.Y.), a member of the Senate Armed Services Committee and chairwoman of the subcommittee that held a heated March hearing on military sexual assault, called on her colleagues to act.
"When I met with Secretary Hagel before his confirmation hearing he pledged his commitment to taking this issue head on," she said in a statement to The Huffington Post. "Now Congress must act on legislation I am drafting with several of my colleagues that will remove authority over these cases outside the chain of command to increase reporting and strengthen accountability in the military justice system."
Sen. Claire McCaskill (D-Mo.) indicated Monday that she would be on board with such legislation.
"A commander who has not listened to the testimony should not be able to unilaterally overturn a jury verdict or change an offender's sentence without explanation -- and it's great news that Secretary Hagel agrees," McCaskill said in a statement. "I look forward to working with the Secretary and others to pass this crucial legislation that prevents this kind of abuse of authority."
Rep. Niki Tsongas (D-Mass.) also weighed in.
"The recent decision by a military convening authority to disapprove and dismiss a verdict in a sexual assault case was certainly a step backward for military justice, and flew in the face of the notable progress we had seen in the military's approach to and implementation of policies addressing these crimes," Tsongas told The Huffington Post in a statement. "I will be paying close attention to how the DOD spells out their proposed changes, and as we draft the FY2014 NDAA [National Defense Authorization Act], we will be working to directly address the failures of the system as we saw in the Wilkerson case."
Yet as Anu Bhagwati, executive director of the advocacy group Service Women's Action Network, pointed out, the convening authority also makes the initial decision of whether a case moves forward to court-martial proceedings -- a much-criticized element of the UCMJ not addressed by Hagel's decision Monday.
"Post-trial review is only one component," Bhagwati said. "Unless pre-trial decision-making around investigation and prosecution of offenses is also removed from the hands of commanders, military criminal justice will remain a lesser form of justice, both for victims and defendants."
Hagel noted in his memo that the credibility of the military justice system is critical to addressing the epidemic of military sexual assault.
"Offenders must be held appropriately accountable for these crimes," he wrote.
Calling all HuffPost superfans!
Sign up for membership to become a founding member and help shape HuffPost's next chapter