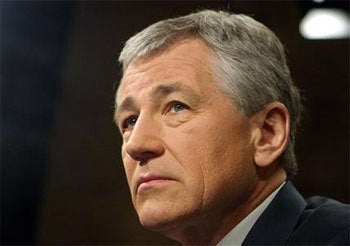 On CBS' "Face the Nation," Hagel says he's not interested -- and that Obama probably wouldn't pick him.

Hagel sought to quell rumors that he might be an attractive vice presidential candidate for Obama, saying, "I'm not interested. ... No one has talked to me about it. I fully expect that Barack Obama will choose someone in his own party."
Hagel defends Obama from recent McCain attacks.
CHUCK HAGEL: Well, let me begin by making this comment in answering your question. Both of these men are smart, capable, decent men who love their country ... They're better off to focus on policy differences. I think John is treading on some very thin ground here when he impugns motives and when we start to get into, "You're less patriotic than me. I'm more patriotic."
Talk of Hagel as Obama's Vice-President makes party activists nervous.
That nervous laughter you hear is the sound of party activists responding to speculation that Barack Obama or John McCain might pick a vice presidential candidate from the opposing party. More specifically, it is reaction to talk that Republican Sen. Chuck Hagel (Neb.) is being seriously considered as a running mate for Barack Obama or that Sen. Joseph I. Lieberman (Conn.), an independent who caucuses with the Democrats, is a potential choice for John McCain.
Popular in the Community