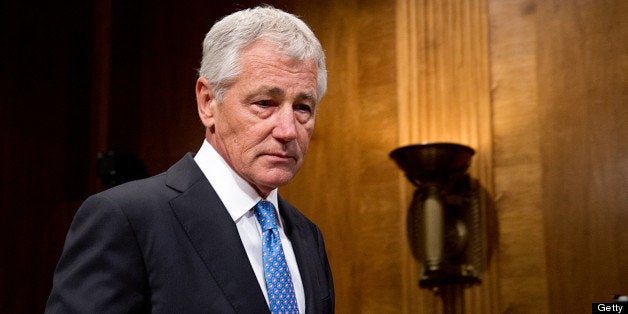 Defense Secretary Chuck Hagel drew criticism Thursday when a video showed him make what appeared to be a racially insensitive remark to an Indian man in a speech at the University of Nebraska.
Buzzfeed first reported on the video, in which Hagel calls on an audience member and jokes, "You're not a member of the Taliban, are you?" After a 13-second silence, the man, who is not visible on camera, identifies himself as Robin Gandhi, an assistant professor at the University of Nebraska Omaha.
Many were offended, taking it as an insinuation on Hagel's part that an Indian man might be a terrorist. But Gandhi disputed the story in a statement Thursday afternoon, noting that Hagel's comments were not directed at him.
"I was honored to attend Secretary of Defense Hagel's speech on Wednesday. I was able to ask a question, and I thoroughly enjoyed hearing his answer," Gandhi said in a statement provided to The Huffington Post. "Before I rose to ask a question, there was apparently some confusion that did not involve me."
Speaking over the phone, Pentagon spokesman George Little said the clip shows the comments out of context, and that Hagel had just fielded a question about the Taliban which in turn prompted his joke to the next questioner. He stressed that the defense secretary did not know the identity of the questioner when he made the comment. Indeed, the 13-second lapse between Hagel's joke and Gandhi's introduction could indicate that mic-runners had not yet gotten a microphone to the next questioner -- Hagel himself simply calls on an individual "in the back."
Little provided a follow-up statement to further clarify the circumstances:
Following a question related to the Taliban, the Secretary made an off-the-cuff joke before the next questioner was called or selected at an appearance at the University of Nebraska at Omaha. Absolutely no slight toward any individual in the audience was intended. That's the last thing the Secretary would do under any circumstance, in this or any other setting. He didn't know who would be called next to pose a question.
REAL LIFE. REAL NEWS. REAL VOICES.
Help us tell more of the stories that matter from voices that too often remain unheard.