Remember that time in your life when the most compelling celebrities in your universe were Bugs Bunny, Daffy Duck and their insane gang of Looney Tunes? Back then, in the golden age of kid-dom, you thought "sufferin' succotash" was a curse word and Pepe Le Pew was the original Casanova. You craved rabbit stew and sincerely feared rogue anvils, as television taught you they were wont to fall from the sky at the most inopportune moments.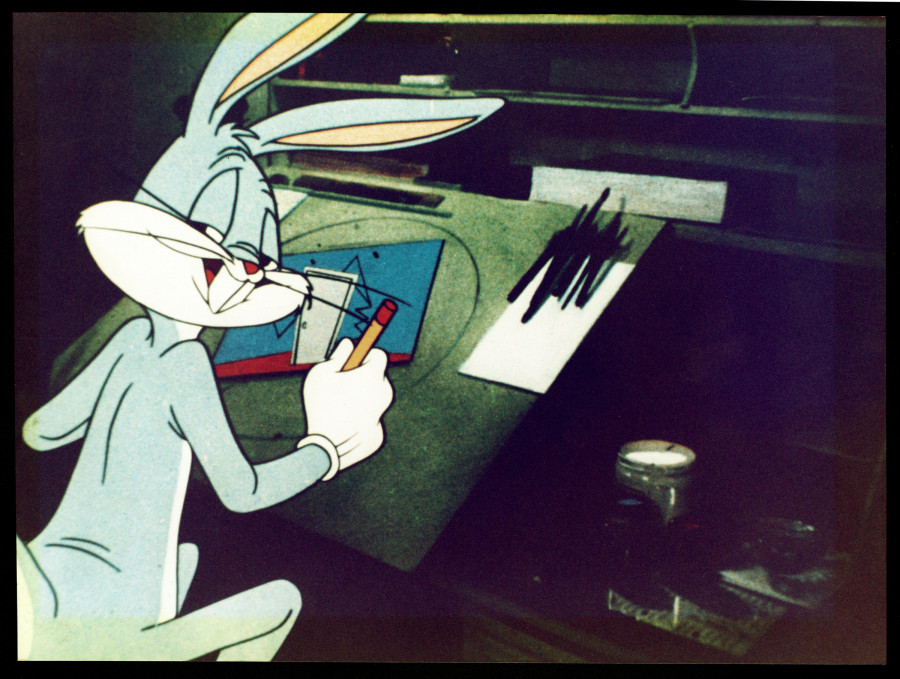 Scene still showing Bugs Bunny in "Duck Amuck" (1953, dir. Chuck Jones). Credit: Chuck Jones Center for Creativity / SITES. Looney Tunes Characters © & TM Warner Bros.
You might not know it, but you owe some of your most glorious memories to an artist by the name of Charles "Chuck" Jones. Born in 1912, the late animation master helped bring to life Bugs, Daffy, Porky Pig and Elmer Fudd as one of several developers, and himself created lovable characters like Pepe, Wile E. Coyote, Marvin the Martian, Michigan J. Frog and Road Runner. Without him, we'd never have the simplistic genius of "The Dot and the Line: A Romance in Lower Mathematics" or "What's Opera, Doc?" which the die hard fans could hardly forget. Not to mention, "Dr. Seuss's How the Grinch Stole Christmas" and the original "Phantom Tollbooth" animation. Good ol' Chuck directed those paragons of nostalgia too.
New York's Museum of Moving Image is putting Mr. Jones, who passed away in 2002, on a pedestal with their latest exhibition "What's Up, Doc? The Animation Art of Chuck Jones." Spanning six decades and over 300 films, the traveling show pays tribute to a career relished by every 20th century adolescent.
From Spokane, Washington to Hollywood, the Leon Schlesinger Studio (the foundation of future Warner Bros. animations) to Disney and MGM and finally his own production company, Jones' biography is the stuff of entertainment history. "What's Opera, Doc?" alone -- the Wagnerian masterpiece that transformed "Kill the Wabbit" into a formidable earworm -- is considered to be "among the most culturally, historically, and aesthetically significant films of our time."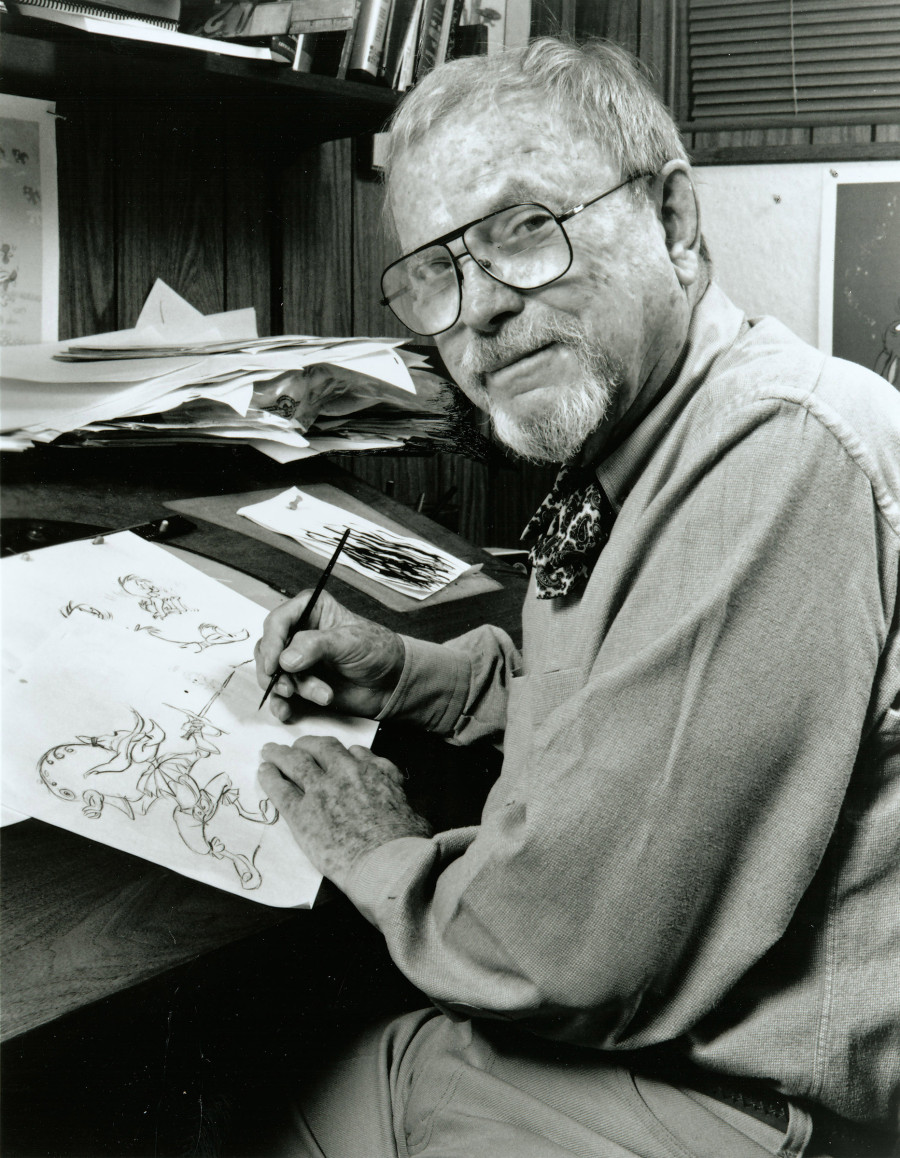 Portrait of Chuck Jones (c. 1990s). Credit: Chuck Jones Center for Creativity / SITES
Beginning on July 19, Jones' fans will be able to pore over 23 of his animated films and 125 of his original sketches and storyboards. The collection of memorabilia and art is meant to illuminate some of the behind-the-scenes work that was necessary to make animals like coyotes and road runners into captivating companions. For example, the story behind Wile E. and his feathered friend is actually inspired by none other than Mark Twain.
"Mark Twain went on to start telling the first time he met a coyote," Jones once recalled of the 1872 book Roughin It, which served as the unlikely influence for two of cartoon's most heated nemeses. "And his expression -- when I was six years old I read this -- and he said that the coyote is so meager, and so thin, and so scrawny, and so unappetizing that, he said, 'A flea would leave a coyote to get on a velocipede, (or a bicycle).' There's more food on a bicycle than there is on a coyote."
There seemed to be equally moving motivations behind Bugs and Daffy, too. "Bugs is who we want to be. Daffy is who we are," Jones used to say. Jones' rabbits, like the one in "Prest-O Change-O" (1939), embodied the snarky charm and graceful heroism of Bugs even before Tex Avery and other staff illustrators at Leon Schlesinger Productions gave breath to the official Looney bunny in 1940.
Below is a preview of some of the images on display at the Museum of Moving Image until January 19, 2015. May you never watch another Looney short without remembering the man whose pen made your cartoon adoration possible. Let us know your thoughts on the animation icon in the comments.
Calling all HuffPost superfans!
Sign up for membership to become a founding member and help shape HuffPost's next chapter
BEFORE YOU GO