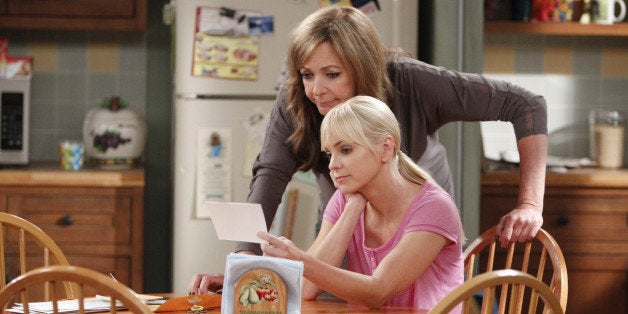 Nine million people still watch "Two and a Half Men," which will take its final bow on Thursday. The hourlong finale follows what is easily classified as a troubled, yet incredibly successful, sitcom. After premiering to 18 million viewers in 2003, the show became one of the past decade's two most-watched comedies (alongside "The Big Bang Theory," another show created by Chuck Lorre). It survived Charlie Sheen's outbursts and subsequent firing in 2011, netting 20 acting and three Outstanding Comedy Series nominations from the Emmys. Somewhere along the way, it also became the laughingstock of broadcast television.
It may seem, then, that "Two and a Half Men" is the most Chuck Lorre-esque sitcom that the mega-successful television veteran -- whose previous producing and writing credits include "Roseanne," "Cybil" and "Dharma & Greg" -- has masterminded. Like Norman Lear in the '70s, Lorre dominates today's broadcast-comedy landscape: In addition to "Two and a Half Men" and "The Big Bang Theory," he also writes and produces "Mike & Molly" and a show that may actually be the best thing his name has been attached to since "Roseanne": "Mom," with Anna Faris and Allison Janney.
Amid a comedy landscape that disparages most laugh-track sitcoms, "Mom" stands out as a rare gem, even if it's not much less one-note than "Two and a Half Men." Its central characters are a mother-daughter duo -- Bonnie (Janney) and Christy (Faris) -- who wade through sobriety after years of outlandish alcohol and drug use. Bonnie had Christy at a young age and wasn't an ideal parent; Christy would eventually become a teen mother, too. Now they attend Alcoholics Anonymous meetings together and strive to redeem their relationship while their working-class lifestyles double as reminders of the debauchery they once knew. The punchlines are often familiar: onetime wild-child Bonnie does everything she can to reclaim her youthful self without succumbing to the addiction that plagued her, while Christy functions as the responsible half but labors to do the right thing for her two children. The jokes on "Two and a Half Men" were one-note, too, but that show had a distinct difference: no substance.
"Mom" manages to depict a true human struggle in a lighthearted manner, just like "Roseanne" and "Grace Under Fire" -- another Lorre series that chronicled a single mother turned recovering alcoholic -- did years before it. Where Lorre hit a dead end with "Two and a Half Men" was in shadowing rich, stubborn white men who contain no layers. At the center, initially, was a womanizing drunk whose awkward, divorced brother moves into his plush home, often flanked by his slacker preteen son. As the comedy vista matured in the early and mid-2000s, "Two and a Half Men" seemed to do the opposite, relying on increasingly shallow pratfalls and sexist undertones parlayed by dudes whose comedic prowess peaked in the 1980s. (That's Sheen and Jon Cryer, in case you weren't sure.) "Mom" does none of these things, and it's bolstered by two stars who are as winning as anything seen on the more cerebral comedies considered contemporary benchmarks. (To wit: Perennial Emmy favorite Allison Janney was widely favored to win Outstanding Supporting Actress last year, and indeed she deservingly prevailed.)
So, as the curtain at last falls on "Two and a Half Men" and its contentious final season, in which Cryer's heterosexual Alan married Ashton Kutcher's heterosexual Walden so the two can -- umm, what? -- adopt a child, don't let this blight on modern television act as a blinder. "Mom," currently in its second season, highlights its leads' talents, upholds feminist underpinnings and offers genuine laughs. It now airs right before "Two and a Half Men," on Thursdays at 8:30 p.m., but will move to the 9:30 p.m. slot after "The Odd Couple" premieres, meaning it's bookended by yet another show about shallow white men's pesudo-problems. Even if CBS doesn't know what to do with it, you should. "Mom" is a winner.
Calling all HuffPost superfans!
Sign up for membership to become a founding member and help shape HuffPost's next chapter