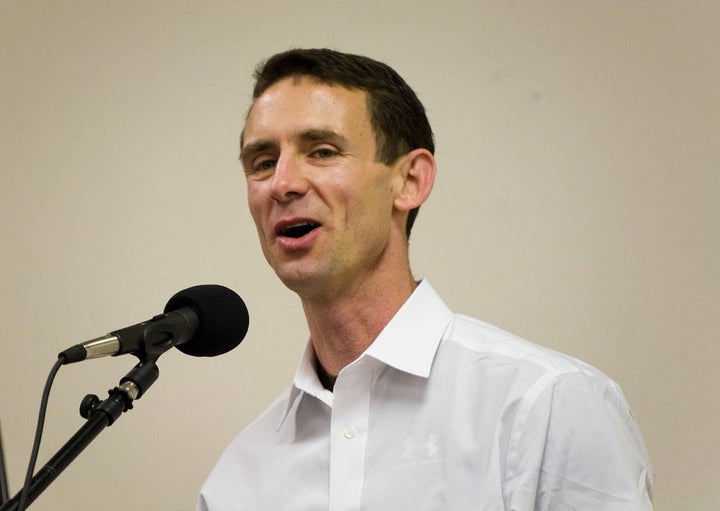 This is part of our one-question interview series where we ask authors where they like to read. Previous writers have included Joyce Carol Oates, Elmore Leonard and Malcolm Gladwell. Here is Chuck Palahniuk's appropriately unexpected response:

The best thing about getting a flu shot is that you never again need to wash your hands. That's how I see it. Likewise, the pay-off to using compact fluorescent bulbs -- and even better, the new LED bulbs - is that you never have to turn off the lights. All the yelling my father did; it was for naught. Now he's dead and we can run the lights day and night for next-to-nothing. Flu shots help me conserve water. Conservation is good.
In my house we have special halogen lights that wash the artworks. We have halogen pin spots that cast beams as tight and narrow as lasers. We have dimmable cove lighting to accent the rough-stone walls. We have tiny red lights that wink on and off to prove that cameras and motion detectors are tracking our every step. The whole house is a network of speakers and track lights, enough keypads and touch screens to suggest a cool space station. If I told you a certain security system website and a password, you could go on-line and spy on me. What we do not have, anywhere in my house, is a light by which you can readily read a book.
Call me a whiny baby, but the fluorescent ones have that headache-inducing micro-strobe, grey color to them. The LED ones, they whine. I'm not crazy. Don't call me crazy, it's a high-pitched hum. It's not my imagination. The last time I checked, the only two old-fashioned incandescent bulbs were the ones in the refrigerator and the oven. Reading in the fridge takes a little effort. You need to move aside the cartons of Chinese take-out and the open box of baking soda to make enough room to rest your Angela's Ashes. Even then, a cold draft wafts down from the higher shelves, and you need to don a coat and hat or you'll develop pneumonia to rival anything in Frank McCourt's childhood.
The oven is easier because you only need to remove the wire racks and kneel in front. It's warm and womb-like. To be honest, the light is stronger, too. Add to that the lingering smells of pizza and chocolate-chip cookies, and I do most of my reading in the oven. Hunched over, engrossed in The Celestine Prophecy, I can see how Sylvia Plath might've had an accident. Most likely, poor Sylvia had a houseful of halogen spots and whining LEDs, and she was just trying to finish the last chapter of "Valley of the Dolls." Insensitive as this sounds, an audio book might've saved her life.
Bear all this in mind if you ever hack into some network of security cameras, and you spy my corpse sprawled on the kitchen floor -- like father, like son-- you can be certain that I did not die of the flu. If my head and shoulders are crammed into the oven, my lifeless hands still clutching a copy of The Best of Everything, the person to blame is Rona Jaffe.
Popular in the Community