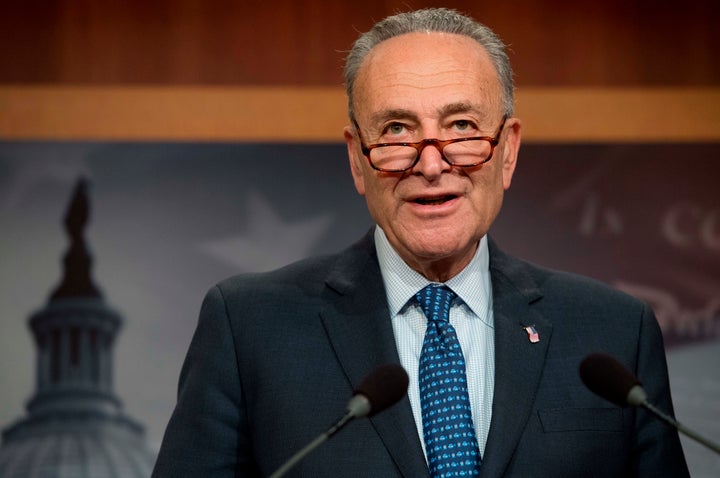 Senate Minority Leader Chuck Schumer (D-N.Y.) contacted Capitol Police on Tuesday after his office became aware that news networks had received copies of a forged document accusing the senator of sexual harassment.
Schumer contacted police after multiple news organizations approached his office for comment. Axios was the first to report on the existence of the fake document and the senator's response. 
"This was an apparent effort to dupe reporters and smear a senator — both symptoms of an amped-up news environment where harassment charges are proliferating and reporters have become targets for fraud," Axios' Mike Allen reported. 
Over the summer, MSNBC's Rachel Maddow had a similar experience and told viewers that her show had received a forged National Security Agency document seemingly filled with explosive allegations. The document, Maddow believes, was sent to her in an effort to discredit her show and other news organizations reporting on Russia's interference with the 2016 presidential election.
The fake document about Schumer was purportedly signed by a former staffer accusing the senator of sexual harassment. Axios reported the former staffer said her signature on the 13-page document, which was meant to look like a lawsuit filed in U.S. District Court, was a forgery. 
The document had "obvious red flags," according to BuzzFeed News' Kate Nocera, who said she had also seen the document. 
The former staffer, whose identity has not been released, also told NBC News that she contacted the police over the fraudulent document. 
"The claims in this document are completely false, my signature is forged, and even basic facts about me are wrong," the staffer said in a statement to Axios and NBC News.
Schumer's office also told Axios that every allegation in the document is false and that there are key errors throughout.
Calling all HuffPost superfans!
Sign up for membership to become a founding member and help shape HuffPost's next chapter
BEFORE YOU GO