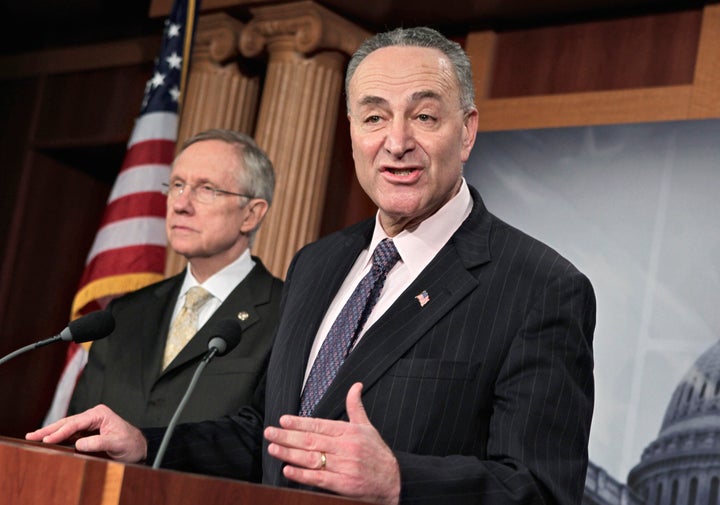 WASHINGTON -- Hours before the Senate is slated to hold a pair of doomed votes on extending government funding, Sen. Chuck Schumer (D-N.Y.) argued on Wednesday that Congress should broaden the scope of its upcoming budget deal to tackle tax policy and mandatory spending as well as discretionary spending.
Speaking at the Center for American Progress, an Obama administration-allied think tank, Schumer said the plan sent to the Senate by the Republican-controlled House took the wrong tack by focusing on cuts to discretionary spending, which makes up only a small portion of the overall budget. The bill passed by the House last month would cut $61 billion from current funding levels, including cuts to regulatory agencies and trims to programs that help students and low-income families.
Schumer said Republicans were relying on "bogus logic" in demanding the cuts. Although they would cut $61 billion from the existing budget, the effect on the deficit would be much smaller, a reduction of roughly $5 billion, or less than one-half of 1 percent, according to an analysis by the Congressional Budget Office.
The budget bill is expected to fail a Senate vote on Wednesday afternoon, as is a Democrat-proposed alternative. With both sides back to the drawing board, Schumer said the final plan should end tax loopholes and certain subsidies, including to big oil companies and agriculture, reform Medicare and trim the defense budget.
"We're debating how big a meat cleaver we should take to an already small part of the budget," he said of the House bill. "When you start slicing a portion of the budget that is already lean to begin with, you risk cutting muscle."
Schumer called on the White House, which is leading talks between the House and Senate over the budget bill, to broaden their reach to an "all of the above" approach. The current short-term stopgap funding bill will expire on March 18, which means Congress must pass another funding bill before then to avoid government shutdown.
In the meantime, House Republicans, Senate Democrats and the White House are at an impasse. Although President Barack Obama has spoken against additional short-term funding bills, leaders from both houses acknowledge that they will likely not come to a compromise by next Friday. To avoid government shutdown, then, Congress will likely pass another short-term funding bill, which House Republicans say would need to include at least $2 billion in cuts per week to pass muster with their conference.
Schumer did not discuss details of a short-term funding bill, but signaled he would be open to more stopgap measures to prevent government shutdown as the two chambers negotiate a longer-term solution.
"It would be great if the reset would occur tomorrow, and obviously today's vote is intended to make the point that neither side can pass its present budget," he said. "Will it take a day? Will it take a week? I don't know. But it has to happen or we won't be able to come to a compromise on a seven-month budget."
House Republicans have been skeptical of ideas to expand the scope of budget talks to mandatory spending, arguing entitlements and the tax code are better left for later in the year. The House Budget Committee, chaired by Rep. Paul Ryan (R-Wis.) will unveil its budget proposal in about a month, and will include changes to Social Security eligibility, House Majority Leader Eric Cantor (R-Va.) said on Tuesday.
Schumer said he does not want to see Social Security changes in upcoming talks over the budget, calling the program "a separate concern."
"Obviously Social Security doesn't play much of a role in the short-term budget, and frankly it doesn't play that much of a role if you're looking at deficit reduction in the longer-term budget, either," he said.
Instead, Schumer said, the focus should be on other areas where the government can find additional revenue while paring down inefficient programs, including by allowing the Bush tax cuts for the wealthiest Americans, which Obama extended last year, to expire in 2012. Congressional Research Service reports "If all earnings were subject to the payroll tax, but the base was retained for benefit calculations, the Social Security Trust Funds would remain solvent for the next 75 years."
"We have yet to seriously dig into our 14,000-page tax code to find ways to reduce the deficit without hurting American families and small businesses," Schumer said. "Believe me, there are plenty of opportunities there."
UPDATE, 12:15 p.m.: Amid criticism that the White House has been too quiet during the budget debate, the administration reaffirmed its threat on Wednesday to veto H.R. 1, the House's $61 billion-cutting bill, in the unlikely event the bill is passed by the Senate.
"If the President is presented with a bill that undermines critical priorities or national security through funding levels or restrictions, contains earmarks, or curtails the drivers of long-term economic growth and job creation while continuing to burden future generations with deficits, the President will veto the bill," according to a statement from the Office of Management and Budget.
Popular in the Community