WASHINGTON ― In classic Washington fashion, Senate Minority Leader Chuck Schumer (D-N.Y.) is using an eight-year-old letter penned by Sen. Mitch McConnell, in which McConnell called for presidential nominees to be thoroughly vetted before they can receive a hearing, against the Kentucky Republican.
The Office of Government Ethics warned last week that it was struggling to keep up with the hearing schedule for President-elect Donald Trump's cabinet picks, and had yet to finish a number of ethics reviews ― leaving some of the nominees with "potentially unknown or unresolved ethics issues."
On Monday, Schumer threatened Democrats would put up a fight ― delaying confirmation hearings, and using up as much floor time as possible ― if Senate Majority Leader McConnell proceeded with confirmation votes before OGE and the FBI finished background checks.
"We're not doing this for sport," Schumer said. "To spend an extra day or two on each nominee; even if it takes several weeks to get through them all in order to carefully consider their nominations … that's well worth it."
To prove his point, Schumer read the 2009 letter written by McConnell on the Senate floor. He then sent the letter back to McConnell, with a few minor tweaks. The original copy was addressed to then-Senate Majority Leader Harry Reid (D-Nev.).
Schumer scratched that out, and wrote in McConnell's name instead.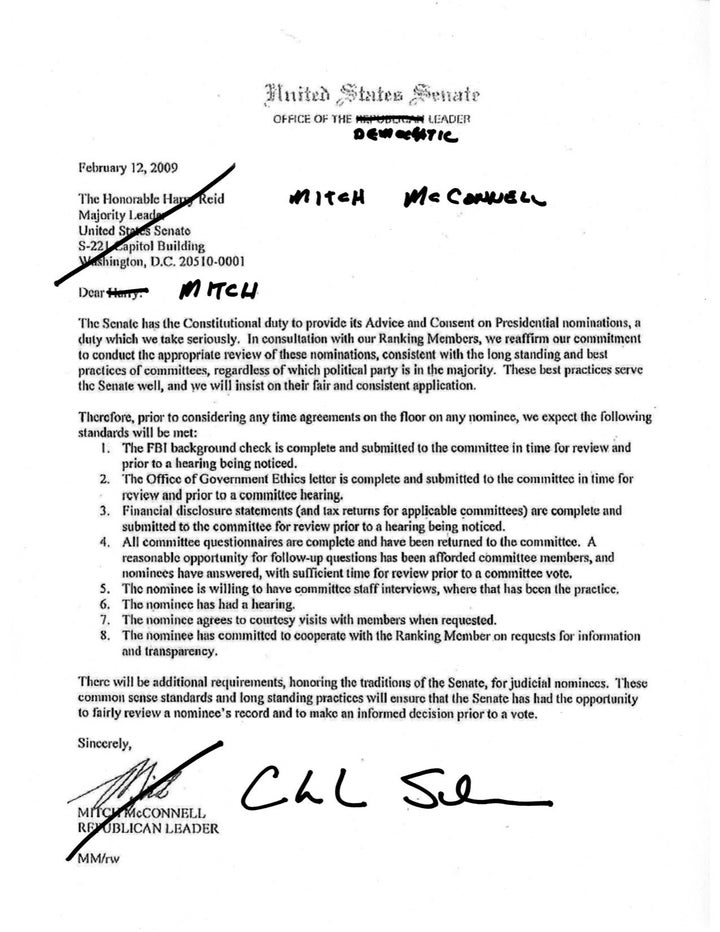 "I only ask, respectfully, that the Republican majority follow the same set of standards they had in 2009 when the shoe was on the other foot," Schumer said on the floor.
By the time McConnell sent that 2009 letter, however, the Senate had held hearings on all of President Barack Obama's cabinet nominees.
"We confirmed seven nominees on day one and all within two weeks," McConnell spokesman Don Stewart said in a email. "If Sen. Schumer would like to replicate that expedited cooperation, we would love to see that."
Nine of Trumps cabinet picks are set to undergo confirmation hearings this week, five of which will be on the same day.
Popular in the Community