WASHINGTON ― Senate Minority Leader Chuck Schumer (D-N.Y.) urged President Donald Trump to release payments that the federal government owes insurers as part of the Affordable Care Act, firing a salvo in the latest stage of the health care reform fight.
Schumer's reaction came after Trump launched a Saturday afternoon tweet threatening to end "BAILOUTS to insurance companies" if Congress does not repeal and replace Obamacare.
Although Trump did not specify exactly what he meant, Schumer interpreted it as an indication that Trump plans to withhold subsidies to insurers for plans on the Obamacare individual insurance marketplaces that provide lower out-of-pocket costs for people with incomes under 250 percent of the poverty line. Delivering on the threat, which Trump has issued more explicitly in the past, would, on average, prompt insurers to increase premiums for typical plans by 19 percent, according to the Kaiser Family Foundation, and likely plunge the marketplaces into chaos.
"If the President refuses to make the cost sharing reduction payments, every expert agrees that premiums will go up and health care will be more expensive for millions of Americans," Schumer said in a statement. "The president ought to stop playing politics with people's lives and health care, start leading and finally begin acting Presidential."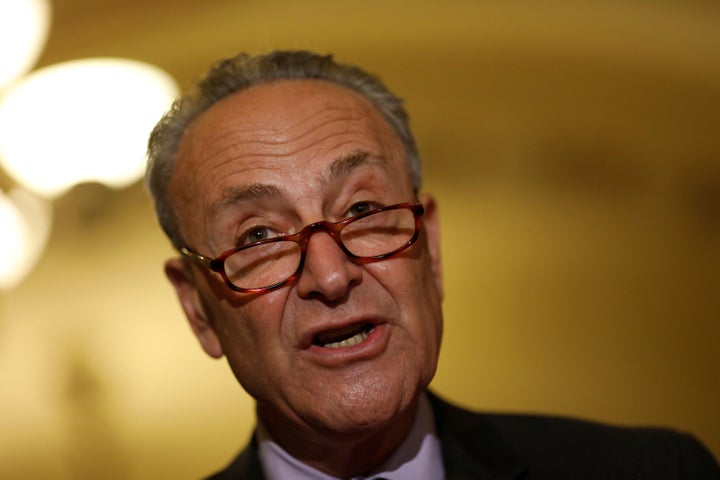 "I would suggest we turn the page," he said. "I hope one part of turning that page is that we go back to regular order, work in the committees together to improve Obamacare."
House Minority Leader Nancy Pelosi (D-Calif.) indicated in a Friday letter to Republican leaders that an area of potential common ground would be stabilizing the Obamacare individual insurance marketplaces with funding aimed at stemming the exodus of insurers.
But Trump's tweet Saturday was a reminder of just how remote the prospect of bipartisan cooperation remains given the president's antagonism toward Democrats. And Schumer's response suggests that the failure of Obamacare repeal, a humiliating loss for Trump, has only strengthened their willingness to fire back.
Calling all HuffPost superfans!
Sign up for membership to become a founding member and help shape HuffPost's next chapter
BEFORE YOU GO
PHOTO GALLERY
2017 Scenes From Congress & Capitol Hill