WASHINGTON -- A group of Latino and immigration rights activists protested Tuesday over what the group is calling Sen. Chuck Schumer's (D-N.Y.) "Latino problem," denouncing the lawmaker's "extreme" positions on immigration reform.
At a number of events across the country -- including rallies in New York City and Los Angeles -- groups of immigration rights activists criticized Schumer for his "hard-line immigration policy proposals," which the protesters say do not align with Latino voters' immigration reform priorities.
"Senator Schumer is now the lead Democrat on immigration, the same position occupied by [former Sen.] Ted Kennedy," Cesar Vargas, executive political director of the DREAM Action Coalition, said Tuesday. "Sen. Kennedy made it his cause to champion and prioritize family reunification whereas Schumer is prioritizing more enforcement that is breaking families apart."
In Schumer's home state of New York, more than 100 protesters rallied outside the senator's New York City office to denounce what the group calls his "punitive" approach to comprehensive immigration reform, specifically the senator's "[border] enforcement-first" attitude.
"Latino voters came out powerfully in the name of real immigration reform, not the [border] enforcement-first approach being pushed by Sen. Schumer," Arturo Carmona, executive director of Presente.org, said in a written statement.
"Sen. Schumer's extreme positions reflect his 'LATINO PROBLEM:' going against the Latino electorate by supporting punitive, damaging comprehensive immigration reform measures that polls tell us Latino voters clearly do not -- and will not -- support," Carmona added.
A March 2013 poll by Latino Decisions, a Latino political opinion research firm, found that a majority of Latinos -- 70 percent -- prefer comprehensive immigration reform that includes a path to citizenship for undocumented immigrants over reform that made citizenship contingent on border security.
Schumer spokesman Max Young told the New York Daily News, however, that the senator is working "tirelessly" to create a comprehensive immigration bill that, among other things, includes a path to citizenship.
"Senator Schumer is working tirelessly to craft the best comprehensive bill that provides a path to citizenship, accelerates family reunification, establishes a coherent policy that ends illegal immigration and allows for future legal immigration - and that can be passed into law, " Young said.
Schumer -- who is the lead Democrat of the bipartisan "gang of eight" tackling immigration reform -- said during a January press conference that the bipartisan coalition's proposal "will never put these people on a path to citizenship until we have secured the border."
In 2010, Schumer also wrote and helped pass the Emergency Border Security Supplemental Appropriations Act, which appropriated more than $600 million toward border security reinforcement. Schumer also pushed for national identification cards, which would prevent employers from hiring illegal immigrants. Schumer called the measure, "the nub of solving the immigration dilemma politically speaking."
During Tuesday's New York City protest, the immigration rights activists also presented a petition to Schumer's district office calling on him to return more than $100,000 in political donations from the private prison industry, including donations from the GEO Group and the Corrections Corporation of America. The petition, which has gathered more than 30,000 signatures, states that immigration activists "can't trust Sen. Schumer to push for fair legislation" as long as Schumer continues to accept contributions from an industry that has a "vested interest in increased detention of immigrants."
According to a 2011 report by the American Civil Liberties Union, private prisons have profited from "an unprecedented increase" in the number of immigrants detained in private facilities, housing nearly half of all immigrants detained by the federal government. The ACLU also reported that between 1999 and 2009, the Corrections Corporation alone spent more than $18 million lobbying federal lawmakers.
It's statistics like these that the protesters say they find especially troubling.
Esther Portillo-Gonzales, an organizer for the immigration-rights group Families for Freedom, was among the activists urging Schumer to return the donations to the private prison industry, saying the senator "needs to prioritize family unity over profiting from our incarceration."
"New York is home to millions of migrants from all over the world," Portillo-Gonzales stated. "Yet Senator Schumer's intimate links to private prisons [sic] companies say clearly that he is not a friend of our communities."
"With the agreement between business and labor, every major policy issue has been resolved on the gang of eight," Schumer said Sunday. "We've drafted some of it already, the rest will be drafted this week. So I'm very optimistic that we will have an agreement among the eight of us next week."
Before You Go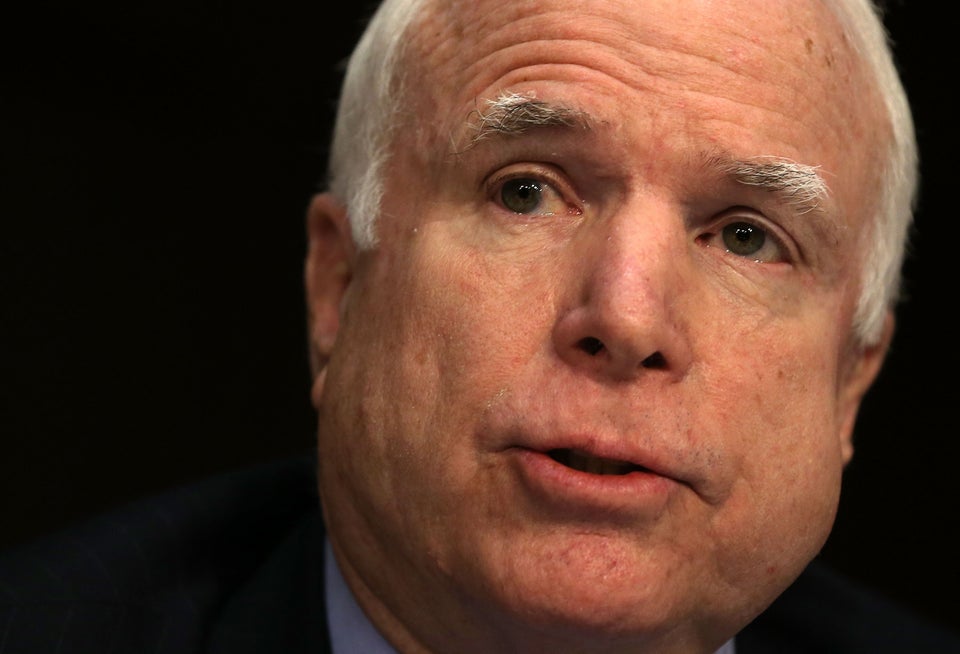 Bipartisan Immigration Plan's Key Provisions
Popular in the Community