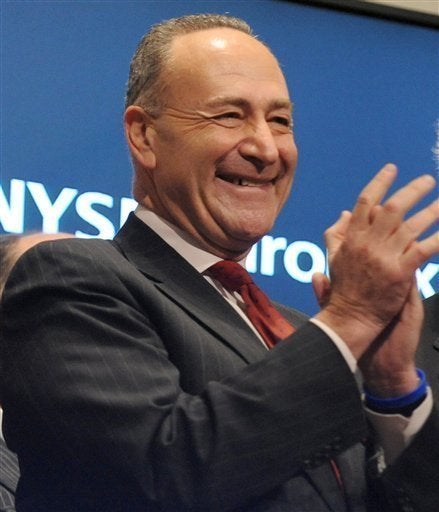 For Chuck Schumer, credit card legislation now in the Senate passes the O'Halloran's Pub test. The effort to reform the bankruptcy code to stave off foreclosure last week didn't.
"Bankruptcy reform, important as it was, was sort of esoteric. If you went into O'Halloran's Pub, the fellas aren't saying to you, 'What's going on with bankruptcy reform?'" says Schumer in his best guy-on-a-bar-stool voice. "But they might say, 'What are you doing about my credit cards?' The average person feels the second much more than the first, even though both are important."
It's that distinction that has congressional observers much more confident that credit card reform will move through the Senate this week and land on President Obama's budget. Negotiations are ongoing, but the crux of the legislation moves the industry from a disclosure frame -- in other words, they could do pretty much whatever they wanted as long as they disclosed it in fine print somewhere -- to a situation where certain credit company tactics become illegal, such as retroactively raising interest rates on balances.
Schumer embodies the shifting politics. Some of that fine print on your statement is known as a Schumer Box, named for the New York Democrat who agreed with credit card firms that disclosure alone was sufficient. He no longer thinks so.
"I think that lots of members from all parts of the country and different parties feel pressure to do something. So I think it bodes pretty well to try to get something significant done," he says.
It's still taking some time, however, for more conservative Democrats to find their footing on this new political terrain -- but they're trying.
"I think it's important that some of the practices that have been going on that everybody knows about, where balances are figured, and stuff like that, need to be addressed," says Sen. Ben Nelson (D-Neb.), who represents a state with credit card interests and routinely works to pull Obama's agenda toward the financial industry's position. He voted with the banks Thursday to oppose bankruptcy reform, one of 12 Democrats to do so.
"If there's sufficient votes to change it, that makes sense. I do not think that that's going to create the loss of a lot of jobs [in the credit card industry in Nebraska], so modernizing it in today's world so that balances are more fairly determined probably makes sense. It's what else is in the bill that's gonna matter to me," says Nelson, who is not directly involved in negotiations between banking committee chair Chris Dodd (D-Conn.) and ranking Republican Richard Shelby of Alabama.
Sen. Mark Warner (D-Va.) cast a politically courageous vote against the banks last week, but is still on the fence this time around. "I think the overall goal is appropriate, but I've got some concerns on the current bill," he says, declining to outline them specifically.
REAL LIFE. REAL NEWS. REAL VOICES.
Help us tell more of the stories that matter from voices that too often remain unheard.