WASHINGTON ― A growing number of senior Democrats and Republicans are demanding a congressional investigation into Russia's influence in the U.S. presidential election.
Sen. Chuck Schumer (D-N.Y.), the incoming Senate minority leader, called for an investigation Saturday after The Washington Post reported the previous day that the CIA found Russia had worked to help Donald Trump win. In a secret assessment, the CIA concluded that Russia wasn't only working to undermine confidence in the election, but actively trying to help Trump, the Post reported.
Sen. John McCain (R-Ariz.) has already pledged to work with Sen. Richard Burr (R-N.C.), the chair of the Senate Intelligence Committee, to investigate Russia's influence in the election. McCain said on Saturday that he had no doubts the Russians had interfered in the election.
Rep. Michael McCaul (R-Texas), chairman of the House Homeland Security Committee, has also called for hearings and Rep. Peter King (R-N.Y.) has told The New York Times it's clear the Russians were behind the attacks. Rep. Devin Nunes (R-Calif.), the chairman of the House Intelligence Committee, has said Russia is behind the attacks and complained to the Times that intelligence agencies had misjudged the country's President Vladimir Putin.
Schumer said in a statement that the reports were "simultaneously stunning and not surprising, given Russia's disdain for democracy and admiration for autocracy."
"The silence from Wikileaks and others since election day has been deafening. That any country could be meddling in our elections should shake both political parties to their core," he continued. "Senate Democrats will join with our Republican colleagues next year to demand a congressional investigation and hearings to get to the bottom of this. It's imperative that our intelligence community turns over any relevant information so that Congress can conduct a full investigation."
Sen. Patty Murray (D-Wash.), the incoming No. 3 Democrat in the Senate, also called for an investigation on Saturday.
Rep. Adam Schiff (D-Calif.), the ranking member on the House Permanent Select Committee on Intelligence, echoed those calls in a statement issued on Saturday afternoon. "One would have to be willfully blind not to see that these Russian actions were uniformly damaging to" Democratic presidential nominee Hillary Clinton and helpful to Trump, he said. "I do not believe this was coincidental or unintended," he added.
Sen. Lindsey Graham (R-S.C.) had earlier vowed to go "after Russia in every way you can go after Russia." "I think they're one of the most destabilizing influences on the world stage. I think they did interfere with our elections, and I want Putin personally to pay the price," he told the Post.
President Barack Obama has ordered a review of Russia's influence in the election before he leaves office.
In October, the Intelligence Community announced that it believed Russia was behind email hacks of the Democratic National Committee and John Podesta, a top aide to Clinton.
Despite that conclusion, Trump has said he doesn't think Russia is behind the hacks.
"I don't believe they interfered. That became a laughing point, not a talking point, a laughing point. Any time I do something, they say 'oh, Russia interfered,'" he told Time magazine. "It could be Russia. And it could be China. And it could be some guy in his home in New Jersey."
"I believe that it could have been Russia and it could have been any one of many other people," he added. "Sources or even individuals."
But not all Republicans are expressing outrage over Russia's alleged involvement. Senate Majority Leader Mitch McConnell (R-Ky.) reportedly was skeptical of the intelligence showing Russia's involvement in the election and Sen. John Cornyn (R-Texas) said it was no big deal.
Sen. Harry Reid (D-Nev.), the outgoing Senate Democratic leader, raised concerns publicly earlier this year that the FBI was withholding information about ties between Russia and Trump's campaign. After the Post's report on Friday, Reid took a parting shot at FBI Director James Comey in an interview with Bloomberg's Steven Dennis.
"I was right. Comey was wrong. I hope he can look in the mirror and see what he did to this country," he said.
This article has been updated to include new details and comments from congress members.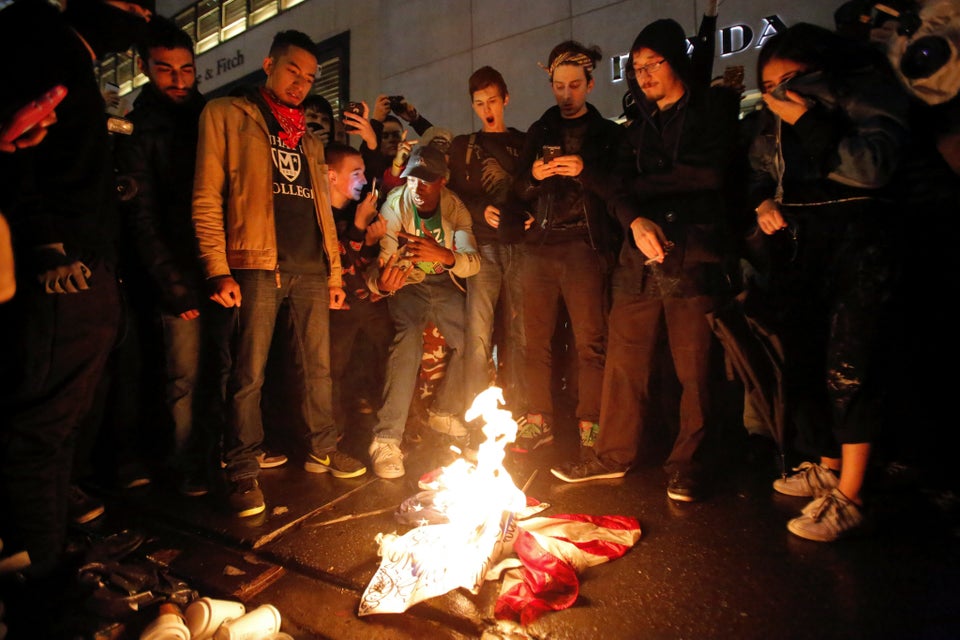 Donald Trump Win Sparks Protests Nationwide
Popular in the Community