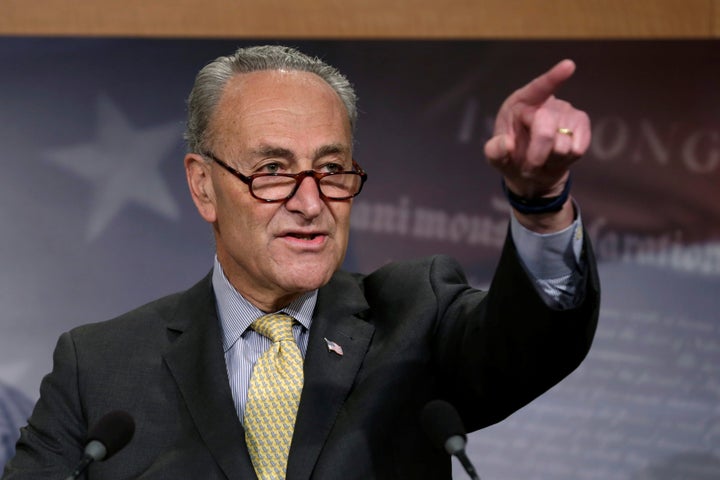 WASHINGTON ― When Congress returns from its spring break, it will have just four days to pass a spending plan for the rest of the year and thereby head off a government shutdown.
Senate Minority Leader Chuck Schumer (D-N.Y.) said Tuesday that despite the looming April 28 deadline, President Donald Trump hasn't been negotiating with Democrats on a deal. And he said that's just fine ― because lawmakers on the Hill are on track to get it done and Trump should just leave those Art of the Deal impulses in a trophy case at Mar-a-Lago.
Republican leaders have claimed the White House was including Democrats in talks over spending bills for the rest of this year and for 2018, but Schumer said that was news to him.
"I don't know where they came up with that," Schumer told reporters on a conference call, adding that he'd had one conversation with White House budget director Mick Mulvaney and that was to tell him Trump's budget proposal was dead.
"I told Director Mulvaney that I thought his budget was so far away from where both Senate Democrats and Senate Republicans — a number of them have called it dead on arrival — that his next year's budget was sort of a non-starter," Schumer said.
Rather than try to push the White House's vision, Schumer suggested Mulvaney and Trump leave it to the lawmakers.
"I said to him that the best thing he can do is let the four corners ― House Republicans, House Democrats, Senate Republicans, Senate Democrats — negotiate this 2017 budget as well as the 2018 budget, and we might be able to come up with things," Schumer said. "I said that to [Senate Majority Leader Mitch] McConnell as well, and he didn't argue with me. I said I don't even know who to negotiate with on 2017, given where their budget is. So there are no negotiations." 
McConnell told reporters this past Friday, before Congress left for two weeks, that talks were proceeding and that Democrats would have to be involved in order to pass anything. He was optimistic they would.
While Schumer and other top Democrats may not be hearing from the White House, the minority leader was similarly optimistic ― as long as Trump doesn't decide to practice his art.
"We can get this done. We Democrats want to get it done. We hope our Republican colleagues won't insist on things that force a government shutdown," Schumer said. "But I think talks are going pretty well right now, and the White House doesn't have to throw a monkey wrench into it."
REAL LIFE. REAL NEWS. REAL VOICES.
Help us tell more of the stories that matter from voices that too often remain unheard.