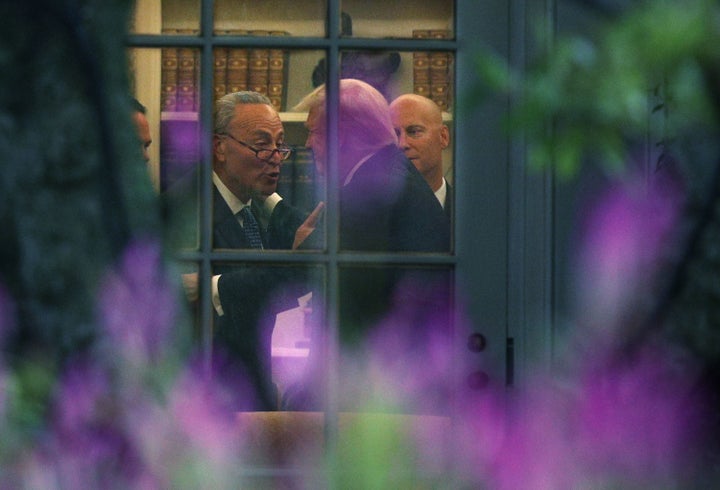 WASHINGTON ― After the deal was done, it was time for some New York-style ribbing. Brooklyn's own Chuck Schumer plunged right in on Queens-born Donald Trump.
On Wednesday, the president had unexpectedly agreed with Schumer, the Democrats' Senate leader, and Nancy Pelosi, his House counterpart, to put off major battles over the federal budget and national debt until December. It was widely seen as a victory for Democrats and a humiliation for Republicans.
Trump invited Schumer, whom he'd once described as the "head clown" of the Democratic Party, to join him in briefing the press on the deal.
Schumer, with a smile, demurred.
"If I do that, you could say something unexpected," Schumer said with a laugh. "Then I'd have to explain it." Trump smiled in response.
Then, turning to White House Chief of Staff John Kelly, Schumer added, "And I bet you have that problem a lot more than I do."
Everyone laughed at that one.
The moment was caught on camera by photographers who used telephoto lenses to peer through an Oval Office window. This account of what was said comes from friends of Schumer's, to whom he recounted the conversation. His office declined to comment.
The deal to provide hurricane relief, while hiking the debt ceiling and funding the government for just three months, was indeed a gift to Democrats. With majorities in both chambers of Congress, the GOP will be vulnerable to pressure on immigration and other matters as a Christmas-time shutdown of the government and its borrowing power looms.
It was a moment evocative of the master wheeler-dealer Lyndon Johnson ― with Schumer, not Trump, in the role of mastermind ― and it was entirely unexpected. The New York senator had not talked to the president in months, and neither Schumer nor anyone else in the room thought that Trump would accept the three-month deal.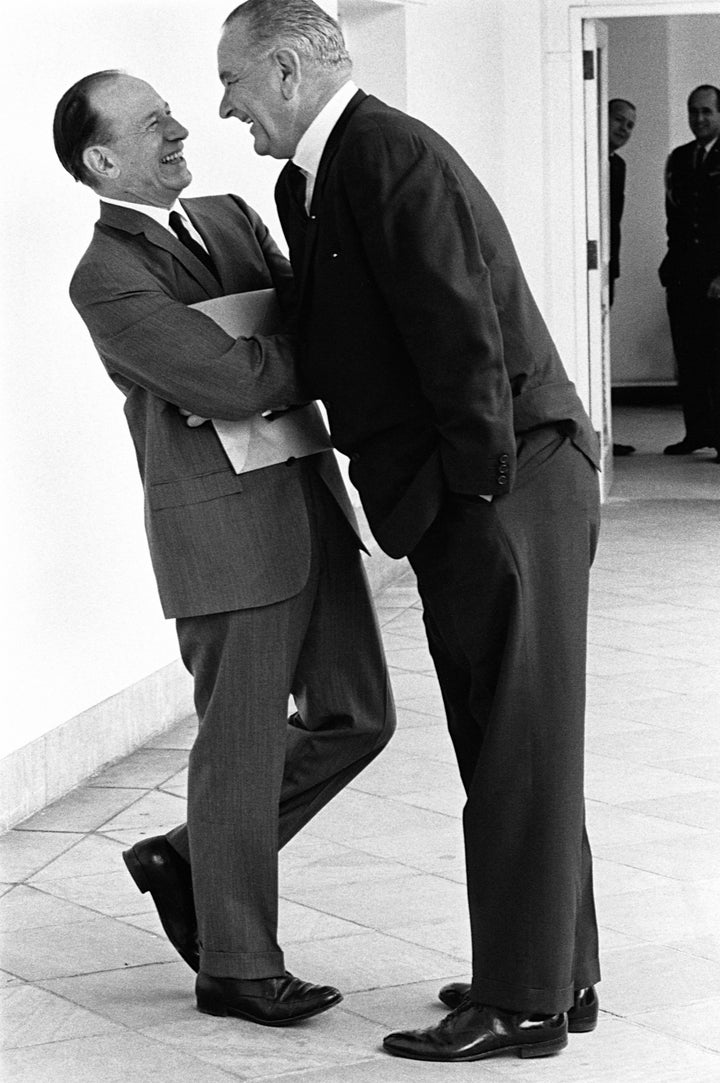 But if Schumer was lucky this week, he deserves it. He's admired by his Democratic colleagues and even by many Republicans for his knowledge, his shrewdness, his businesslike approachability ― and, at 66 years of age, his energy and almost childlike enjoyment of his job.
"He simply loves what he does," said Sen. Al Franken (D-Minn.).
A near-parody of studiousness ― reportedly perfect SATs, Harvard and Harvard Law attendance, a disheveled mien that led one magazine to call him a "zhlub, in a good way" ― Schumer does not manage by LBJ-like instinct. It's all preparation.
As his colleagues describe his methods, Schumer is constantly calling them to check in, ask their opinion and give them a heads-up. He knows the details.
And he knows the history. When Schumer was elected Senate leader by his fellow Democrats, legendary LBJ biographer Robert Caro sent him a signed copy of Master of the Senate, Caro's 1,167-page account of Johnson's years as Democratic leader. Schumer, of course, had already read it.
After Trump was elected, observers expected that the new president would ― and would need to ― lean on the advice and experience of GOP congressional leaders. But that did not stop Schumer from reaching out to Trump before the inauguration. Bipartisan deals were possible, Schumer said, especially on infrastructure and even tax reform.
Relations, such as they were, soured as Schumer rigorously kept his entire caucus in line to oppose the dismantling of Obamacare. It was a tour-de-force of legislative defiance and ended in an embarrassing defeat for his counterpart, Senate Majority Leader Mitch McConnell (R-Ky.), who could not keep his troops in line. Trump blamed McConnell for the failure. A private shouting match reportedly followed, and the two have only a minimally correct relationship at this point.
But Schumer has thought from the start that he might be a better negotiating partner for his fellow New Yorker than would the dour Kentuckian.
He and Trump share quite a bit. They are outer-borough attention-seekers who love to be in the news and to make deals. From Brooklyn and Queens respectively, they both recognized that their route to power ran through Manhattan and its banks, media barons and powerbrokers. Neither is much of a philosopher or an ideologue. Both think they deserve the thanks and admiration of working men and women.
Schumer's challenge now is to be more than a one-day LBJ, by helping his party achieve good deals on the Deferred Action for Childhood Arrivals program (which he pressed Trump about again on Thursday), tax reform, Obamacare and other matters.
It won't be easy. He has told colleagues that he has no idea whether the Wednesday deal is a one-off or the beginning of something lasting.
Schumer is lowering expectations, which is just what LBJ would be doing right now.
Popular in the Community