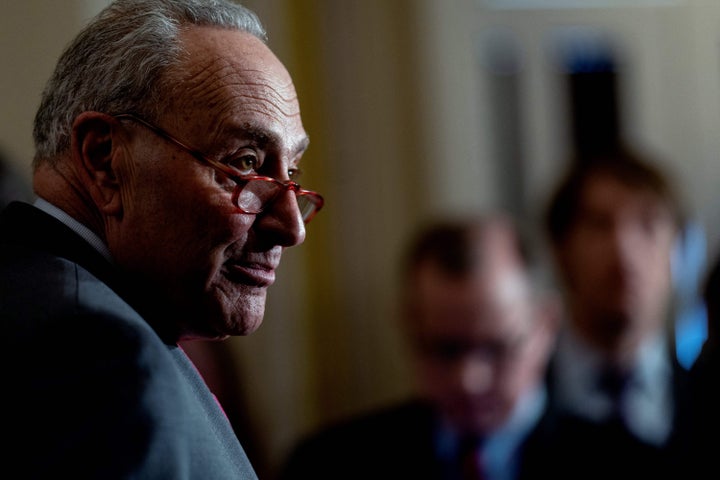 WASHINGTON — Senate Democrats plan to put Republicans on the spot in the coming weeks via a resolution condemning former President Donald Trump's call to defund federal law enforcement.
"Donald Trump's call for defunding federal law enforcement agencies is a baseless, self-serving broadside against the men and women who keep our nation safe," Senate Majority Leader Chuck Schumer (D-N.Y.) wrote in a letter to his Senate colleagues on Tuesday.
The former president asked Republicans in Congress to "defund the DOJ and FBI" last week amid federal investigations into his efforts to overturn the 2020 election result and his post-presidency hoarding of official documents. Trump has claimed Democrats have "weaponized" law enforcement against him.
"The good work of the Federal Bureau of Investigation and the Department of Justice sends criminals to prison for bank robbery, sex trafficking, child pornography, hate crimes, terrorism, fraud, and so much more," Schumer said in his letter. "The former President and his allies in Congress must not subjugate justice and public safety because of their own personal grievances."
Schumer's resolution would be entirely symbolic, but its Senate passage is intended to put pressure on Republicans running for reelection next year. It would also set up a remarkable contrast with the House, where Republicans have aggressively defended Trump while failing to advance their own symbolic resolution praising law enforcement.
House Majority Leader Steve Scalise (R-La.) had said in December that Republicans would vote in January on the resolution. Its title: "Expressing support for the Nation's law enforcement agencies and condemning any efforts to defund or dismantle law enforcement agencies." The resolution, aimed at the progressive "defund the police" movement ― not Trump ― is one of several issues where House Republicans have been unable to agree among themselves.
But House Republicans have spoken with one voice when denouncing the various criminal investigations into Trump, suggesting it's fundamentally improper for him to be prosecuted. Last week, after he was indicted on state charges by a New York grand jury, House Speaker Kevin McCarthy (R-Calif.) announced that Republicans would pursue retaliatory investigations into Manhattan District Attorney Alvin Bragg.
House Judiciary Chair Jim Jordan (R-Ohio) has subpoenaed former officials in Bragg's office and on Monday announced the Judiciary Committee would hold a hearing in New York City to examine Bragg's alleged failure to prosecute real crimes. Jordan also chairs a new "Weaponization of Government" committee devoted entirely to bashing Trump's enemies in law enforcement.
Senate Republicans have been relatively quiet about the criminal cases swirling around the former president, with Minority Leader Mitch McConnell (R-Ky.) not making any public remarks.
The idea of defunding the DOJ and the FBI has little GOP support in the Senate. Sen. Susan Collins (R-Maine), the top Republican on the Senate Appropriations Committee, said last week that she "strongly" opposed Trump's call.
Sen. Marco Rubio (R-Fla.) said Tuesday he would seek to amend Schumer's resolution by "adding language that condemns something that actually happened," the FBI's alleged development of sources at Catholic churches in Virginia over suspicions of extremism. Jordan on Monday issued a subpoena over the matter, accusing the FBI of unfairly targeting church parishes.
It's unclear if Rubio will object to the passage of Schumer's resolution if his amendment isn't included. The issue will likely come to a head when the Senate returns from recess next week.
Popular in the Community