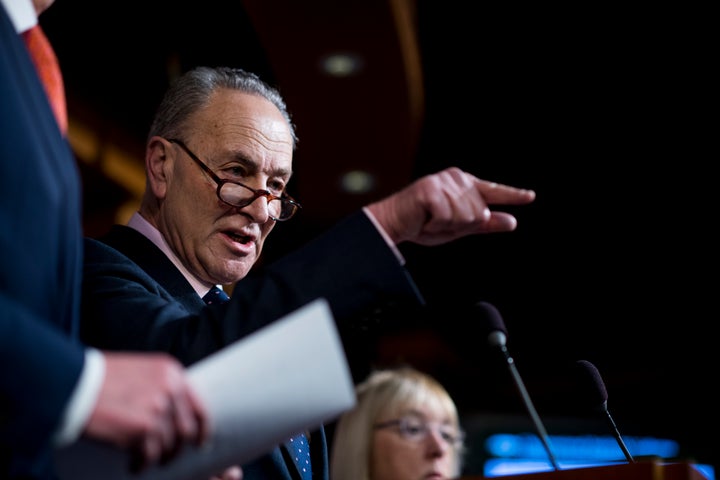 WASHINGTON ― Senate Minority Leader Chuck Schumer (D-N.Y.) berated Republicans Monday for their silence during President Donald Trump's "bizarre" first weekend, in which Trump and his administration attacked the press and spread false information about crowd sizes.
Schumer faulted Trump for spending his first few days in office alternating between "braggadocio and furor," ignoring the presidential tradition of a unification theme in his inaugural speech. The rough start had many Democrats wondering if they would be able to work with the new president.
"A White House that presents alternative facts needs to be called out for doing so by both parties," Schumer said on the Senate floor. "The folks who can really help reign in the president are the members of his own party, who have a special responsibility to do so. But they have been silent, totally silent when President Trump has been saying and doing things that they know are wrong." 
Schumer called on Republicans hold Trump "accountable for the truth."
Trump spokesman Sean Spicer called a news briefing on Saturday to fiercely ― and falsely ― rebut reports of the inauguration crowd size. Spicer said the "audience was the largest audience to ever witness an inauguration, period," including the crowd in Washington and the TV audience. He was wrong about both measures in his new metric, which he used to suggest reporters were dishonestly trying to minimize the crowd. Trump adviser Kellyanne Conway later explained that Spicer was giving "alternative facts."
"Whatever your politics, in order to debate, argue, compromise and get things done for the American people, we have to be able to agree on a baseline of facts," Schumer said. "Facts aren't partisan. They don't have alternatives."
Crowd estimates are small matters, Schumer said, compared to potential lies that could flow from an administration that "looks away from the real facts."
"You cannot govern a country like that," Schumer said. "And so, if the White House is ignoring the facts on the ground and is willing to make up ― quote ― 'alternative facts' about crowd size, what else are they willing to stretch the truth about? National security? What Vladimir Putin is up to?"
Senate Majority Leader Mitch McConnell (R-Ky.) didn't wade into the controversy. 
"The first thing we have to do is move beyond this us-and-them mentality that has so characterized the last eight years," McConnell said. "Our goal should be to give confidence to everyone."
REAL LIFE. REAL NEWS. REAL VOICES.
Help us tell more of the stories that matter from voices that too often remain unheard.
BEFORE YOU GO