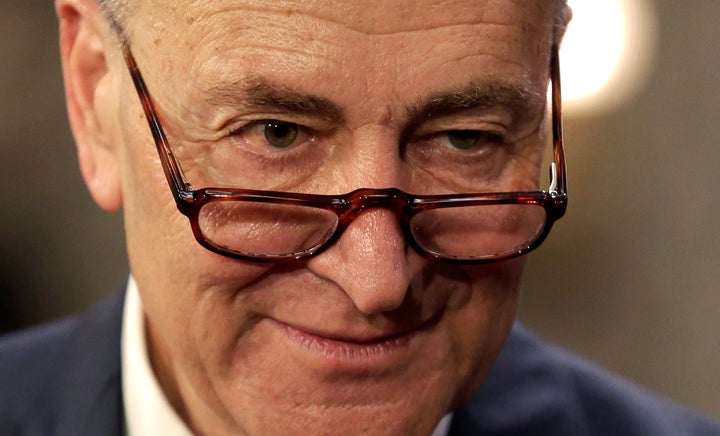 WASHINGTON ― In 2010, two years into Barack Obama's presidency, then-Senate Minority Leader Mitch McConnell (R-Ky.) made clear that Republicans were going to obstruct the president's agenda in any way they could.
"The single most important thing we want to achieve is for President Obama to be a one-term president," McConnell said.
The new Senate minority leader, Chuck Schumer (D-N.Y.), doesn't see his mission in quite the same way that McConnell saw his.
"I wouldn't call that my goal," Schumer said in an interview with The Huffington Post Thursday. "My goal is to make sure that it's easier for the middle class to stay in the middle class, and people trying to get there to get there. And that American values are not trampled on. ... I said that we're going to be an accountability Congress. We're going to hold Donald Trump accountable."
But Schumer added that if Trump continues down the path he's already started taking with the people he's chosen for his Cabinet, he believes Trump will serve just one term anyway.
"The Cabinet wants to go back to the 1920s," he said. "And if that's his view, I don't think he'll ever win reelection."
House Minority Leader Nancy Pelosi (D-Calif.) similarly told The Huffington Post last month that she didn't see it as her responsibility to make Trump a one-term president and viewed her job differently than McConnell did.
"First and foremost, our responsibility is to do the job for the American people," she said. "So the question is, engage or confront? We'll engage where we can, confront where we can't. ... Hopefully we can find common ground."
Republicans are trying to get Trump's nominees in place as quickly as possible. On Wednesday, the Senate will have hearings on six of his Cabinet picks. The president-elect is also scheduled to have a long-awaited press conference that same day. That means the attention of the press and the public will be pulled in so many different directions that any problems that arise during a hearing may not get as much attention or coverage as they would on a slower news day.
Schumer said he absolutely thought Republicans were hoping that some issues from the nominees would slip under the radar, and that's why all the hearings are on one day.
"If I had nominees like that, that's what I'd do," he said.
Democrats don't have the votes on their own to stop Trump's Cabinet picks. In 2013, Senate Democrats, then led by Harry Reid, eliminated the need for a president's nominees to receive 60 votes for confirmation; they now just need a majority.
But Democrats can try to slow the process down.
"The American people are entitled to full and fair hearings, and we're going to fight very hard for that," Schumer said Thursday. "We have some levers to make that happen."
Schumer said he opposed changing the filibuster rules for Cabinet picks at the time, and he said he would consider changing the rules back if Democrats regain the majority in the Senate.
"I'd have to discuss that, but it's something I'd certainly consider, yes," he said.
Democrats plan to go after any conflicts of interest with Trump's Cabinet nominees, many of whom are billionaires with long business ties.
"They go through an ethics investigation, they then have to have a 90-day plan to divest so there are no conflicts of interest, they have to have an FBI investigation," he said. "When Barack Obama was president, all of them had all of this done by early January. Trump people, the majority, don't."
As an illustration of this strategy, Democrats came out aggressively Thursday against Rep. Tom Price (R-Ga.), Trump's nominee to be health and human services secretary. They plan to stall his nomination until the House Office of Congressional Ethics has reviewed his trading in health care stocks during his tenure as a member of Congress.
Schumer also said Democrats plan to drill down on the more extreme positions of some of Trump's nominees during the hearings themselves.
"I understand why they want to sneak it through," he said. "But I've told Mitch McConnell that would be the wrong way to go, and we would use whatever tools we have. If they have quick hearings, we'll do very long floor debates, and we can hold things up for a long time on the floor ― even though we can't stop them from scheduling the hearings when they want. I'm hopeful we can come to a compromise."
Schumer has already been in Trump's crosshairs, with the president-elect tweeting Tursday that the legislator is a "clown."
Schumer didn't return the slight, telling reporters Thursday morning that health care is "serious, serious stuff," and "people's lives are at stake." In his interview with HuffPost later in the day, he said he believes it's a mistake for Democrats to start calling Trump names.
"I think you stick with your values and the merits," he said, "because I think that you go down to his level [with name-calling]. He loves that level of just name-calling. And then the focus is off the bad things he's doing to America."
Jennifer Bendery contributed reporting.
This piece was updated with additional quotes from Schumer.
Want more updates from Amanda Terkel? Sign up for her newsletter, Piping Hot Truth, here.
Popular in the Community