WASHINGTON ― As Donald Trump approaches the end of his first 100 days in office, the top Democrat in the U.S. Senate says he's been surprised by the failure of the White House to splinter the Democratic Party.
In an interview with HuffPost, Senate Minority Leader Chuck Schumer (D-N.Y.) didn't close the door on bipartisan collaboration with the president. But he criticized Trump for what he said was "erraticness and lack of real competence" in pursuing bills that could have flown through Congress, from trade reform to infrastructure investments. He said he told the president as much when the two talked last week over Canadian dairy policy (yes, Canadian dairy policy).
"Trump, when he ran ― and I've said this to him four times now ― when he ran, he ran anti-establishment against both the Democratic and Republican establishments. But he immediately, when he was elected president, made a deal with the hard-right and let them run the show," said Schumer. "It would have made sense for them to have focused on infrastructure early. But here is what I think they're afraid of. They are afraid of the hard-right. They have not made a decision that they will work with Democrats on anything."
That Trump didn't choose the middle path has been a relief to lawmakers and operatives within the Democratic Party, who, early in the administration worried that a controversial president would pad his resume and earn plaudits with unconventional governance. Several months in, however, Trump has been more inclined to pick fights than to find areas of agreement, a posture that Schumer said will only engender further opposition.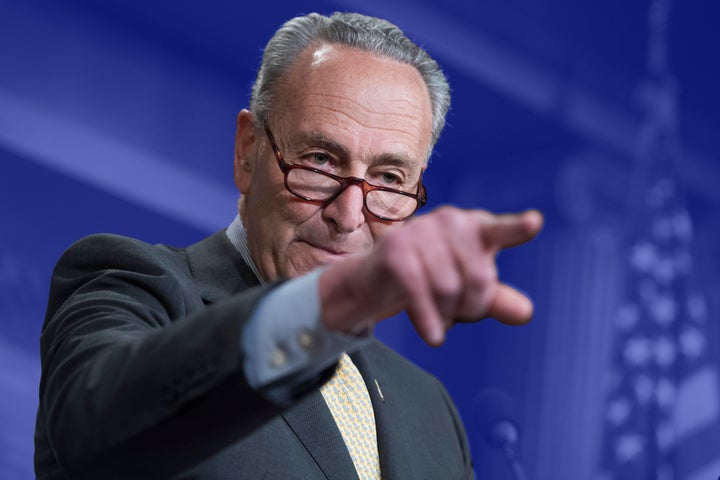 That's true on health care reform, where the minority leader said Democrats would not bend to Trump's demand for negotiations, lest he allow the law to fail and blame opponents for the ensuing mess.
"I don't buy it," Schumer said of the Trump gambit. "He's in charge and we, I think, have had a very strong position and consistent from [liberal Sen.] Bernie Sanders (I-Vt.) to [moderate] Joe Manchin (D-W.Va.), which is drop repeal and we will work with you on improving it." Schumer listed adding a public option for insurance coverage, negotiations over prescription drug prices, and empowering insurance commissioners as reforms Democrats would champion.
It's true on immigration policy, too, where Schumer pledged not just to oppose a government-funding bill that paid for Trump's border wall with Mexico -- a demand the president has reportedly dropped -- but also one that over-emphasized Immigration and Customs Enforcement operations.  
"We are totally against a deportation force," he said, noting that Democrats were comfortable with other immigration security proposals, including ones they put in their 2013 reform bill, such as drone technologies and increased resources for border patrol.
It was even true on infrastructure spending, which Schumer pledged would not be done on the cheap. The senator said he opposed a proposal floated by the Trump administration to contribute $200 billion to a vast infrastructure package that would aim to leverage an additional $800 billion in private financing.
"First, we don't know. They throw out more things. But that to me is not close to a trillion dollars because of the $800 billion that they would spend with these tax breaks and gimmicks to help the financial community," Schumer said. "One, it would end up being about 18 percent of that going to actually rebuilding roads. The rest would go to repay Wall Street and the other people who have financed it. Two, it wouldn't build very much because anyone who would use that public-private partnership can get private financing now. … And three, there are large parts of America where nothing would get built because they can't afford a revenue stream.... So I think it is a terrible plan and they are going to have to do a lot better."
Schumer was thrust into a role he didn't envision and had to adjust quickly to a frantic and disorderly presidency. (When he was anointed the successor to now-retired Democratic Leader Harry Reid (D-Nev.), Hillary Clinton was predicted to be president and Democrats looked likely to regain the Senate.) Schumer has previously argued that being in the minority carries perks. But he also recognized that it doesn't come with much, if any, power.  
The minority leader has, for example, pushed for stronger oversight on everything from Trump's ethical morass to his administration's ties to the Russian government. But without the power of the gavel, Schumer can do little more than bemoan a lack of progress.
"I think they are not doing oversight at all," he said. "But if Trump continues on this path that he has, they will distance themselves from him and they probably do a bit more of it." Asked specifically about reports that the Senate Intelligence Committee was bogged down in partisan bickering on its own Russian probe, Schumer said he was troubled, but not necessarily surprised.
"I've always been concerned about [Chairman Richard] Burr not being strong enough," he said. "[Ranking member] Mark Warner has done a very good job. But I have not been able to talk to Mark Warner in the last week or so."
In order to be more effectual ― to actually have power to conduct oversight, or introduce legislation ― Democrats have to win elections. And that, Schumer said, would require more than just defiance of Trumpism.
He encouraged the Democratic National Committee to invest in state party infrastructure and advanced social-media operations. He also said he wanted to produce a "strong and sharp-edged" platform to unite the party so that it wouldn't spend "all our time attacking Trump." And he called for a more open-minded approach to candidate recruitment, offering an endorsement of House Minority Leader Nancy Pelosi's (D-Calif.) position that anti-abortion Democrats have a place in the party ranks, so long as the platform itself remains firmly in favor of abortion rights.
"That is where America is and that's what the Democrats are and should be," he said. "That's all I'm going to say."
Want more updates from Sam Stein? Sign up for his newsletter, Spam Stein, here.
Calling all HuffPost superfans!
Sign up for membership to become a founding member and help shape HuffPost's next chapter
BEFORE YOU GO