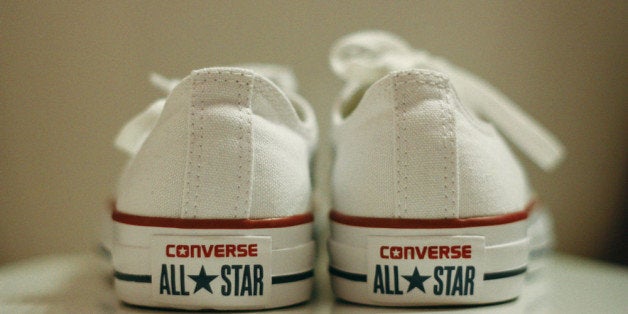 Converse wants to stomp out Chuck Taylor posers.
The company, owned by apparel giant Nike, said Tuesday that it has sued 31 retailers and manufacturers, including Walmart, Kmart, Skechers and H&M, accusing them of ripping off the design of its iconic sneakers, according to a press release.
"For generations, the Chuck Taylor, universally known as the 'Chuck,' has captured the hearts and minds of millions of consumers, selling over a billion pairs globally during the past century," Jim Calhoun, Converse's president and chief executive, said in a statement forwarded to The Huffington Post by a spokeswoman. "We welcome fair competition, but we do not believe companies have the right to copy the Chuck's trademarked look."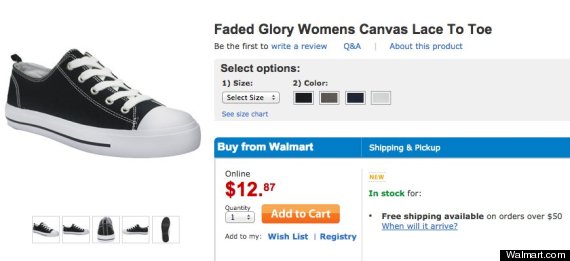 Walmart sells the "Faded Glory Womens Canvas Lace" shoe on its website for $12.87.
Converse All-Stars first hit the market in 1917. By the early 1920s, they were renamed Chuck Taylor All-Stars after the eponymous basketball player who became an evangelist for the shoe, paving the way for celebrity-branded sneakers. Emblazoned with a star-logo patch to protect the ankle, the canvas, rubber-toed shoes evolved by the 1980s from athletic shoes to the essential footwear of grunge and punk rockers.
The suit, filed Tuesday in Federal District Court in New York, alleges that the number of knockoff Chuck Taylors has ballooned since 2008. The company, which filed additional complaints through the International Trade Commission, is suing for monetary damages to be determined at the trial.
Walmart and Kmart did not immediately respond to requests from for comment. H&M declined to comment. Jennifer Clay, a Skechers spokeswoman, said she the company had not seen Converse's lawsuit and declined to comment on pending litigation.


H&M's version of the Converse All-Star, ambiguously named "sneakers," sells for $24.95 and comes in three different colors.
This story has been updated with a statements from H&M and Skechers
Related
Popular in the Community