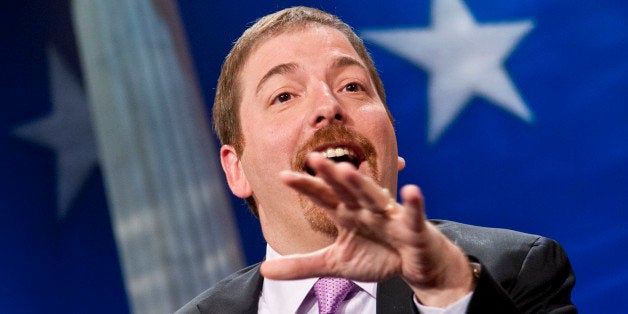 What is a Republican presidential candidate to do to stand out when there are more than a dozen other contenders?
Anything. Anything at all to stay relevant.
At least that's what "Meet the Press" host Chuck Todd thinks will happen in the upcoming weeks as candidates fight to stay noticed in a crowded Republican field. Todd predicted that candidates will begin to do some "weird stuff" in order to stand out.
"These candidates may say anything to get a news cycle so that they suddenly pop," he said.
Todd was speaking to MSNBC's "Morning Joe" panel Wednesday during a discussion about how easy it is to fall into the background and disappear when there are already 14 Republican candidates.
Bloomberg's John Heilemann agreed with Todd, adding that when you're trying to move up the ranks, you'll say any "outlandish" thing you can.
"What are you going to do to move yourself from [No.] 13 to 8?" he said. "What kind of crazy thing will you say?"
Todd added that for some of the candidates, doing or saying something that will "go viral" may be a smart move. The NBC host pointed to the recent BuzzFeed video showing Sen. Ted Cruz (Texas) doing "Simpsons" impersonations.
"That's not the dumbest thing in the world," Todd said. "You keep your name [out there], you go viral. You may see a lot of weird stuff like this."
Calling all HuffPost superfans!
Sign up for membership to become a founding member and help shape HuffPost's next chapter