"Hey, don't hire this guy," seemed to be a no-brainer to me, but I was feeling a little alone in that opinion.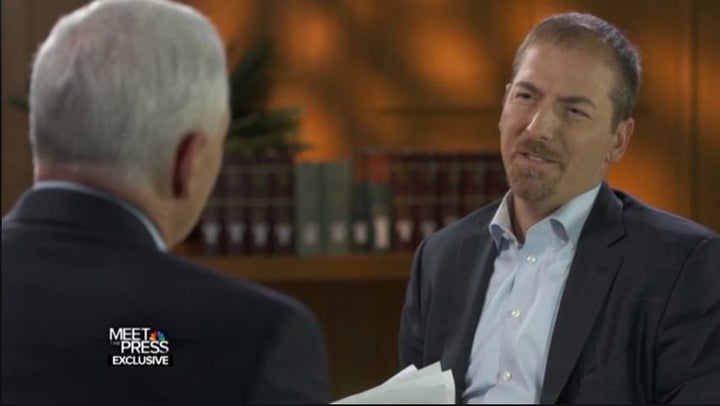 Todd questioned the wisdom of hiring Ailes (as well as Breitbart News head Steve Bannon), given the "troubling allegations" swirling around him. Pence did his best to not appear too troubled by any of this.
TODD: Quick question about the leadership of the campaign. There's been some troubling allegations, both against Steve Bannon, some things he may have said about Jewish people, some things he may have ― happened between him and his wife. There's been troubling allegations having to do with Roger Ailes, both of whom are apparently advisors to this campaign. Are you comfortable with that, considering some of the allegations you've read against both of these men? Are you comfortable with their involvement in this campaign?

PENCE: Well, I promise you, the person leading Donald Trump's campaign is Donald Trump. You know, he and I talk every day, sometimes several times a day. He is a hands-on leader and a hands-on CEO.

TODD: Appropriate for Roger Ailes to be involved?

PENCE: I trust Donald Trump's judgment to assemble around this team a group that's going to help us move forward and be successful and win. And come on, I mean Steve Bannon has denied all of those allegations. And―

TODD: Well, some of them are in court records.

PENCE: And―

TODD: And look, and I know divorces are divorces. I'm not going to ― but it's troubling allegations. People are going to look at that and say, "All right, Steve Bannon, then you see all these allegations against Roger Ailes, it just feels as if there's ― does he ignore troubling allegations against people that work for him?"

PENCE: I trust Donald Trump to assemble a team around him in this campaign, as he has and will continue to. You'll continue to see people added to this campaign. What's really remarkable for me, having joined this campaign just six weeks ago, is the fact that this campaign has always been propelled by a movement of the American people. I mean where in Hillary Clinton, there's a thousand employees and experts and pollsters. And frankly, there were people in the Republican primary who had significant apparatus, as well.
Since the "Meet The Press" interview, it has been reported that 21st Century Fox will offer Gretchen Carlson ― the "Fox & Friends" host whose accusations helped drive Ailes from his Fox News perch ― a $20 million settlement and an apology. The New York Times reports that Ailes is "responsible for a portion" of the Carlson settlement, and that Fox News is "in settlement talks with other women at the network." In addition, Fox News' Greta Van Susteren announced today that she will resign from the network ― a source tells New York magazine's Gabriel Sherman that Van Susteren was "troubled by the culture" at Fox News, though additional reports suggest that she may have made her decision based upon a failed attempt to renegotiate her contract in the wake of Ailes' departure.
It's also been reported that Ailes' legal team ― taking a page from the Trump playbook ― plans on launching a counter-attack against Sherman, the reporter who, as Lloyd Grove describes, "spearheaded the reporting on [Ailes'] recent scandal." Obviously, what the Trump campaign needs for the stretch run to Election Day is a new distraction.
Of course, bringing Ailes into the fold at this point in time doesn't make much sense if you want to concentrate on winning the presidential election, but it could be a shrewd move if, as some believe, the point of Trump's presidential run is to scratch a new media empire out of the ruins. Hopefully Pence will find a home there, if they can manage it.

Jason Linkins edits "Eat The Press" for The Huffington Post and co-hosts the HuffPost Politics podcast "So, That Happened." Subscribe here, and listen to the latest episode below.
Popular in the Community