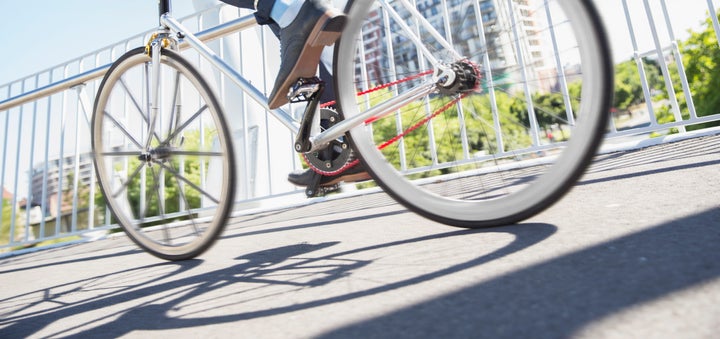 Several media outlets ran headlines this week stating that a Washington, D.C. church opposes new bike lanes on the grounds that the lanes would violate their "religious freedom."
But some of these stories made the historically black church's claim sound like a frivolous gripe about inconvenience, completely ignoring the issues of race and gentrification behind the complaint.
Indeed, leaders of the United House of Prayer for All People allege the proposed lanes are part of a larger plan to force black churches out of gentrifying neighborhoods, NBC Washington reports.
The District Department of Transportation is currently considering four potential bike lanes that would connect two other lanes popular with cyclists. The city plans on choosing one of the four options, but the church contends that all four options pose major problems for them, either by limiting on-street parking for church attendees or by removing a lane of traffic in the already congested area near the Washington Convention Center.
These actions by the DDOT appear to be part of a recent pattern and practice of targeting historically African-American churches with restrictive parking regulations and extremely stringent enforcement to drive them out of the District. This is all happening at a time when property values in the District have skyrocketed, and demand for apartments is at a fever pitch.
The letter alleges that "similar parking restrictions have already forced some churches to relocate to the suburbs," though it does not cite specific establishments.
The letter also suggests that since the church is tax-exempt, church officials suspect the city sees them as a "drag" on tax revenue. If they sold their property, it would likely be acquired by developers who were not tax-exempt, the church argues.
So where does the "religious freedom" argument come in? The church's lawyers argue that three of the bike lane proposals -- those that would limit parking near the church -- would "substantially burden" the free exercise of religion by restricting access to the church.
It's not clear from the letter exactly how many parking spots would be eliminated by any of the lanes. Neither the church nor their legal team immediately replied to a request for comment.
A DDOT spokeswoman noted that the city will be studying potential bike lane options through the end of 2015, and indicated they care about community feedback.
"We are listening to concerns about parking, bicycling suitability, traffic, and other community concerns," a spokeswoman told The Huffington Post. "We are factoring what we hear into our decision-making, and will continue to work on minimizing and mitigating any impacts when we get down to a preferred alternative."
Popular in the Community