A 53-year-old pizza delivery man in Anchorage, Alaska, is still "glowing," days after a local church gave him a $1,900 tip to help him pay his medical bills.
Kenneth Felber delivered four pizzas to Chugach Covenant Church last Sunday and was stunned by the whopping bundle of cash. In 14 years on the job, the biggest tip Felber had received was $100.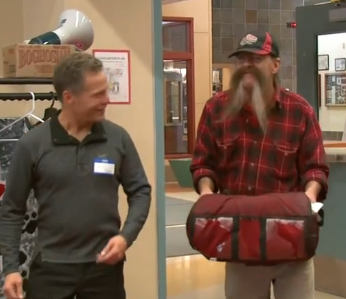 As Felber entered Begich Middle School, where the church meets for service, he was surprised to find the congregation cheering him on -- for what he initially thought would be an ordinary delivery.
Pastor Dan Krause welcomed Felber to the front of the congregation.
"How does a tip of $1,900 sound?" Krause asked. 
"Oh heck no," Felber replied.
The church set a goal to raise $1,000, KTUU reported, but managed to raise $1,900 instead. 
"We had the opportunity to bless somebody who had no idea," Krause said. "We talked to a manager at a local pizza place who told us about an employee who has had some financial hardships due to some medical issues he's facing, and we decided, what a great opportunity as a church to bless somebody for no other reason than to bless them."
On the Facebook page associated with Chugach Covenant, the church hinted at their plan one day earlier, by posting a story about a Domino's Pizza driver in Ohio, who was given a $1,046 donation by the Sycamore Creek Church as part of its "I was Broke. Now I'm Not" sermon series. 
Krause said in a Facebook post he is pleased his church could "share some joy."
As for Felber, he told KTUU the money will help and he appreciated the congregation's thoughtfulness. 
"I'm just going to be glowing for the rest of the day," he said, "for the rest of the week."
Calling all HuffPost superfans!
Sign up for membership to become a founding member and help shape HuffPost's next chapter