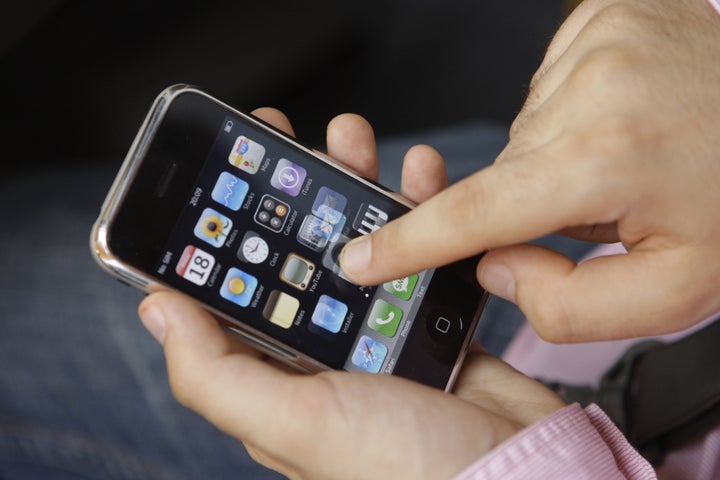 Much has been written recently about new cell phone applications targeting the religious community. Almost overnight there have appeared a series of iPhone and other downloadable smartphone apps which enable worshippers from every spiritual stripe to look up holy book verses, access meditation instructions, or receive prayer reminders on the fly. There is even an app for Muslims to locate the nearest restaurants serving permissible (Halal) foods.
As cell phones become ubiquitous (owned by well over 80 percent of Americans and claiming 4 to 5 billion subscriptions globally), it's only natural that God go mobile too.
Along with the larger trend toward single-function apps (things like mapping a route to the nearest Starbucks or playing a computer game), the current breed of religious apps are narrowly focused. You can take your pick from dozens of apps designed specifically for reading the Bible or identifying holy days. Such apps are great for people with particular spiritual interests or informational needs.
But what is needed next is more personalized communication apps to connect individuals with their own local communities of faith and the day-to-day activities of those communities.
Instead of simply looking up a Torah verse, for example, next-generation apps would allow users to retrieve service times at their local synagogue, communicate with other members of the congregation via a mobile social network, access live streaming or recorded audio/video services, and receive updates and individualized prayers from their rabbi -- all on a single cell phone application. Add on the ability to organize events, sign up for classes, and make contributions or tithe directly from a smartphone and voilà! You've got your very own "church in a pocket" app.
Such all-in-one apps could also be integrated with mobile location-based services (LBS) like Foursquare, allowing users to know when fellow church members are nearby. In the case of a temple or church, the leadership could keep track of how many congregants have arrived for a service or event and even identify them by name. Naturally, each community would customize and brand its own app to target its own needs and user base, much in the same way that websites currently do.
Ultimately, the purpose of "church in a pocket" apps are to enable individual faith-based communities to stay connected, expand their base, and serve up always-on services to worshipers on the go. The apps themselves cannot insure a vibrant spiritual community or deep engagement, but they can extend community connections to people where they are, literally, at every moment of the day.
While the concept of a religious community mobile app may sound like fast-food religion to some, the fact remains that nearly everyone has a cell phone these days, and the appetite for smartphones and phone-based apps is increasing dramatically. As a result, there exists a tremendous opportunity to enhance joint worship. When riding the bus home from work, why not have the opportunity to share an insight from a Bible passage with others from your local (or global) community -- and then instantly organize a discussion or activity around it using a handheld device?
There is no question that the mobile experience will redefine how and when people engage with their spiritual and religious communities. Just as we have Web-only worshippers, we may soon be seeing mobile-only congregations which organize and disband on the fly. Nobody knows exactly where things will end up, but next-generation mobile apps could offer a powerful and extended community experience unlike anything that exists today outside of institutional walls and on the Internet.
In a world where it is getting harder and harder to bring people to church, mobile apps might lead the way in bringing church to the people.
Related
Popular in the Community