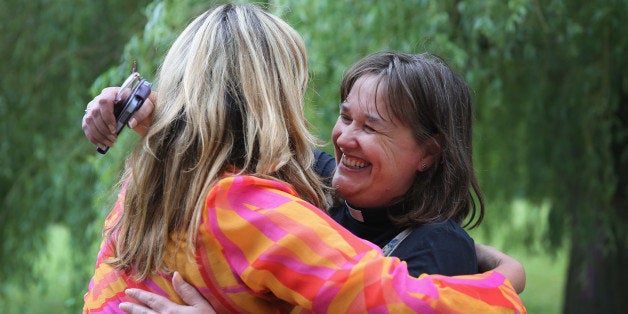 The Church of England group that successfully campaigned to ordain female bishops is now fighting for greater gender inclusivity by saying God should be called both "he" and "she."
Members of Women and the Church (WATCH) started shaking up the way Anglican church leaders talk about God by raising the issue in interviews with several UK outlets.
"When we use only male language for God we reinforce the idea that God is like a man and, in doing so, suggest that men are therefore more like God than women," WATCH member Rev. Emma Percy, chaplain of Trinity College, Oxford, told The Sunday Times. "This means that women can see themselves as less holy and less able to represent Christ in the world. If we take seriously the idea that men and women are made in the image of God, both male and female language should be used."
WATCH member Rev. Jody Stowell echoed Percy's concerns, noting that despite teachings that God is a genderless figure, the church's liturgy nearly exclusively refers to the creator with male pronouns and imagery.
"Orthodox theology says all human beings are made in the image of God, that God does not have a gender," she told The Guardian. "He encompasses gender -- he is both male and female and beyond male and female. So when we only speak of God in the male form, that's actually giving us a deficient understanding of who God is."
In an email to The Huffington Post, Stowell elaborated on the goals of WATCH's latest action.
Starting this conversation is "part of a number of aims that we see as the role of WATCH," she wrote. "Often people are asking us 'what now?', as they thought we were a one aim group (to get women Bishops legislation passed). Our message is that there is still a lot to do with regards to gender justice ... People often see God as an old white man in the sky, and you can see how this will impact how you view God and how you think God views you, either as a man or a woman."
Altering the church's vocabulary requires clearing multiple hurdles.
A spokesman for Lambeth Palace, where the Archbishop of Canterbury offers WATCH a special meeting space, told the Daily Mail, "Any change in the formal liturgy of the Church of England would require consent, revision and final approval of the General Synod. Even prior to that point, there would need to be substantial consultation with the Liturgical Commission."
Ann Widdecombe, a former member of Parliament who became a Catholic when the church began ordaining female priests, spoke out against WATCH's latest movement.
This story has been updated to include additional comments from Rev. Jody Stowell.
LISTEN: HuffPost All Together Podcast
Sexism: The Church's Original Sin
Calling all HuffPost superfans!
Sign up for membership to become a founding member and help shape HuffPost's next chapter
BEFORE YOU GO
PHOTO GALLERY
The Church of England